Review: AKG Quincy Jones Signature Q460
During his tenure as a Crutchfield staff writer, Marshall Chase wrote about home theater receivers, sound bars, and in-wall and in-ceiling speakers.
More from Marshall Chase
Heads up!
Welcome to this article from the Crutchfield archives. Have fun reading it, but be aware that the information may be outdated and links may be broken.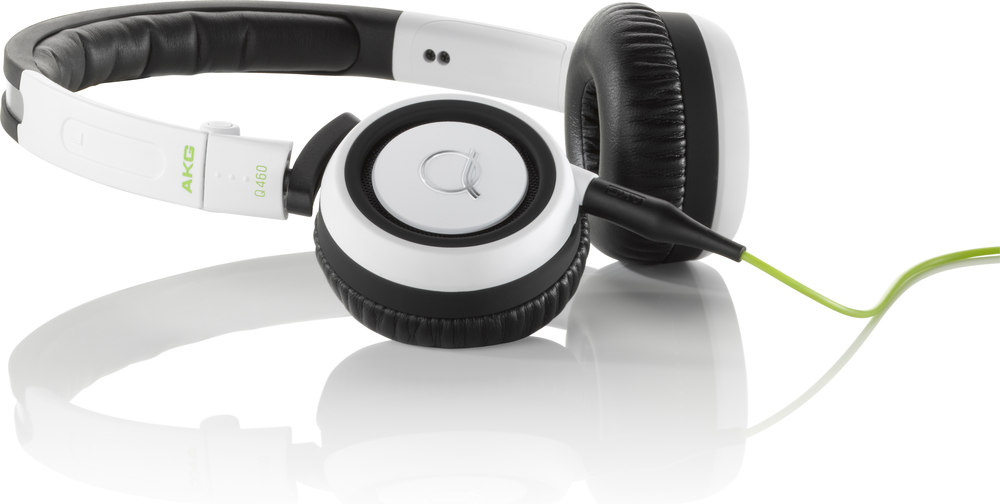 Imagine that a renowned headphone manufacturer came to you and offered to create a custom set of headphones from the ground up to perfectly suit your tastes and preferences. That's precisely what AKG did with the Quincy Jones Signature Q460. To me this is something akin to inviting Beethoven to conduct the orchestra so you can hear his symphony just the way he intended.
Listening to 'Q" like 'Q'
Quincy Jones is a musical icon whose guiding hand has been felt warmly and effusively in popular music for over 50 years. Jones' associations have been wide and diverse from Count Basie to Michael Jackson, and scores of artists in between. It's likely that all of them can attest to 'Q's perfectionist tendencies, especially his strong drive for accuracy, precision and efficiency. I think this sets the bar rather high for a set of headphones to meet his standards. For this review I listened to Q's own compositions, productions and arrangements through the headphones that bear his signature to render a personal opinion of their performance.
Quincy Jones: Trumpet player
To begin this exploration, I thought it important to hear Quincy Jones himself as an instrumentalist. Q's thinking processes throughout his career as a composer and producer probably have their roots in his own work as an artist with a horn pressed to his lips. I listened to some cuts from Birks Works: The Verve Big-Band Sessions where he sits in on the recording with Dizzy Gillespie.
The cut that really stood out for me was Dizzy's A Night in Tunisia. This tune was orchestrated for a big band with some amazing chops. The musicians were tight and the charts richly detailed. Q stood out only as he stood up with other horns and reeds. The lesson here was that you can shine while still being part of a team a group of similarly-minded artists with the goal of being excellent. I haven't heard a tune yet with Quincy Jones' signature on it that doesn't exhibit the same qualities.
His signature headphones were up to the task. Every note on the recording was prominent, whether it was a Dizzy solo, or the horn section on a riff. The percussion section came through with clarity and without the wince I sometimes experience listening to a rim shot with headphones on.
A pause for comfort
The Quincy Jones Q460's are adjustable, on-the-ear headphones. Personally, this is the most comfortable style for me. They don't surround or cup the ear, but they definitely create a private listening environment without smothering. The cushioning is soft but firm. The headphones were not terribly heavy and I was able to wear them for an hour or more at a time with no "ear fatigue."
The 460's come with cords that attach and detach on both the headphone end and the jack output side. One note of interest — the cords are lime green, which is a color that Quincy Jones likes. I wasn't sure I liked it until I realized that the color also made them easier to find in a pinch. (Of course, one can also fold them neatly and place them in the sturdy, light-weight case that comes with them.)
These headphones behave, baby
Q's music appears in many places. Soul Bossa Nova has popped up several times in film, most prominently in the Austin Powers series. Rahsaan Roland Kirk plays the flute featured in this tune. Q's headphones stood up nicely delivering the solo instrumental right through the underlying orchestration that includes plenty of brass, percussion and a great bass line that covers the bottom end without overwhelming the orchestra. Details came through clearly with these headphones. I could hear the breathy trill perfectly in Kirk's middle solo.
Just Once
One of my favorite Quincy Jones numbers is Just Once, performed by James Ingram, who came away with two Grammy awards for that effort. The tune begins with piano and a little reverb for added dimension. Ingram enters the song low and smooth, with both Ingram's vocal and the orchestra reaching a crescendo and fading back down to very soulful, heartfelt singing. Yes, the Q460 headphones let the performance come through beautifully in a musical sense. But the best part was the pallet of Ingram's vocals which were delivered emotionally, and that was what truly came through clearly.
Thriller
Is Thriller a song or is it a sound track?
Yes.
With a recording loaded with sound effects, lots of instruments, and plenty of seamless vocal overlays from Michael Jackson you would almost think that the Q460 headphones might be prone to overload. They were not. If you were served a fabulous stew made with only the best ingredients, but plenty of them, you would think that some of them would get lost. Not a detail escapes in this melange. And this artistry is what brings to mind the word "maestro" when it comes to Quincy Jones. As a master musician himself, Q accepts nothing less than perfection, and the headphones that bear his name proved deserving.
A canvas for all your music to play
My goal in this review was to hear Quincy Jones' music through the headphones that had to meet his standard. What I found consistently was that the level of detail, balance and efficiency of these headphones presented his music as he would have heard it in the final studio board mix. But you don't have to love Quincy Jones to enjoy his headphones. They also performed handily with the rather eclectic mix on my MP3 player. As far as my own listening preferences are concerned, I find that Quincy Jones and I share the values of balanced tone, clarity, and simply allowing the music to express its own flavors and leaving the headphones out of the mix.
In other words, when I was listening with the Quincy Jones Signature Q460 headphones, I experienced enjoyment, pure and simple.