The Sony Alpha SLT-A55VL: simple operation, great pictures
Meredith Krebs was a video producer and copywriter at Crutchfield for several years. She wrote about cameras and produced over 100 videos for the website.
More from Meredith Krebs
Heads up!
Welcome to this article from the Crutchfield archives. Have fun reading it, but be aware that the information may be outdated and links may be broken.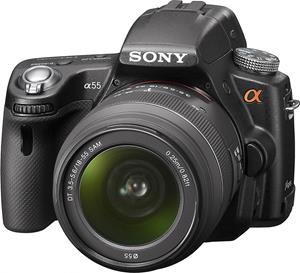 I was excited to try out the Sony Alpha SLT-A55VL camera. The fall foliage has been amazing, and I had a few photo projects I wanted to do that required a more advanced camera than my little point-and-shoot. The A55 came with is own 18-55mm lens, but I also borrowed a Sony SAL-35F18 lens for some shots I wanted to try.
At first I was a little intimidated. I had never used a Sony camera before, and I wasn't sure how comfortable I would be with its menus. My initial impression was that the camera seemed to have a lot of dials and buttons. But in the end I was pleasantly surprised at how easy the camera actually was to use. In a short time, I could turn the various features on and off with no problem and without consulting the manual.
The first thing I did with the A55 was to take a self-portrait for a blog post. I placed the camera on a table and aimed it at the couch. Then I set the 10-second timer. Ten seconds gave me just enough time to sprint across the living room and sit down and smile without being photographed as a blur. After a few tries, I took an acceptable photo and was well satisfied with my project.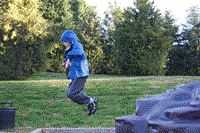 I was intrigued by the fact that the camera has the ability to take ten frames per second. This seemed perfect for a project I had tried to do with my son. He wanted me to take a picture of him leaping in mid-air. My point-and-shoot kept missing the moment. So we went out on a frosty morning to the playground to try again. Using the A55 on the 10/frame mode, I was able to capture him leaping with no problem. In fact, I had it in the can on the first try.(See above. Click on images to enlarge)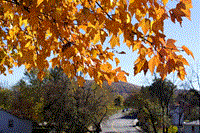 It was time to use the extra lens. We've been having a beautiful autumn here, so I put the Sony 35mm f/1.8 lens on the camera to take some shots of the leaves. It was a bit past the peak weekend for most of the trees, but I thought they still looked beautiful. At first it seemed odd not to be able to zoom, but I quickly got used to it. Using manual focus, I played around with having different parts of the photo in focus, and letting the rest stay soft. It was a lot of fun. The screen was a bit hard to see on such a bright fall day, but I was able to either turn it down to shade it or look through the viewfinder for other shots. It was great to have some options.

A nice feature of this camera is panorama sweep mode. The feature was easy to use. I had to simply pan in the direction of the arrow on the screen. It quickly stitched the individual images together and gave me a final photo. I tried a couple of shots with varying degrees of sucess, but when I panned up a tree, I really liked the result. The only downside: the resulting file is huge, so you'll have to work with it in order to make it small enough to use in a blog post or send in an email.
If you're photographing sports, or need a great all-around camera at the ready, the Sony A55 would be a great choice for you. The ten frames per second feature could help you capture those elusive and fleeting moments. It's not as light as a point-and-shoot, but it also didn't make me tired carrying it in my shoulder bag. And carrying that extra bit of weight was well worth it for a camera with so many extra features. That's what I thought when I examined all the photos I took with the Sony Alpha SLT-A55VL camera.