The iHome iA100 -- Bluetooth makes the difference for me
I've written about car audio for Crutchfield since 2003, after four years as Crutchfield Sales Advisor, and 10 years as a music teacher. I'm an avid music listener, with a real love of classical and film music. I love having a great system in my car, and I'll still match the system in my 98 Ford Ranger (may it rest in piece) up against anything else I've heard for great SQ. I attended West Virginia University, where I received a Master's Degree in Music Performance and a Bachelor's Degree in History. Let's Go Mountaineers!
More from Ken Nail
Heads up!
Welcome to this article from the Crutchfield archives. Have fun reading it, but be aware that the information may be outdated and links may be broken.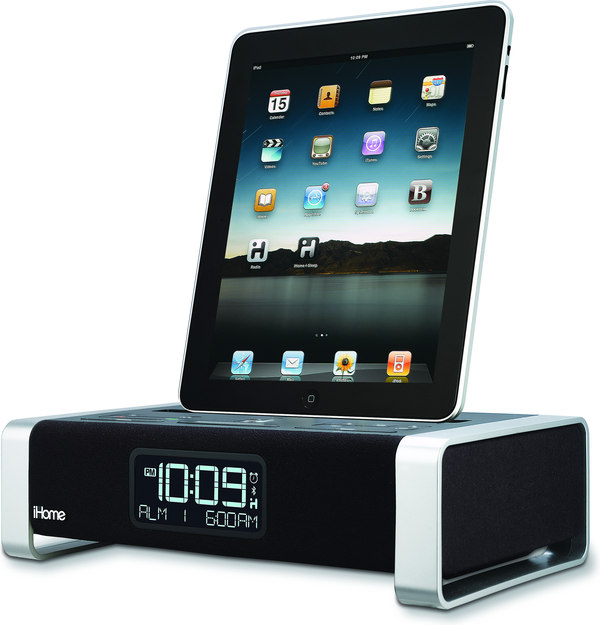 iPod® docks and clock radios are a pretty common sight on the shelves of electronics and department stores these days. Many are simple, utilitarian devices — fine if all you want is someplace to dock and charge your iPod and play some music, too.
But the iHome iA100 takes the simple iPod dock/clock radio concept further, with the addition of Bluetooth® and its compatibility with a variety of iPhone® and iPad® apps. And, for a nice extra touch, the iA100 also lets you dock your iPad. While the Apple tablet may seem a bit unwieldy for docking, the iA100 has a special integrated stand behind the dock that holds it securely in place. And there's no doubt that the combination of the iA100 and the iPad makes for a striking visual combo. I got a chance to give the iHome iA100 a test drive with my iPad recently — here are some of my impressions.
Sound quality that satisfies
After plugging the iA100 in and docking my iPad I got down to some listening — and I was pleased with what I heard. The iA100 packs four speakers into the chassis — two front-firing and two rear-firing — and this produced sound quality that was surprisingly robust for a compact system. I tested the iA100 playing music in several rooms in my home — living room, bedroom, kitchen, and study — and I found that while it certainly wasn't going to take the place of my living room's stereo system, it had more than enough punch to satisfy in smaller rooms.
Augmenting the output of the iA100 is Bongiovi Digital Power Station signal processing. This claims to extend audio bandwidth and add missing harmonics to your music, adding clarity and bass depth to compressed music files, like those found on your iPod. So, how well did it work?
Pretty darned well, actually. When listening to rock cuts, like the Meat Puppet's "Sam," there was an immediate "fasten your seat belts" reaction, as the bass and overall presence jumped up significantly. And listening to the Count Basie Orchestra in full roar, backing up Frank Sinatra in "Fly Me to the Moon" (from the incomparable "Sinatra at the Sands" album) was enough to stand what hair I have left on end. On the other hand, when doing some more laid-back, casual listening, the Bongiovi DPS wasn't really necessary — acoustic tracks and lighter classical fare sounded just fine, particularly for background music.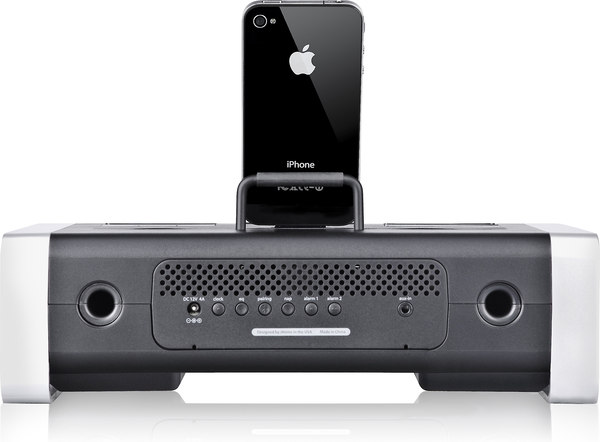 Cutting the cord with Bluetooth
So, the iA100 sounds great, and you can dock your iPad on it. Nice features, but the what really set the iA100 apart from other iPod docks I've used was built-in Bluetooth. It's one thing to be able to dock your iPad and listen to the music in your library, another to be able to sit back in an easy chair, checking your email and stream your music wirelessly to the iA100 at the same time.
Pairing was fast and easy. In fact, I've never paired a Bluetooth device as quickly as I was able to with the iA100. Once connected, I could browse my iTunes® library and listen to live streams and Internet radio while using my iPad. The convenience of checking my morning email while listening to the stream of my favorite public radio station made that morning cup of coffee taste even better.
The possibilities don't end there — iHome's iHome+Radio lets you access thousands of Internet radio stations, using your docked player as the interface. As of the time I wrote this it wasn't yet available for the iPad, but I saw it demoed with an iPhone when iHome visited Crutchfield recently. I think for an Internet radio fan with an iPhone it'd be heaven.
Of course, you can also answer your phone calls with the iA100 when you have a Bluetooth phone paired with it. And thanks to the included remote control all you have to do is press a button, even if you're sitting across the room.
Clock radio on 'roids
If you're thinking of using the iA100 in a bedroom, you'll have one of the most impressive clock radios around if you download the free iHome+Sleep app. This interactive alarm app lets you set multiple alarms customizable for every day of the week, and you can wake up to your choice of sound effects or any of the music you've got on your iPod. It'll even let you check the weather with a single touch, track your sleeping patterns, and notify your Twitter or Facebook accounts when you go to bed or get up — the last part's a little weird to me, but if that's what you're into...
Bottom line
The iHome iA100 is a killer product for someone who's looking for a compact but powerful stereo system that they want to use in conjunction with their iPod. While it certainly offers value simply on the merit of its excellent sound, the addition of Bluetooth and compatibility with apps makes it an attractive convergence product that'll fit right into the lifestyle of the connected user.