Having an AHA moment with Denon's Centennial Celebration AH-A100 headphones
During his tenure as a Crutchfield staff writer, Marshall Chase wrote about home theater receivers, sound bars, and in-wall and in-ceiling speakers.
More from Marshall Chase
Heads up!
Welcome to this article from the Crutchfield archives. Have fun reading it, but be aware that the information may be outdated and links may be broken.
Like opening a birthday present
Denon is a century old —which means the company has been around before most U.S. households even had electricity. In celebration of their longevity, Denon created a special series of components including the headphones in this review.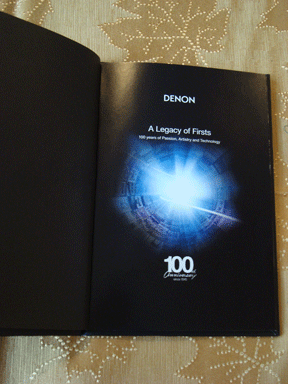 The first thing I noticed about the Denon AH-A100 headphones is their name spells "Aha!" I was expecting a revelation, and I got one. The package itself has some heft to it, so I knew that what was inside was special. This vessel went beyond the typical plastic shell that can be opened only with a hacksaw and with a suture team on stand-by. When I opened the box for the first time I was greeted by a "Certificate of Authenticity," signed by Denon's General Manager in ink. Below this certificate was a handsome hardcover book that described Denon's legacy.
Inside the box — another box
I was expecting to see the headphones underneath the Denon book, but was instead greeted by a lovely wooden box, with a soft top embossed with the maker's name. I was getting the distinct impression this was something very special. It was almost as if I were opening a box to a precious heirloom. When I lifted the lid, there they were — reposed in satin, the headphones seem to beckon with a "come hither" look.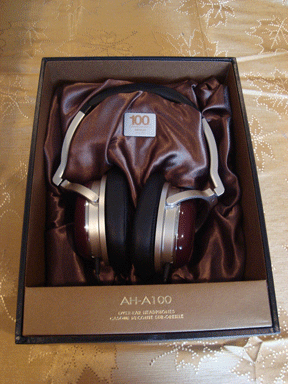 Not just a pretty face
The AH-A100 headphones were beautifully packaged for sure, but I soon learned that there was a lot to the headphones themselves. They were clearly substantial. I wouldn't say they were light weight, but it wasn't like wearing lead earmuffs either. I've tried out a lot of headphones over the years and these had one of the toughest build-qualities I can recall.
The top of the band was padded, but the rest was made of metal. Adjustment for comfort was easy and ratchet-sturdy with the actual "cans" held with firm armatures and a swivel that felt like it could hold up as long as I did. The earphones had a supple padding that I could wear for over an hour without discomfort or feeling like my ears were in a sauna. They just seemed to breath right along with me.
Plugging in
I had intended to listen to CDs with the A100's on my legacy Marantz receiver. This receiver has a 1/4" headphone jack and for the life of me, I couldn't recall where I left that old minijack-to-1/4" adapter. I sighed with relief to find that, not only did Denon include an adapter, but they packaged an extension cable so I didn't have to sit on the floor to listen. What the cable didn't have was any kind of built-in microphone or volume adjustment and I was glad for it. This was made exclusively for listening to music.
How do they sound?
I was not disappointed with the sound. I couldn't resist taking a listen to There'll Be Some Changes Made, a fun duet by the unlikely team of Chet Atkins and Mark Knopfler. The tune starts off with a foot tap of the beat and continues with every detail clear, warm and present. This song is literally a conversation, musical and otherwise, between these two great artists. With the A100's I could hear the squeak of fingers on guitar strings, as well as the breaths these fellows took in between their banter and singing.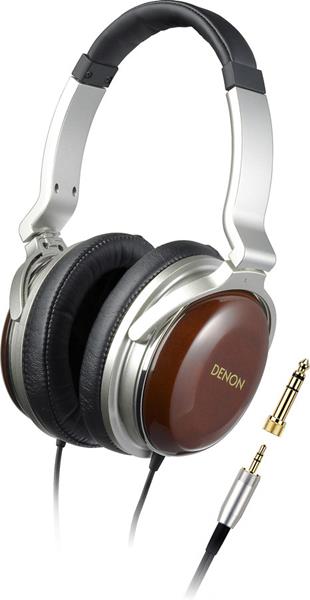 These headphones were a terrific way to hear music in detail, uncolored by the technology itself. I like that in any piece of equipment. They provided an excellent sense of spaciousness, unlike some headphones which can feel and sound confining. And the A100''s created that spacious sound field whether they were plugged into my receiver or my little MP3 player. I find that a testament to the efficiency of the headphones' drivers.
What they are not
It didn't matter if I was listening to tracks from rockers like Kiss or rappers like 50 Cent, bass was something I just didn't find prominent with the AH-A100. It was present and accurate — but it had no thump. This was the case with my portable MP3 as well as my home receiver. I considered the possibility that the component's headphone output couldn't deliver enough to these AH-A100s for the lowest frequencies to leap out. But other headphones I've tested seem to have a more prominent bass end. On the plus side, the AH-A100s sounded good with more toned-down tunes, So unless your music is especially bass-heavy, chances are these headphones will give you an exceptional listening experience.
What they are
The Denon AH-A100 headphones revealed new details in music I was familiar with. They presented me with sonic surprises again and again. I think that this by itself should come as no surprise from a Denon Anniversary component. After all — what better way to celebrate an important anniversary than to bring out your best?