Klipsch Image ONE portable headphones
During his tenure as a Crutchfield staff writer, Marshall Chase wrote about home theater receivers, sound bars, and in-wall and in-ceiling speakers.
More from Marshall Chase
Heads up!
Welcome to this article from the Crutchfield archives. Have fun reading it, but be aware that the information may be outdated and links may be broken.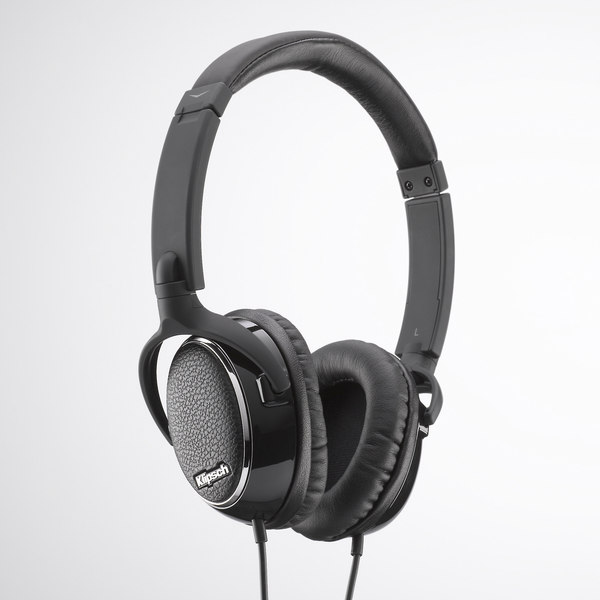 My demand of headphones, speakers, or audio component, is really quite simple — make what I'm listening to sound real. In fact, this is the goal of most consumer electronics manufacturers I've spoken with. The very concept of "image" in sound equipment takes into account that we hear in three dimensions. That's tough to pull off when the space that's available is about a cubic inch between the driver and the ear. Klipsch gets kudos for accomplishing this with their Image ONE portable headphones.
Impressive, straight off!
The first time I plugged the Image ONE into my portable MP3 player, I hit random play. I got Vince Guaraldi, best known for his performance and compositions for the early "Peanuts" cartoon specials. (But check out Vince's other works and in addition to hearing many familiar elements you'll find an even greater treasure-house of jazz).
Right out of the gate I got hit with the bass riff of Star Song and had to turn my player down a few notches. As soon as I did, I discovered the Image ONE's not only offered some depth to the bass side of the chart, but unexpected clarity as well.
When I hear a stand-up bass I want to hear more than boom. I want nuance. I want to hear those long strings vibrate when they slap back against the neck and I want to hear some resonance from the body of an artfully formed instrument. I was not disappointed by the Image ONE's.
I love Vince Guaraldi and his style is unmistakable, not because he plays a piano like no one else, but because his flavor and soul could emanate from even a plinky toy piano. Woe to any component that makes his music sound off in some way. The Image ONE headphones gave me Vince with the three-dimensionality I require. Nothing they did got in the way of the performance of his quintet. And while the depth didn't reach that of my PSB Image T6 speakers, let's be realistic — I can't strap those to my head at work.
Musical flavors that are distinguished but combine beautifully.
So next I wanted to get a little contrast in style. That lead me to the Staple Singers version of Respect Yourself. The song begins with an electric piano and bass, which are different beasts than their acoustic brethren. The real reason for this trip, though, was to listen to the Staples themselves. I think the toughest instrument to reproduce accurately is the human voice.
Unfortunately, I've never heard the Staple Singers live, so I hoped the Image ONE's would fire my imagination when I closed my eyes. A variety of both male and female vocals came through beautifully amid some thick orchestration that included percussion and horns. The fullness of the resulting sound was present without driving me to pull the headphones off from the pressure. And the voices of the Staples retained their definition throughout.
Another win for the Image ONE's.
A legend given her due.
I decided to let Patsy Cline bat clean-up on this review. The test was her excellent performance of I Fall to Pieces. She recorded this tune with the Jordanaires, stand-up bass, steel guitar and drums, all with a little reverb. I selected this track because I wanted to determine if the Image ONE's could reproduce a single vocalist clearly out of the combination of instruments and back-up singers.
No sweat. Patsy's natural vibrato was unhampered by the reverb and her phrasing had the enunciation I was looking for. Patsy cleared the bases as the fans rose to their feet.
Great sound and comfort
The Image ONE headphones did a splendid job performing musically. They had a nice, solid feel to them without suffocating the ears. And they weren't too heavy. The only issue I had with them is one that I have with many over-the-ear type headphones.
Because I wear glasses this type of headphone sometimes causes "fatigue" as the earcups press the earpieces into my temples. But even on this front, the Image ONE's did well. I could wear these headphones comfortably for at least an hour at a time without any real suffering.
Note to editor: don't read the last sentence.
The Klipsch Image ONE comes with a terrific, lightweight but sturdy case, well suited for those of us who live out of a backpack or similar personal luggage. They feature an in-line remote that works well with an iPod®, iPhone®, or iPad® of most any flavor. Well priced and worthwhile. I wanted not to return the Image ONE headphones following this review.