Beats Pro Headphones -- Listen to the Doctor
Ralph Graves is one of Crutchfield's blog editors, and part of the company's social media team. He writes about home audio/video gear, specializing in Apple-related and wireless technologies. Ralph holds a master's degree in music composition, and his works have been released on various labels. He's served as product manager for an independent classical and world music label, produced several recordings, and worked extensively in public broadcasting. Since 1984 he's hosted a weekly classical music program on WTJU, and is also active as a blogger and podcaster.
More from Ralph Graves
Heads up!
Welcome to this article from the Crutchfield archives. Have fun reading it, but be aware that the information may be outdated and links may be broken.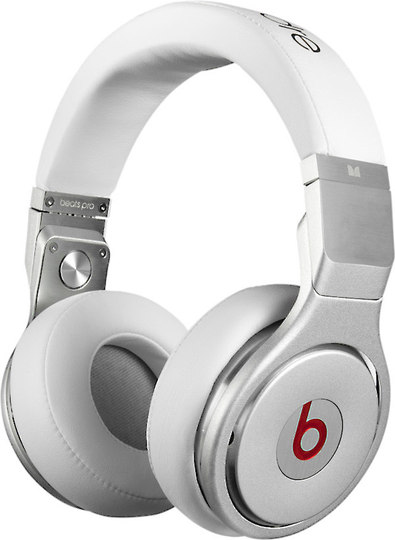 Why are there so many makes and models of headphones? Because people make different demands on them — and because people listen to music differently. When hip-hop producer Dr. Dre designed the Beats™ Pro™ Headphones, he was after a set of headphones that did one specific thing — accurately reproduce music the way he heard it in the studio.
Good news. They sounded great to me when I played Dre's music. I think they succeeded.
Rockin' with the Beats
I had an opportunity to try out a set of Beats Pro headphones recently for an extended period of time. Living with the headphones for a couple of weeks gave me time to really put them through their paces. Overall, I found the headphones did a good job reproducing music of all genres. They did color the sound, however, which in some instances could be a plus.
I started with a classic compilation, Rhino's Millenium Hip-hop Party. Grandmaster Flash, Sir Mix A Lot, LL Cool J, Snoop Dogg, and of course Dr. Dre — this was the music these headphones were designed for. The bass was fat — and phat — and hit with real intensity. The vocals sounded crisp and clear, and I could hear every syllable even in the fast staccato raps. And newer rap sounded just as good. I checked out Dr Dre's latest, I Need a Doctor, along with the Black-Eyed Peas (Just Can't Get Enough) and the lo-fi Bright Lights Bigger City, by Cee Lo Green. Although the modern tracks were more compressed than the old-school selections, they still sat very well in the center of the Beat Pros. The bass was pumpin' and the voice was jumpin'.
That preponderance to reinforce the low end also worked well with rock tracks, drum and bass, and other electronica. In addition to some classic Led Zeppelin, I also tried out my favorite 2 Many DJ's compilation and Flux Pavilion's latest, Bass Cannon. If you like your music to hit with authority, then the Beats Pro may be the headphones for you.
Chillin' on the mellow side
The Beats Pros surprised me with acoustic tracks. I expected them to sound distorted and bass-heavy, but that really didn't happen. Acoustic artists like classical guitarist Sharon Isbn fared pretty well with the Beat Pros. Isbn's acoustic guitar sounded a little brighter than normal, but not excessively so. The headphones tended to do better when there was a mix of acoustic and electric instruments, like some of Bela Fleck's recordings, or those by Mercy Creek.
The Beat Pros didn't do quite so well with classical selections. The Julliard String Quartet had an electrical sheen to their sound that might have sounded natural if they were playing in a club -- miked -- but not for their normal concert hall venue. The same was true with orchestral music. There was still plenty of detail, but the additional bass slightly unbalanced the ensemble, while the brighter high end made very high-pitched instruments, such as flutes, piccolos, and violins, sound a little too bright for my taste.
To be fair, though, the Beat Pros were intended more for the music heard in clubs, and for those genres, they're dead on.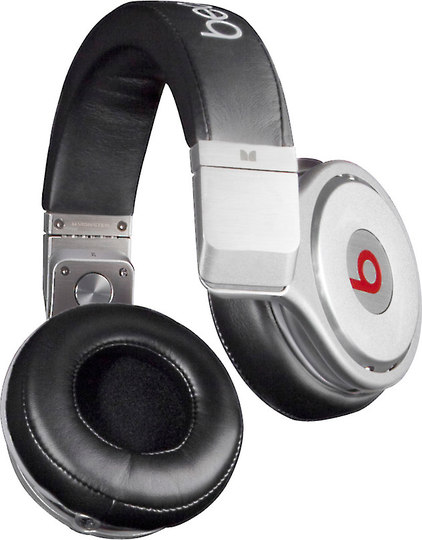 Headstrong headphones
One minor caveat. The Beats Pros clamped onto my head with a vise-like grip. I can see where this would be a plus. If you're dancing to the music, or just doing some serious head-banging, these headphones won't go flying off into space. And the earcups pivot back so you can listen with one ear like pro DJ's do.
When I audition headphones, I usually do so while I'm working. Which means the headphones go on around 9:00 in the morning and get removed around noon or 1:00pm, then back on for another four hours in the afternoon. Despite their generous padding, I could feel the earcups pressing into my head. After a while, it became uncomfortable, and they had to come off. I could listen for a couple of hours, but sometime around 125 minutes, I had to call it quits for the day. Everyone's head is a slightly different shape (that's why phrenology came into being). It's possible you'll have a different experience.
So I don't recommend them for extended listening. But if you're into rap, hip-hop, electronica, modern rock, or anything that gets people on the floor and dancing, then I do indeed recommend the Beats Pros. These headphones deliver the music with the audio punch and presence it deserves.