Review: AKG 272 HD headphones - retro look, modern sound
During his tenure as a Crutchfield staff writer, Marshall Chase wrote about home theater receivers, sound bars, and in-wall and in-ceiling speakers.
More from Marshall Chase
Heads up!
Welcome to this article from the Crutchfield archives. Have fun reading it, but be aware that the information may be outdated and links may be broken.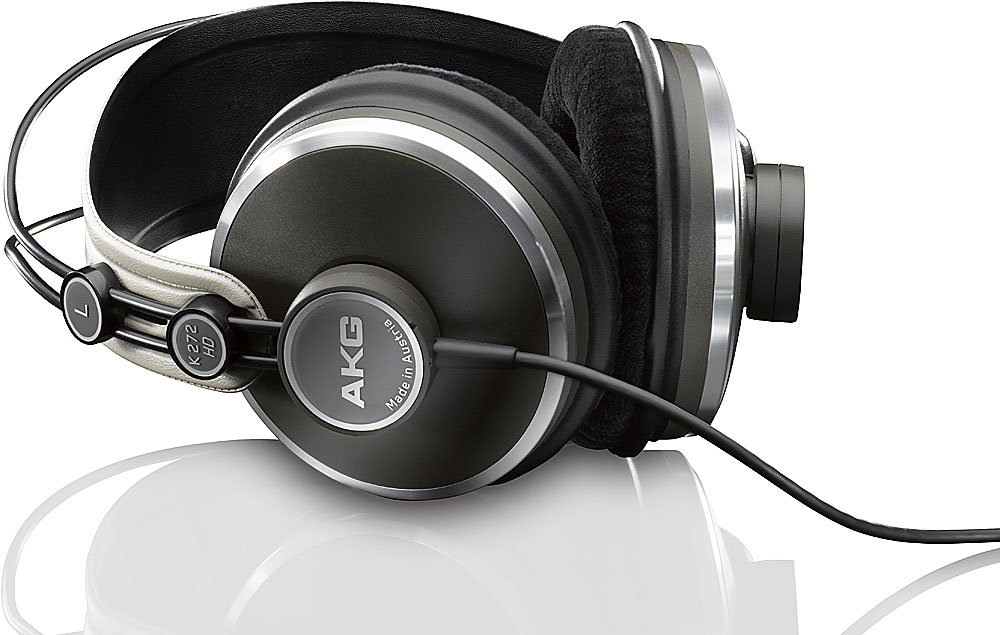 My personal history with headphones goes back to the time when I worked at my college radio station (WBSU at SUNY Brockport). I think the term "cans" was an accurate description for the headphones of that era. Headphones weighed about as much as a big can of beans and the padding looked as if it had been cut from the seat cushions of my '65 Dodge Coronet. Having said all this, the AKG 272 HD headphones may have the look of those old style headphones, but that's where the comparison ends.
Plenty of comfortable living space
The 272s are light and easy to wear. Their padding is a delight. Not only do they breath well, but they do a decent job of blocking out the sound of editors calling out deadlines and cell phones ringing with dental appointment reminders. I like the over-the-ear style of the 272s but as a fellow who wears glasses, I'm especially sensitive to the tension of ear-cups and headbands. Some headphones literally put the squeeze on me to the point where I can't wait to take them off.
The 272s provide a feeling more akin to a pair of slippers that I can't wait to wear when I get home from work. These headphones also have an aesthetic that harkens back to my college days. Now, in some circles, headphones may be a modern fashion statement, but the real rebels among us don't mind a little "sticky-buns-over- the-ear" style. This is, after all, how I looked when I queued up album tracks from the latest Talking Heads record.
Burning down the house
Since I mentioned the Talking Heads, it just made sense to take a listen to them with the 272s. There's lots of action on Burning Down the House, beginning with acoustic guitar. Great detail from the 272s, down to the click of the pick on the strings. The percussion makes an entrance with some tom-tom hits, rolling back and forth, through a slack snare and bass drum. These were clearly identifiable beats with the depth you'd expect from each part of the kit. The acoustic guitar stayed clean throughout, even with the electronic instruments calling in the background. David Byrne's lead vocals were live and energetic, and the overall effect of the headphones was spacious. This is a very different experience from the headphones of olden times, though back then, sound fidelity was not high up on my list of priorities.
Going to the Dawgs
David Grisman affectionately calls his unique style "Dawg-music". This amazing confluence of bluegrass, folk and jazz made for a fantastic acoustic test of the 272s. With fiddles, acoustic guitar, stand-up bass, and mandolin all at full-steam, Minor Swing connects and sends the ball screaming. There isn't a single note lost in this organized mayhem of heavy-hitting musicians, including one of the composers, jazz violin maestro, Stéphane Grappelli. Honestly, it's hard to keep up with these guys but with the clarity and realism presented by these headphones, it was sure fun to try. You could almost hear them sweat.
Singer, Songwriter Punctuation
My daughter kindly drags me kicking and screaming into the new millennium with artists like Sara Bareilles, a singer, songwriter, and pianist with multiple Grammy nominations. Who knew? I listened to Bareilles 2009 nominated tune, Love Song, which makes the karaoke top ten at my house. There is a passion and energy to Sara's singing and piano playing, with no detectable separation of the two, as if voice and piano were a single instrument. I listened to the recording through the 272s and all of this verve came through nicely. I felt as though I were in a great little acoustic venue with a cup of strong java and a hubcap sized cookie in front of me. I would have stood to applaud at the end, but it would have resulted in just more funny looks from my coworkers.
Great for daily wear
The thing I like best about the AKG 272 HD headphones is that they have the fit and comfort I desire and the sound quality I need to have when I'm listening to music I love. They are a very real sounding headphone. I found them just a little shy on the deep bass side of the spectrum, but this was not a big deficit. I wore them for a two-hour stretch without needing a seventh inning stretch. I could have worn them longer if I liked and listened to a lot more of my favorites with great contentment.