My Favorite Piece of Plastic
Julie Govan is the Brand Manager at Crutchfield, and has been writing about consumer electronics since 1999. Her areas of expertise include home theater, surround sound, digital cameras, and HDTV. In her spare time, she also writes book reviews and fiction. She earned a B.A. in English from Davidson College, and went on to receive a master's degree in English literature from the University of Virginia.
More from Julie Govan
Heads up!
Welcome to this article from the Crutchfield archives. Have fun reading it, but be aware that the information may be outdated and links may be broken.
A few weeks ago, the good folks at Tamron came by to show us their current lenses and make sure we got a real-world sense of which lenses did what. I've got a Nikon SLR, and I spent that time thinking lustful thoughts about every lens Tamron showed me. But I also had a revelation — the world of SLR photography is no longer a world of photography purists with an appreciation for the potential in every different kind of lens. Those purists are still out there, but it seems like they're standing at the back of a crowd of recent digital SLR owners, who did their teething on a point-and-shoot camera, and now want one thing from their SLR lens — zoom, and plenty of it.
That's not to say that I'm any more sophisticated than they are. I too cut my teeth on point-and-shoot cameras, first film, than digital (my very first camera: A Kodak X-15F. Cute and clunky). And I'm still new enough to manual shooting that I have to chant little factoids about aperture and shutter speed to myself when I fiddle around in manual mode.
Still, I haven't caught the telephoto bug myself. Don't get me wrong, I like taking pictures using a powerful zoom. I managed to snap a shot of a distant Great Blue Heron, with every feather of his crest distinct and shining in the setting sun. It was cool.
But for the bulk of my photography, I'm taking pictures of fast-moving subjects in the same room as me — i.e., my preschool-age daughter and the wriggly, kicky baby. And powerful telephoto doesn't do me much good in that situation, especially if the lens can't capture a shot on the fly, without a tripod or extra lighting.
I finally, after nearly two years of automatic shooting with the camera's included lens, realized that what I needed was a "fast" lens for near-by shooting. By fast I mean one with a nice low F-stop (2.8 or lower) and by near-by I mean 60-90mm focal length.
In the end, I picked out an inexpensive 50mm (the equivalent focal length on my camera is about 75mm, and if you have no idea what that means, there's a nice explanation of it, under the heading of "crop factor," here) Nikon lens with a maximum F-stop of 1.8, and my family gave it to me as a Christmas present. That large aperture lets a lot of light in, meaning a shorter exposure time. So I've been able to turn my flash off, and shoot in natural light inside most of the time, and I love the photos I'm getting without even trying. I also get photos that are just suffused with light outdoors — especially golden afternoon light (one of my favorites). I'm pretty sure this lens is mostly plastic — nothing that a serious photographer would deign to have in his or her collection – but boy, has it made a huge difference in my shooting.
Here's one example of crayons on a table, just as a busy little hand swooped in to grab them.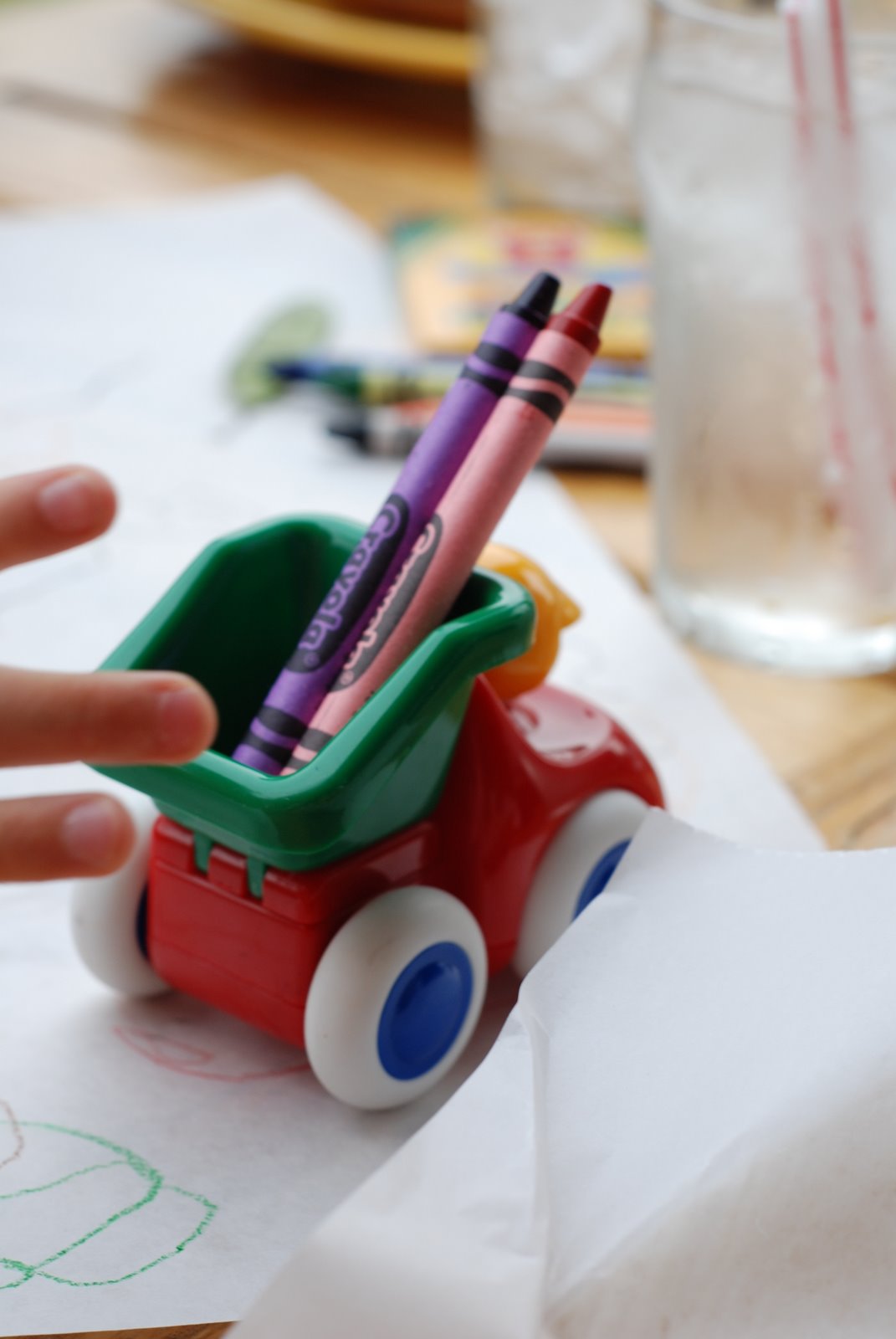 And here's another example, showing that golden light I love so much.