Feeling Centered
Julie Govan is the Brand Manager at Crutchfield, and has been writing about consumer electronics since 1999. Her areas of expertise include home theater, surround sound, digital cameras, and HDTV. In her spare time, she also writes book reviews and fiction. She earned a B.A. in English from Davidson College, and went on to receive a master's degree in English literature from the University of Virginia.
More from Julie Govan
Heads up!
Welcome to this article from the Crutchfield archives. Have fun reading it, but be aware that the information may be outdated and links may be broken.
When you work in an industry that's part of the retail world, you frequently feel that tug-of-war between prudent family finance, and wanting the latest cool thing that your company makes or sells. So, you know, clothing designers always have the coolest clothes, and Rolls-Royce salespeople are presumably always angling for the latest Phantom Drophead Coupe, and me, well, I occasionally get my fancy caught by some really neat gadget, or great-sounding speakers, or good-looking TV.
But working at Crutchfield, I didn't expect to fall in love with, and subsequently purchase, a piece of furniture. That's what happened, though. I helped organize a video on BDI's Novia line of furniture, and by the time we wrapped up the shoot, I had decided that I simply had to buy the cherry BDI Novia 8428.
Part of the reason was because my home components were spilling out of our current stand. Part was because my TV was overhanging the edges of the stand (it looked as appropriate balanced up there as I look on my four-year-old's bicycle). And part of it was because the 8428 was solidly made and thoughtfully designed and a great match for my existing living room furniture. (An eerily great match, actually. As if it was meant to be.)
But the main reason was because getting the 8428 meant that I would be able to resume using my center channel speaker, which hadn't fit on top of or below my big-screen TV, and which had been left out of my system for a year as a result.
Without getting into the details (I could accidentally turn this blog entry into an ad for my new TV stand, but that's not my intention) I'll explain that the 8428 has this upper compartment designed for center channel speakers, with speaker-grille-type cloth on the front and everything. So I no longer needed to find a flat surface deep enough to hold both my TV's base and my center channel; I could just tuck the center out of the way while still hearing it clearly. Problem solved.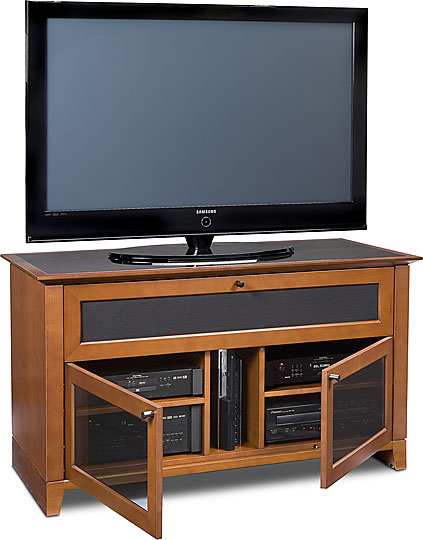 The real question, though, was whether the sound was going to be meaningfully different. You see, if you're not using a stand-alone center channel, there are things you can do to make up for that, and we had done them. We had told our home theater receiver what speakers we did have, and it had gone ahead and tried to make up the difference by sharing dialogue between our front left and right speakers and generally trying to fill out that center soundstage. I'll give my trusty Onkyo receiver an A for effort, but ....
Wow. Getting the center plugged back in was a revelation of what we've been missing. I can't believe we put up with so-so sound for so long, when we had the ability to have stupendous sound. Movies have amazing presence now, I can actually hear dialogue, and the soundtrack info in the front left and right speakers never obscures the sound of on-screen actions. It's as if we bought a new home theater system.
I think the moral of the story is this: Set up your home theater system the way it's supposed to be set up, and you'll get the real impact that everyone's always talking about. (If it's been years since you've had your home theater speakers set up just right, by the way, take a peek at Tara and Malcolm's video on home theater speaker placement. It's a good summary of the basics, plus it uses transparencies! Just like high school!)