Yum: My Week with Nikon's AF-S VR 105mm Lens
Julie Govan is the Brand Manager at Crutchfield, and has been writing about consumer electronics since 1999. Her areas of expertise include home theater, surround sound, digital cameras, and HDTV. In her spare time, she also writes book reviews and fiction. She earned a B.A. in English from Davidson College, and went on to receive a master's degree in English literature from the University of Virginia.
More from Julie Govan
Heads up!
Welcome to this article from the Crutchfield archives. Have fun reading it, but be aware that the information may be outdated and links may be broken.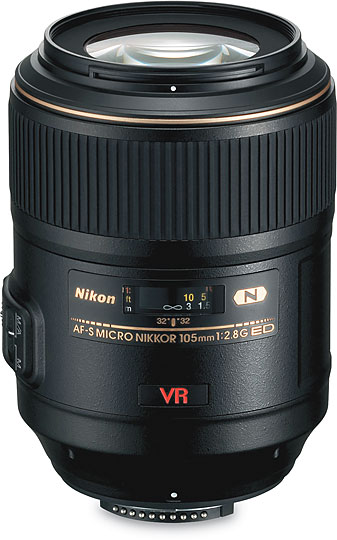 One nice thing about working at Crutchfield is that I occasionally get to try out cool stuff. Over the last several days, I've been playing with Nikon's AF-S VR 105mm f/2.8 micro lens.
Now, to explain a little about what makes this lens so awesome (and also makes it more expensive than my usual 50mm f/1.8 lens) I need to get tweaky about what a micro lens actually does. No worries, though; I am not enough of a camera expert to make this take a long time.
Micro is Nikon's term for their macro lenses. A macro lens, traditionally, was one that was able to reproduce an image at a 1:1 ratio, sizewise. That is, the image captured by a 35mm macro lens onto a frame of 35mm film was equal to the size of the subject in real life.
Over time, that designation has gotten a little looser, and in point-and-shoot cameras, for instance, macro mode simply means that the camera is set to a nearer focal distance. The effect is similar to that of a traditional macro, but not identical.
But Nikon's 105mm micro lens hews closer to the traditional meaning of macro. Therefore, it can support up to 1:1 reproduction ratios and (added bonus) you don't have to get as close to your subject as with a 35mm lens.
OK, that's the end of the tweaky stuff. Here's what this lens was like to use, in a word:
Dreamy.
I know this thing is intended for macro shooting -- close-ups, if you will -- and it was everything I had heard about. The bokeh (that's a term used by photographers to describe the out-of-focus background sought after in certain kinds of photos) was beautiful. The clarity was amazing. The autofocus was startlingly swift and responsive. (There was some "breathing" -- a term I first heard about over at Ken Rockwell's excellent site -- which meant that the apparent size of the image changed as the focus was shifted. This can be a drawback if you shoot macro almost exclusively but certainly wasn't a dealbreaker for me.)
But I am also in love with the way it worked as a portrait lens. So sharp. So responsive.
So, while I did do some close-up shooting,and hope to do more this coming weekend. (Click on the images to enlarge them)
I was also excited about a few of the portraits I captured, on a whim, while working with this lens. Its responsiveness and speed is what made it possible for me to capture a fast-moving egg-happy toddler, along with a cat who assuredly did not want to be dressed up as the Easter bunny.
Sigh. One of the not-nice things about working at Crutchfield is that I occasionally get to try out cool stuff. Which I then want to own. Even when it's not quite in my budget.