Bowers & Wilkins C5 In-Ear Headphones Review
Dave Bar worked for Crutchfield from 1981 until his retirement in 2016. After a 23-year stint in the sales department, he joined the home A/V writing staff. Dave's expertise and good humor will be sorely missed.
More from Dave Bar
Heads up!
Welcome to this article from the Crutchfield archives. Have fun reading it, but be aware that the information may be outdated and links may be broken.
Bowers & Wilkins has always been best known as a high-end speaker manufacturer whose professional monitors are found in some of the world's finest recording studios. But as of late they've begun thinking small, as in desktop computer speakers, powered portable iPod® docks, and headphones.
Their first set of headphones, the highly regarded P5 on-ear headphones, were well received and reviewed (including a thumbs-up review by our very own Ralph Graves). And they made a good showing in Crutchfield's first headphone shootout. But what if you want or need something even more compact than the P5?
B&W now has you covered with their new C5 in-ear headphones. With their silvery black and white motif, swoopy loops and angular lines, these cool, futuristic headphones look like something right out of a 1950's science fiction movie.
Anyway, they certainly have a style that stands out from the earbud crowd. Personally, I like the look. As with the P5, they come with an in-line remote/microphone for convenient operation with Apple iPhones®, iPods®, and iPads®. Listening to them, I would even say that B&W voiced them to sound remarkably like their big brother.
And that's a good thing.
Fit and comfort
No matter how wonderful a set of headphones may sound, it's a deal breaker if you can't wear them for any length of time without discomfort. That's especially true with in-ear 'phones where fit can be, to say the least, a very personal affair.
Most in-ears force you to wedge them in pretty far to achieve a proper air-tight seal, critical for obtaining maximum bass and sound quality. A tight fit is also important for holding the 'phones in place when you hit the road or the gym.
So I was very pleasantly surprised to discover that the C5s sealed up perfectly with minimal intrusion, making them a good choice for those who might be on the fence about using in-ear headphones. (This also made them easier to insert and remove quickly.)
A good bit of that pleasantness is due to one of their most unique and visibly prominent features, the Secure Loop design — those little loops of plastic coated wire curling around the headphones that look like the St. Louis Arch in miniature.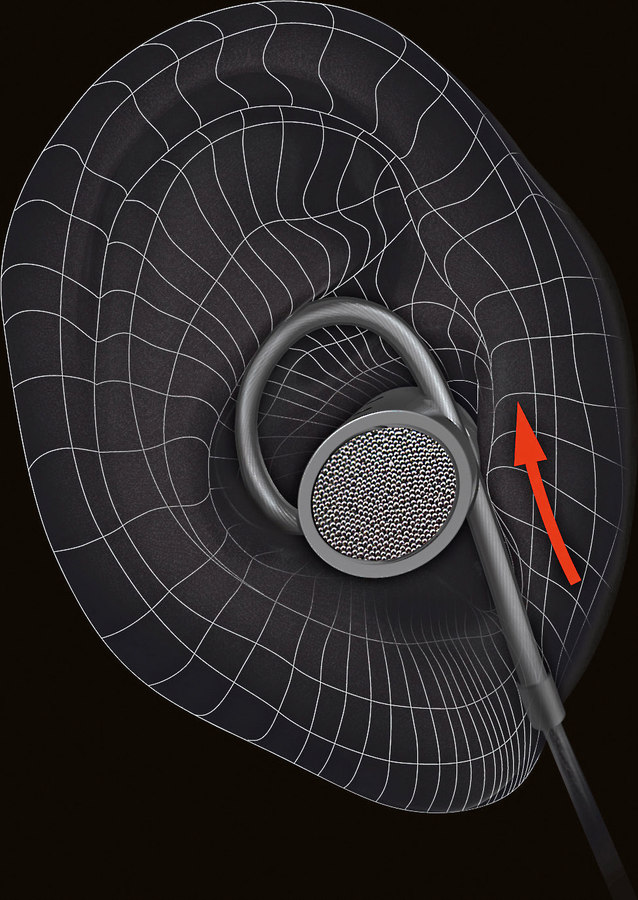 The C5's Secure Loop design keeps the headphones in place
without discomfort.
Far more than just decorative, the loops hold the headphones in place by gently hugging the inner rim of each ear. The wires slide back and forth through a notch carved into the C5's barrel, allowing you to adjust the size of the loop to achieve a custom fit. I found this design worked perfectly for me, keeping the headphones securely in place no matter how much I moved.
A few other in-ears I've tried offer a similar approach using widgets made of silicone rubber to help hold them in. And even though those were pretty effective, none offered the quick, easy, and infinite adjustability of the C5.
Another less visible feature designed to enhance fit and feel are the C5's internal solid tungsten sound tubes. Placed toward the eartip end, these sound tubes tip the balance of the headphone's mass toward the ear so they don't constantly feel as though they're falling out. Tungsten is an extremely dense, heavy metal that even in small amounts, adds enough weight (but not too much) to make this design work quite nicely.
Overall, I found the C5 to feel very comfortable and secure, and well-balanced in terms of weight distribution. But they were also noticeably heavier than some in-ears that I've tried.
The sound
I listened first to the C5 connected directly to my iPod touch. My digital music selections ranged from old 128kbs iTunes® downloads to uncompressed AIFF and WAV files ripped from CD. I'm glad to report that my iPod's headphone jack drove the C5s extremely well on its own (not always the case with quality headphones).
Sound was robust and clear; with palpable bass and smooth, detailed midrange. High frequencies were just ever so slightly rolled off at the very top. With many of today's dynamically and digitally compressed MP3 files that may actually be a blessing in disguise. Those recordings can have a somewhat harsh digital edge to them that a slight high-frequency rolloff helps tame.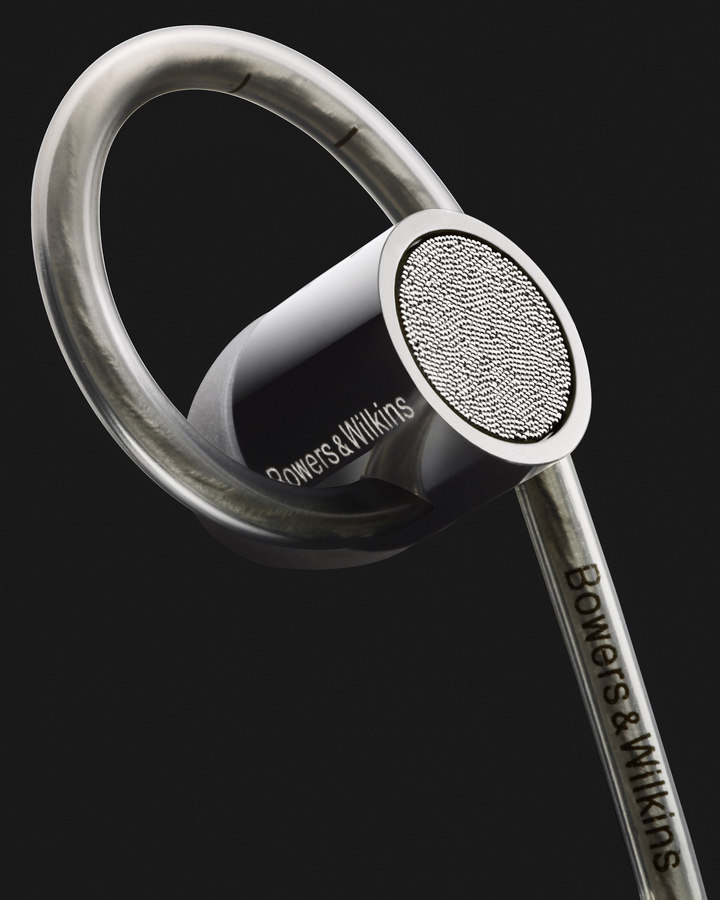 Closeup of the micro porous filter, the secret
behind the C5's spacious soundstage.
I also greatly enjoyed the way the C5s spread the instruments across a wide and moderately deep soundstage, rather than concentrating them right in the middle of my head. This is a pretty neat trick that you normally only expect to hear with open-air, around-the-ear headphones. Much of that spaciousness can probably be attributed to B&W's Micro Porous Filter — a cluster of tiny little steel balls attached somehow to the outer end of the headphones.
When I put my fingers over the ends of the headphones, defeating the "filter," the soundstage immediately collapsed. I would also have expected putting my fingers over the filter to decrease the amount of outside noise entering the headphones, but it seemed to make no difference-it affected only the soundstage. Overall, outside noise attenuation was very good.
Adding a headphone amp
Audio geek that I am, I next tried plugging the C5s into my NuForce uDAC-2 headphone amp/DAC. This little device is my favorite way to listen to headphones when plugged into my laptop or work computer. I'm glad I did. What a diff!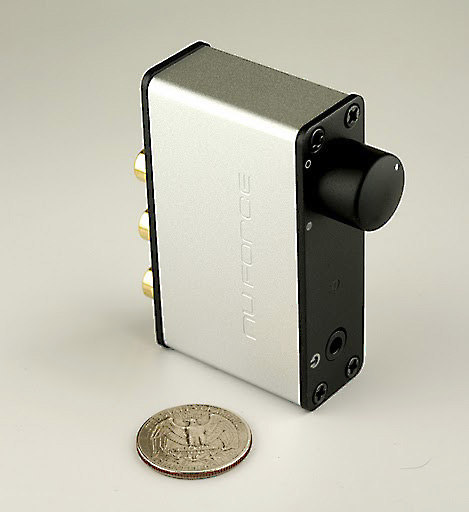 Adding a headphone amp like the
uDAC-2 can be a game-changer.
The sound was instantly more dynamic, with instruments taking on much greater levels of texture and flavor. It reminds me of those kids pop-up books where you open the page and the characters stand up-going from two- to three dimensional before your very eyes.
The headphone amp also brought out something that I wasn't quite expecting. A noticeable bump in the mid-bass region, say between 40 and 80 Hz that gave the C5 a somewhat "fat" sound. The bump was also enough to slightly obscure some of the deeper bass notes below it (at least on the relatively few recordings that actually have any appreciable content going that low).
A word or two about personal preference and intended use: what might be a conundrum for me may be a bonus for many. Here's why. First, I suspect most people will be plugging these 'phones straight into their iPods and iPhones, never using a headphone amp as I do. For them, the only noticeable characteristic they may hear is a strong, even bass response. The kind of response that helps overcome some of the bass-robbing low-frequency sounds that emanate from our surroundings, like the rumble of a train or bus.
That bass bump also serves somewhat like a "loudness" control, enhancing low-frequency sounds for a fuller listening experience at lower, safer volume levels. And, let's face it, a lot of people just flat out like powerful-sounding bass, so it really is just a matter of taste as to how much is too much. I suspect that this was no coincidence, but an intentional move on B&Ws part to create a full-sounding set of 'phones that can really hang in there when driven by portable electronics.
With all that said, I still found the sound of C5 to be refined, warm, and thoroughly enjoyable, whether listening directly to my iPod or through my amp — much the same way I found B&W's P5 on-ear headphones. Those looking for a more ruler-flat response with an in-ear headphone destined for listening primarily through a headphone amp may want to consider their choices carefully.
Everything else
What else can I say about the C5? I liked how the in-line remote let me skip around tracks and control the volume level on my iPod touch. The remote's built-in microphone also makes it possible use my iPod's Voice Control feature to change play lists, and play specific albums or artists. iPhone users can also use Voice Control to make calls, but I wasn't able to test that capability.
As far as construction quality goes, the C5s are first rate. No rough edges or loose parts anywhere to be seen. Everything was tight and fit well together. I especially liked the springy, plastic coated cable that B&W uses. It resisted tangling better than any in-ear headphone I've ever used. In fact, it never knotted once the entire time I was auditioning them.
My sample came with four different sized silicone eartips, among which I was able to find a pair that fit perfectly. B&W also includes a zippered, pocket-size case for storage, something I find more protective and easier to use than the typical draw-string bag. Oh, and there was also an airline adapter in the box, which unfortunately, I couldn't use. Maybe I'll snag a pair of C5 in-ear headphones for some company on my next long-distance journey, and give that in-flight adapter a try.