Camcorder Accessories
Meredith Krebs was a video producer and copywriter at Crutchfield for several years. She wrote about cameras and produced over 100 videos for the website.
More from Meredith Krebs
Heads up!
Welcome to this article from the Crutchfield archives. Have fun reading it, but be aware that the information may be outdated and links may be broken.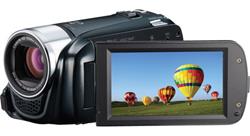 With camcorder accessories, it's best to get the necessities to start, and then try adding new tools as you go. That way the quality of your videos will increase along with your skill level, and you'll soon be creating wonderful memories that will last a lifetime.
When I started shooting home movies in high school, I figured the family camcorder was all I needed. It took some trial and error to figure out that just a few key accessories could make a huge improvement in my footage.
Once I recorded family members ice skating on our frozen river, but camera shake made the whole experience unwatchable. So later on, when I recorded my 90-year-old grandfather telling his favorite stories about growing up abroad, I used a tripod to keep the video steady. After his death, the footage became a wonderful record of our family history. I only wish I had had a microphone for that shoot so I could have heard his words more clearly.
I still love shooting home movies, and I've learned a lot about the add-ons that can really make a difference in your shooting experience and your picture. So I've listed my favorite accessories below, starting with some real must-haves.
Batteries
Extra batteries are a real plus. Depending on the amount of zoom and playback you're doing, the average battery may make it only a few hours. One battery may not last through a long event or a vacation day at the beach. Keeping a spare charged and ready to go will allow you to capture all the footage you like.
A battery charger
Unless you want to take your camcorder out of commission every time you need to charge your batteries, a battery charger is very helpful. You're guaranteed to have fresh batteries when you need them, and you won't miss any of life's precious moments. I went without one for a few months, and was really glad when I finally got one. It made shooting video at family reunions and long parties much easier, since I never had to stop to recharge.
Don't miss a moment — keep extra memory on hand.
Extra memory cards, discs, or tapes
Camcorders that record to memory cards, discs, or tapes don't often come with any included in the box. Even if they do, you'll definitely want to keep extras on hand. The last thing you want is to get caught short on a long trip or in the middle of an important event. You don't want to have to start deleting on the fly when you run out of recording space before the candles have been blown out during a birthday party. Memory cards, discs, and tapes are cheap, but the memories are priceless. I recommend stocking up.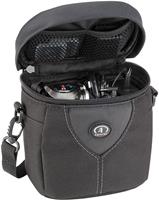 A camcorder bag will keep your camera safe and your accessories organized.
A camcorder case
With a camcorder case, you can protect your camcorder and store your extra memory cards, discs, tapes, and batteries in one place. That way you'll have everything together when it's time to grab your camcorder and go, and you won't miss the baby's first steps or some other important event because you can't find your extra memory card. Special camcorder cases are usually well padded and have lots of little pockets for your accessories. I love having everything in one place, and I like the added peace of mind that my camcorder won't get banged around when I take it out.
An extra hard drive
If you become a passionate and frequent shooter, you're going to quickly run out of space on your computer. I recommend getting an extra hard drive to store all your footage. The hard drive will also give you some peace of mind. It's great to have multiple copies of your footage, for example on two hard drives or a hard drive and DVD. I've accidentally deleted or recorded over shots before, and when it's gone, it's gone (unless you have saved it somewhere else).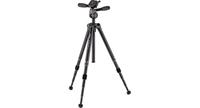 Keep your shots steady with a tripod.
A tripod
Let's face it, your hand is probably going to shake a bit when you're holding the camcorder. A great solution for this problem is a tripod. Most are compatible with both your digital camera and camcorder, so a tripod can also make taking your annual family photo much easier.
When you use a tripod, you can stay steady even when you zoom in close for a soccer game or a school play. Simply attach the camcorder to the tripod, level it out, adjust the legs to the height you want, and start shooting. Even better, you can leave your camcorder locked down on a tripod to record a play or concert, and then sit back in your seat and enjoy the performance.
A monopod
Lighter than a tripod, the monopod will also help steady your shots. It attaches to your camcorder the same way a tripod does, but you won't be able to lock it down for a long performance like the tripod. It's very helpful for capturing sporting events and other times when you're shooting on the go. You can carry the monopod easily as you sprint up and down the side of the soccer field, for instance, and then set up quickly for your next shot. Unlike the tripod, there's no need to adjust levels or legs on uneven ground.
Cables
Want to hook the camcorder up to your HDTV or your computer? Make sure it includes all the necessary cables. That way there's no need to be disappointed when it's finally time to share your latest home movie with family and friends.
For a PC, you'll probably use a USB port to connect the camcorder to your computer. Most camcorders come with a cable, and some pocket video camcorders have a USB port that flips out from the camera.
Your camcorder will probably come with component video cables so you'll be all set to watch footage on your TV. But if you've got an HDTV, you may want a mini-HDMI-to-HDMI cable so you can get the best possible picture on your TV. For more about hooking up your camera to your TV or computer, see our article on watching your home movies
Add a separate microphone when you need great sound.
Microphones
If you'll be recording speeches, music, or something where you want top-of-the-line audio quality, you may want to look into investing in a separate microphone. The built-in microphone on your camcorder will be sufficient for most events, but a shotgun microphone, for instance, will allow you to focus on audio from one source (like a stage) and block out a lot of ambient noise (a restless audience). Just make sure that the microphone you choose is compatible with your camcorder brand.
More info
Find more tips for getting great footage in our article on shooting better video.
Check out our camcorder FAQ for more info, from camcorder basics to archiving your footage.
Want to watch your home movies on an HDTV or edit them on your computer? Check out our article on watching and editing your footage.
Happy shooting!