Digital Camera Accessories
Meredith Krebs was a video producer and copywriter at Crutchfield for several years. She wrote about cameras and produced over 100 videos for the website.
More from Meredith Krebs
Heads up!
Welcome to this article from the Crutchfield archives. Have fun reading it, but be aware that the information may be outdated and links may be broken.

I was very excited to receive my first point-and-shoot camera when I was about nine years old. It was a film camera, so I had to wait a week to see the results from my first roll of film. When I pulled out my photos, I was horrified to discover that my index finger had been in every shot. I thought the viewfinder was the lens, and had not realized that they were actually next to each other.
It's easy to make mistakes when you're shooting. Digital preview modes make it possible to avoid (or at least delete) some of the worst mistakes, but certain things are not repeatable. Your child will only receive that diploma once. There's no do-over for the game winning score. And the bride and groom will only have their first kiss once. So it's best to be ready for those moments. Digital camera accessories can help you be prepared and get the best shot possible.
Keeping your camera charged and ready to go
Batteries
The average battery lasts about 200-500 photos. But if you like to review and share your photos using the camera's LCD screen, the battery can drain faster. It's no fun missing a shot of your child's performance just because you didn't have enough power. Keeping a spare battery charged will ensure that you won't miss any of the action.
A battery charger
Some cameras come with separate battery chargers, but others have AC adapters that charge the battery inside the camera. Unless you want to take your camera out of commission and plug it into the wall every time you need to charge your batteries, a battery charger paired with an extra battery can be very helpful. You're guaranteed to have fresh batteries when you need them.
Battery grip
Some DSLR cameras are compatible with a truly handy device known as a battery grip. These connect to the underside of the camera chassis to make it easier to hold the camera when shooting vertically. In addition, many hold an extra battery, so you can stay out longer and recharge less often.
Archiving and storage
Extra memory cards
Cameras often don't have much in the way of internal memory, and usually don't come with memory cards included in the box. Even if they do, you'll definitely want to keep extras on hand. If you're on a trip or photographing a long event, you may not have time to review your photo, download the ones you want to keep and delete the rest. SD™ cards are cheap, but the memories are priceless. We recommend stocking up.
An extra hard drive or recordable DVDs
Archiving is important with digital or printed photographs. It's important to store your digital photos several places in case of computer failure or accidental erasure. You can use SD cards or DVDs to archive your photos, or you can use an external hard drive. An external hard drive will hold a lot of media, and will keep your computer memory freed up.
Capturing sound
Digital cameras these days do more than just take photos - they also record high-definition video. Typically, there will be a small microphone built into the chassis of your camera, but see if it also has a microphone input jack or a hot shoe. If so, you can get better results with a special camera-ready microphone.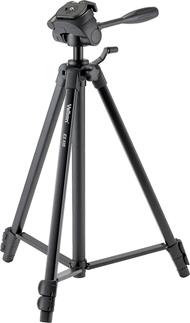 A good tripod will keep your camera steady, and let you get into the picture.
Taking great shots
A tripod or monopod
Optical image stabilization is a feature offered on a few high-end point and shoot cameras, and it does help steady your shots. But if you want to use a slow shutter speed, or do time-lapse photography, you're going to need to keep the camera steady and in one spot. A tripod is the best tool for the job. Lighter than a tripod, a monopod will also help steady your shots. It's very helpful for capturing sporting events and at other times when you're shooting on the go.
Get organized
A camera case
With a camera case, you can protect your camera and store your extra memory cards, cables and batteries in one place. That way you'll have everything together when it's time to grab your camera and go. Many camera cases are well padded and have lots of little pockets for your accessories, so everything is easy to find.
Enjoy your photos
Cables
Want to hook the camera up to your HDTV or your computer? Make sure it includes all the necessary cables before you finish your order. That way you won't be disappointed when it's finally time to share your photos with family and friends. Most cameras have a USB port and many come with a cable to connect your camera to your computer. Some now come with a mini HDMI port, if they shoot high-definition videos, but you will probably need to buy your own mini-HDMI-to-HDMI cable. An HDMI cable will give you the best possible picture on your TV.
Digital photo frames
Once you've taken all your wonderful photos, it's important to see and enjoy them. Various websites, like Flickr®, will let you upload your photos to share them with others. Digital photo frames are another way to enjoy and experience your photos every day. They're easy to set up, and you can even send photos to some of them via email or Wi-Fi® so they're always current. To find out more about sharing your photos, check out our article on printing and sharing pictures.
Printer
If you'd like to print your own photos, buying a photo printer is a great option. There's no need to pay to have the photos printed or wait for the prints. Some printers can connect to your network, and others will print directly from a memory card so you don't have to use a computer or hook your camera up to the printer. If you do get a printer, you'll need to stock up on paper and ink cartridges so you can start printing your best shots right away. To learn more, check out our article on how to find the best printer for your needs.