ClarityOne EB110 in-ear headphone review
Former Crutchfield staff writer Woody Sherman spent years working as an editor and manager in the video industry at the national level.
More from Woody Sherman
Heads up!
Welcome to this article from the Crutchfield archives. Have fun reading it, but be aware that the information may be outdated and links may be broken.
The ClarityOne EB110 earbuds have a tangle-resistant cable
Great for the cubicle worker
I was lucky enough to snag a pair of these ClarityOne™ EB 110 in-ear headphones when they first made an appearance at Crutchfield HQ late last year. Though you may not have heard of them, for me the EB 110s deliver a listening experience that outperforms quite a few better-known in-ear headsets of similar cost. With a few multi-day exceptions for evaluating other units, they've been my bread-and-butter work headphones ever since.
The EB 110s are exceptionally responsive. The headphones run at a low resistance of 8 ohms, so they won't suck much power from your portable media player. And they have an in-line microphone and a clickable remote switch for controlling compatible phones and media devices.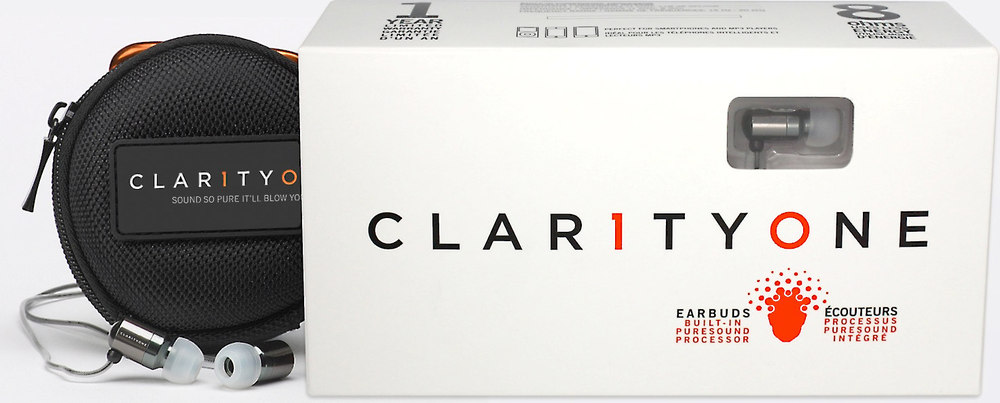 The ClarityOne EB 110s feature a sturdy zippered case with an attached carabiner
Three great attributes
There are three primary reasons I enjoy these headphones:
First, the EB 110s stay put and they're comfortable. I know, everyone's a little different when it comes to ear anatomy, but others here who've tried these headphones say the same thing. I know one very experienced writer here who wears them during his workouts and says they've never fallen out. As for me, I've had a rocky relationship with some in-ears since the day I tried my first pair – they slip out, or they're itchy/painful, or they just don't sound good until you jam them in your ears. Until the ClarityOnes. To my amazement, these headphones go in easy, they stay in, and I can wear them for hours at a time without fatigue.
Second, they provide a good seal. Now, I work in a room full of talented writers and designers – and most of the time it's like a library up here. But every now and again, especially when we're all on deadline, it can get a little more boisterous. That's when I'm happy to have some isolation from the outside world. Not only that, I can get a good listening level while knowing that my music isn't leaking out to my neighbors. Things like that can start a headphone-wearing chain reaction in the creative bullpen, not to mention the occasional advisory email.
Third, these headphones are really listenable over the long haul. True to their name, the ClarityOnes have a clear and extended high mid-range, so you can still hear song lyrics nicely defined at lower volumes — perfect for extended work use. Plus, when you've got a good seal, they deliver an even, robust bass response that's very musical. You can really define the pitch of bass frequencies, it's not just growl and rumble. I find that the ClarityOnes suit me best at low to medium listening levels — when I crank them up the treble range feels a bit too present for my taste. But that's purely a personal assessment — others I know who've tried them don't share my opinion there.
Experiment with the ear tip sizes
The EB 110s come with three pair of silicone ear tips so you can experiment with what works best for you. I did find, early on, that changing tips made a discernable difference in the overall character of the sound I was hearing, so take some time and listen to a few different tracks to decide what you like best. There's plenty to like about the ClarityOne EB110s. I'm looking forward to hearing more from them down the road.