Fun and photo-worthy treats on Route 66
A circuitous path, involving England, New York, rural Michigan, Indiana, and lots of parts in between brought Matthew Freeman to Charlottesville, where he's been writing about mobile audio/video for Crutchfield off and on since early 2000. He fosters an eclectic taste in film, and is fond of a wide range of music. A native of Albuquerque, New Mexico, he found his way to the University of Notre Dame, where, in an act of charity unsurpassed in the history of Western civilization, he was given a B.A. in English.
More from Matt Freeman
Heads up!
Welcome to this article from the Crutchfield archives. Have fun reading it, but be aware that the information may be outdated and links may be broken.
Few roads in America offer a trove of treasures as wide-ranging and fun as Route 66. In our January catalog, we highlighted three great ones in Oklahoma: Chris Barbee's Bowling Ball Art in Nowata, The Golden Driller statue in Tulsa, and Ed Galloway's World's Largest Totem Pole in Foyil. Here are some fun facts about each of them.
Chris Barbee's Bowling Ball Yard Art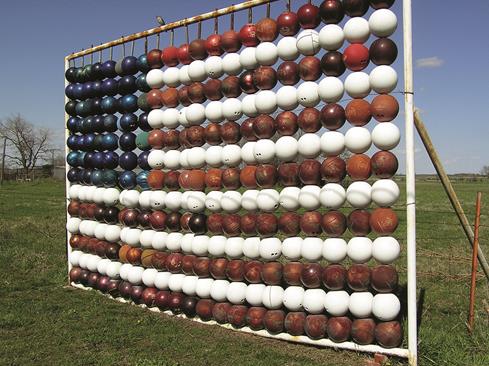 A flag made from bowling balls by Chris Barbee.
To learn about Chris Barbee's work transforming his front yard into a sculpture garden made from bowling balls, we got in touch with his daughter Darlene, who shared his story with us.
"Chris's wife, Carol, loved roses. She wanted something to decorate her rose bed, so Chris brought her some gazing balls that could withstand a stout Oklahoma wind or storm – old bowling balls. After Carol's death in 1997, the roses died and Chris was left with about half a dozen bowling balls.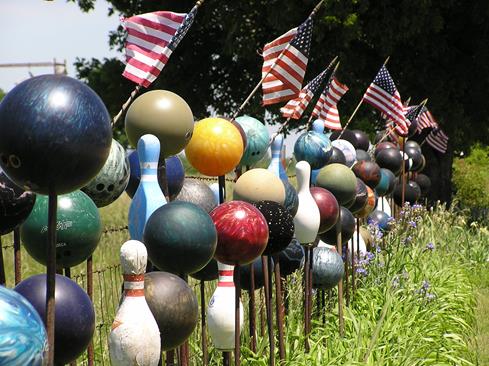 Chris's first creation: the bowling ball fence.
"After retiring in 2005, he needed a hobby. The remaining bowling balls caught his attention. At first, he threw a few in the pig pens for the hogs to roll around. Then, he had an idea – why not make a fence with them? And so it began.
"Chris began picking up old bowling balls at yard sales, flea markets, thrift shops, or from people he knew that had one or two lying around they no longer used.
"As the unusual fence grew longer, passers by noticed and would drop off bowling balls in the yard now and then. Soon the fence was finished, but the bowling balls kept coming. What to do now? How about making the alphabet.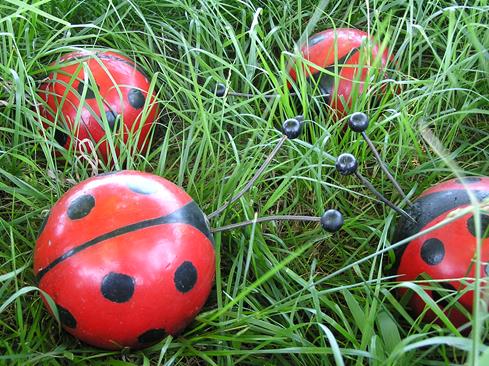 Bowling ball ladybugs!
"People began to drive by specifically to see the oddity, and the bowling ball collection grew as word spread. People brought out-of-town family members to see the growing sculpture collection. Then he began receiving bowling balls in the mail. The postman has packages from Alaska, New York, Vermont, Pennsylvania, Michigan, Arizona, and Ohio. Chris soon earned the nickname 'The Bowling Ball Man' as he continued to search for more. When people ask him about coming by with bowling balls, he is known to say 'Just kick 'em out, I'll find 'em.'
"Over 2,700 bowling balls have been used in creating over 20 sculptures. Bowling balls and pins from 29 states have been incorporated into various compositions. Some visitors bring bowling balls from their home state and sign their names on the ball or make them 'in memory of' a special person. One of the pieces is a memorial to those that lost their lives in the 2013 tornado in Moore, OK. A bowling alley in Moore was hit, and sent a bowling ball to Chris.
"Approximately 400-500 visitors drop by each year. Of the visitors that have signed the guest book, 49 states are represented (only South Dakota is not), as well as 14 foreign counties. Chris Barbee's Bowling Ball Yard Art is listed on Roadside America and Facebook, is mentioned in the book Weird Oklahoma, and has been featured in several local newspapers and on a few local news channels. Chris also has a website at www.bowlingballyardart.com with information about his hobby.
"In 2010 my older sister, Christine, and I were both diagnosed with breast cancer. Dad made a large pink ribbon from bowling balls and dedicated it to us. He then made a plaque by it so that others could add the name of someone they loved that had been touched by the disease.
"He also donated about 150 bowling pins to my art class for the students to decorate. They were a hit! The kids had a great time painting them. He also is always soliciting ideas of things to make, so if anyone had ideas, they can email at bowlingballyardart@yahoo.com."
How to get there: "The first step is to head to Nowata, OK, just 30 miles or so south of Coffeyville, KS, or 1-1/2 hours north of Tulsa on highway 169. There are signs pointing the way. He is located one mile north and one mile east of Nowata, on road 021. Directions are also given on www.bowlingballyardart.com."
The Golden Driller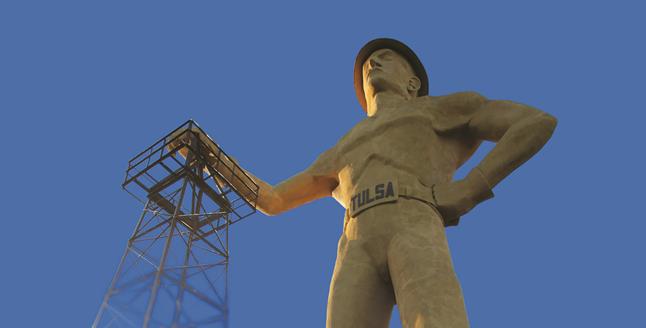 The Golden Driller stands watch over Tulsa's Expo Square fairgrounds complex.
In the heart of Tulsa stands the Golden Driller, a 76-foot statue that stands as testament to Tulsa's history in the oil and petroleum industry, and is viewed by thousands of visitors every year. Amanda Blair of Tulsa's Expo Square, home of the Golden Driller, shared some information about it with us.
"[He was] first introduced in 1953 at the International Petroleum Exposition by the Mid-Continent Supply Company of Fort Worth. It was temporarily erected again for the 1959 show and attracted so much attention that the company had it rehabilitated and donated to the Tulsa County Fairgrounds Trust Authority. It was permanently installed at the 21st Street & Pittsburg Avenue site for the 1966 International Petroleum Exposition.
"[It's a] basic angle-iron structure made of plaster and concrete which was originally painted gold by Gibco, Inc. for the International Petroleum Exposition of 1979.
"It's one of the largest free-standing statues in the world and can withstand 200 MPH winds. The Driller has been ravaged by weather, survived tornadoes and photo sessions with tourists, attacked by vandals, assaulted by souvenir seekers and shotgun blasts, and even had an arrow in the back.
"Weight: 43,500 pounds. Belt size: 48 foot circumference. Shoe size: 393 DDD. Hat size: 112 Hard Hat."
How to get there: "He is located in Tulsa, Oklahoma on East 21st Street and South Pittsburg Avenue, between South Yale Avenue and South Harvard Avenue."
The World's Largest Totem Pole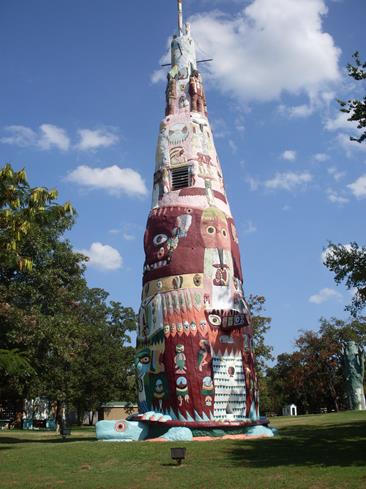 The World's Largest Concrete Totem Pole stands atop a carved turtle in Foyil, OK.
Foyil, Oklahoma, is home to a delight: the World's Largest Totem Pole. It was built between 1937 and 1948 by expert woodworker and sculptor Ed Galloway, and serves as the centerpiece of a nine-acre park dedicated as a monument to Native American art. We turned to David Anderson, director of the Totem Pole Park, for more info.
The totem pole is made from concrete, over a metal-and-sandstone skeleton, stands 60 feet high, and rests on the back of a carved turtle. To combat the effects of time and weather, in 1990 the Rogers Country Historical Society helped organize a restoration effort, and continues to preserve Ed's creations.
The park also features more of Ed's sculptures, a museum, and Ed's 11-sided "Fiddle House" which was home to his hand-carved violins.
How to get there: From Interstate 44, take exit 255. Follow Route 20 West to Route 66 and turn right. After approximately 11 miles, turn right and travel Route 28A East for about four miles.