Crutchfield's Resolutions for the New Year
Heads up!
Welcome to this article from the Crutchfield archives. Have fun reading it, but be aware that the information may be outdated and links may be broken.
When thinking about resolutions for the new year, we put our heads together with a nod toward improving our lives and lifestyles, and we wanted something more than the usual "get more exercise" and "cook better meals." Rather, we looked for ways that we could make the time spent doing those other things even more enjoyable. That's how we came up with these seven resolutions that would be of benefit to many people. And unlike boring stuff such as eating right and getting more sleep, these resolutions are easy to keep.
1. I will make my music sound great in my car.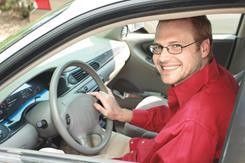 Drive with great sound in 2013.
Overhauling your car's sound system will turn those dreary commutes into chances to escape into your music. When you step up to an amplified speaker system and a subwoofer, you'll get more detail, depth, and dynamics, which let you connect with your tunes on an emotional level. And don't scrimp on the power—the extra wattage lets you feel the full impact of your music.
Improve the way your music sounds
Aftermarket speakers deliver fuller, richer sound with considerably more detail and nuance, and they're capable of playing louder and cleaner than your car's original factory speakers. Learn more about getting new speakers, or jump right into the fun and shop for car speakers.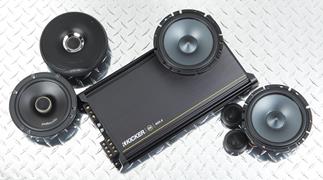 A new amp and speakers can transform your vehicle's sound system.
Amplify the music for effective impact
An amplifier not only pumps up your music to overcome road noise, it also lets you hear everything more clearly, from the softest whisper to the loudest notes, for an even stronger emotional response. Learn more about car amplifiers.
Add the power and beat of a sub
Bass is fun—and it's not just about the boom. Adding a subwoofer to your car stereo restores and emphasizes the rhythmic energy and foun­dation of every kind of music. It adds tones that your door speakers just can't reproduce, so you get more of the music that the artist is trying to give you. Learn more about adding a subwoofer.
2. I will improve my workouts.
The next-generation gear in today's home gym lets you access media from a smartphone, PC, or the web while you're working out. That means more options for you to choose from, whether it's the latest movies or workout videos.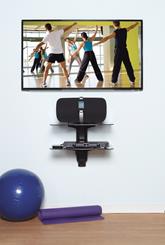 Movies and music can make your workouts more enjoyable.
At home
When the weather outside is frightful, your home gym can be a delightful alternative. To keep things interesting while you're working out, equip your workout space with A/V gear that'll make the time pass more enjoyably, like a Blu-ray player that can stream Neflix® to your TV.
At the gym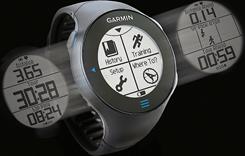 Monitor metrics with a fitness watch, plus track your workout and share it online.
Why listen to the clink of iron and grunts of your fellow gym rats when you're working out? A good pair of sports headphones will block out the noise while staying securely in your ears. You'll enjoy high-quality fidelity with your high-quality sets.
On the go
There's no better place than the great outdoors for putting in the miles. Whether you're lacing up your kicks for a long run, or putting on your boots for a backcountry expedition, Garmin fitness watches will keep track of mileage and more.
Get some great ideas for improving your exercise time with our selection of products for the home gym.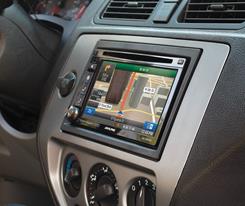 A navigation receiver provides great entertainment and intelligent guidance.
3. I will get there on time.
GPS navigation technology in your car can help you take time-saving routes, get around traffic, find parking, and more—everything you need to ensure you're not late for important meetings and events. Recent developments in mapping detail, such as 3D maps and split-screen displays, make it easier than ever to find your way quickly.
Look for receivers with traffic updates
Even if you don't live in a traffic-heavy area, a navigation receiver with traffic-info service can come in handy when visiting other cities. Meanwhile, daily commuters can get updates that save time by pointing out—or in some cases predicting—traffic jams.
Check out our full selections of in-dash navigation receivers and portable navigators.
4. I will drive more safely.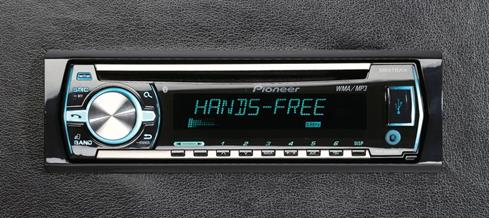 This Pioneer receiver lets you take phone calls in the car without taking your eyes off the road.
This year, let us help you stay focused on the road ahead. With so many of us spending so much time commuting, our cars can feel like a second home. Often, we pack in our favorite electronics to make the time spent more enjoyable, but these same devices have the potential to distract. However, the right equip­ment, used responsibly, can reduce those distractions, and even help us drive more safely.
Keep your hands on the wheel and stay aware
An in-dash DVD receiver gives you control through an easy-to-use touchscreen. Connecting a rear-view camera helps you spot things you can't see from the driver's seat when backing up. Upgrading your stereo? An adapter for your steering wheel audio controls will let you continue using those controls with your new stereo. You can even add OnStar® to almost any car for help in case of emergencies.
Special gear that lets you focus on driving
Use your stereo for Bluetooth® hands-free calling, and you won't have to handle your phone while you drive. Meanwhile, some new GPS features keep you from having to check the onscreen maps too often.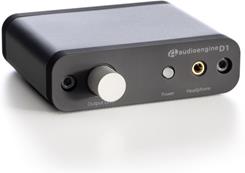 The compact Audioengine D1 makes music sound great.
5. I will enjoy my work.
Want to enjoy work and get more done this year? Fuel your workday with your favorite tunes delivered with clarity, detail, and power. Headphone amps, powered speakers, headphones, and other desktop components can turn your computer into a high-fidelity music player capable of truly spectacular sound.
Get inspiration from great-sounding music
Music is a powerful motivator and a welcome reminder of life beyond the job. Upgrading your computer audio for richer, livelier sound can improve your outlook and spark creativity. A digital-to-analog converter paired with a set of good desktop speakers or headphones can put the life back into your music. For more info, read our Guide to High-fidelity Computer Audio or check out our selection of computer audio gear.
6. I will be a better business traveler.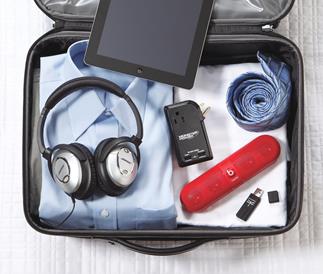 Choose the right products, and you'll add a new level of listening enjoyment to your trips.
Traveling is an essential part of business, but living out of a suitcase and a rental car isn't necessarily easy. Luckily, we carry lots of products that'll make life on the road or in hotels so much better.
Great stuff to pack in your suitcase
Good-sounding music can reduce the stress of business trips. Noise-canceling head­phones help you relax on the plane, while portable Bluetooth® wireless speakers let you play music pretty much anywhere. Check out our new wireless speakers video for a closer look.
Give your rental car a tech upgrade
If you find yourself in a rental car all too often, it's smart to bring along helpful tools that'll make your travels easier. When you're in a new town, a portable GPS device is imperative for directions. A Bluetooth adapter for hands-free calling can help keep your focus on the road rather than your phone. And if you have a long day on the road, a power inverter will let you keep your devices charged.
7. I will go wireless with my music.
Resolve to stop playing music through the tiny speakers on your smartphone or tablet. Experience full, detailed sound—without the hassle of wires. AirPlay® and Bluetooth wireless technologies make it possible. Whether you use an iPhone®, iPad®, or an Android™ device, we carry a variety of systems that will give you great sound and let you cut the speaker cable.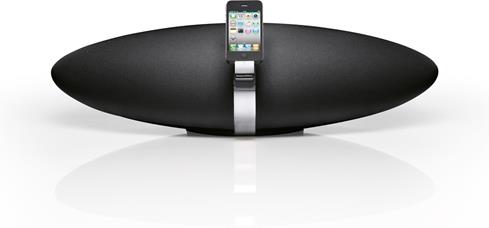 Style meets sound in the Bowers & Wilkins Zeppelin Air
Option 1: Apple AirPlay
Stream music through your Wi-Fi network with AirPlay. From your iPhone, iPod touch®, or iPad, you can stream to a single speaker system. From a computer, the iTunes® program lets you simultaneously stream to multiple speaker systems throughout your home. Learn more about going wireless with Apple AirPlay.
Option 2: Bluetooth technology
Bluetooth makes a one-to-one wireless connection between your device and a compatible speaker system. It works with most any portable device—an Android smartphone or tablet, iPhone, iPad, or a portable game console—just to name a few. We'll point you again to our Bluetooth speaker review for some smart tips.
The New Year is here.
We hope some of our suggestions will resonate with you, and we're always ready with friendly advice if you need help deciding on the product that's right for you. Why not take advantage of awesome technology and add to your fun in the year ahead? Happy New Year!