A Ride in the 2004 Alpine Mini Cooper
I've been a huge fan of car audio ever since I tried (semi-successfully) to build my own custom truck speaker enclosures as a 16-year-old. I joined the Crutchfield car writing team way back in February of the year 2000, and proceeded over the years to write about nearly every product category we carry. In 2007, I assumed my current role of Car A/V Editor for our catalog, a position that helps me channel my passions for both music and driving.
More from Matt Freeman
Heads up!
Welcome to this article from the Crutchfield archives. Have fun reading it, but be aware that the information may be outdated and links may be broken.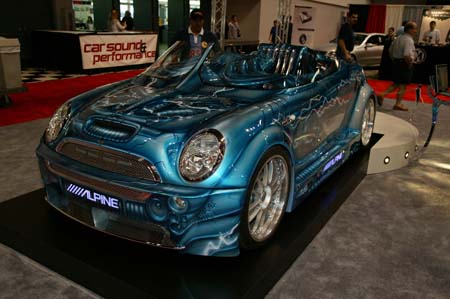 Alpine's 2004 MINI Cooper, on display at Spring Break Nationals.
Sometimes, when you're in the right place at the right time, incredible things can happen to you. Of course, it doesn't hurt to know the right people.
Such a confluence of circumstances occurred at Spring Break Nationals. Our photographer and I were standing, talking to Steve Brown, co-designer of Alpine's show-stopping MINI Cooper, when one of Alpine's representatives thundered these fateful words:
"Hey, let the writer sit in it!"
Steve smiled and said, "sure." I, meanwhile, tried to check my ears, since I'd obviously misheard him.
The Alpine MINI epitomizes the phrase "look, but don't touch." Almost no one gets to sit in it. But now, I (as well as our photographer) were about to be given the chance.
Getting in took some brief coaching. The seat is on a motorized platform that extends nearly five feet behind the car. I had to sit down on it sideways and swivel, swinging my legs over the car's side. And believe me, I'm not the most limber guy in the world. But I pulled it off.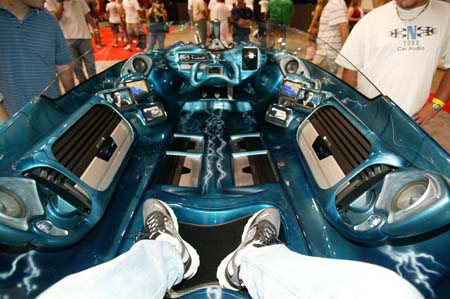 Preparing for liftoff.
The car's subs are housed just behind the seat, so the first thing I noticed was the delightful bass massage I was getting. Once I was settled, however, the real fun started.
Now, the seat is operated by remote control. I'd seen it in action plenty of times; co-designer Mike Vu pressed a button, and the seat smoothly slid forward into place, sealing the back end. I expected it. But once Mike hit the button, it still caught me by surprise. It's like being on an amusement park ride (a slow one, mind you, but a ride nonetheless). I could even hear the bass tighten and get louder as the seat got progressively closer to its closed position.
Once the ride ended, I was nestled snugly in the cockpit. Very snugly. The cockpit is cozy, to say the least. The control center came up over my lap, the steering yoke only about six inches from my chest. I was certainly not getting out until they let me out.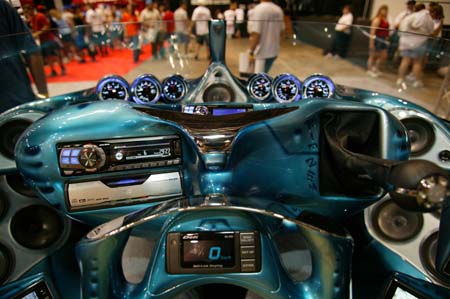 The center console is like nothing you'll likely ever see.
But once I was in, I didn't want to get out. Suddenly I was eight years old again, playing in the cardboard box spaceship I'd spent hours building. But I never had a cardboard box this cool.
The steering yoke sat right in front of me, while glowing gauges sat above that in sleek housings that stretched out to the "dash" in front. Six monitors surrounded me, three on each side, as did six speakers (including a set of components). To the right, above the yoke was the gear shift; to the left were the Alpine in-dash receiver and separate DVD player. In the center of the yoke had been installed a digital gauge.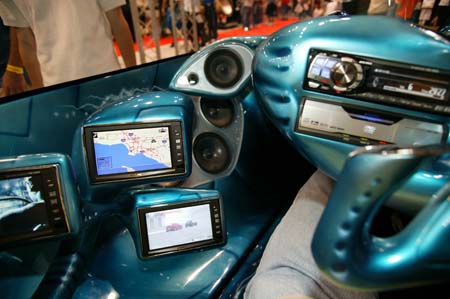 The banks of monitors on the left (pictured here) and right give you the distinct impression that you're in some kind of spaceship.
I felt like I'd been beamed into the future, and was sitting in a single-passenger ship ready to take flight. Actually, the the bass at my back and the surreal paint job combined to make me feel as though I were floating.
When it all hit home, though, was when I looked around to see the looks on the faces that were watching me enviously. Clearly I was doing something few have ever been allowed to do. With apologies to Lou Gehrig, I knew that at that moment, I was the luckiest man on earth. The whole experience was nothing short of amazing.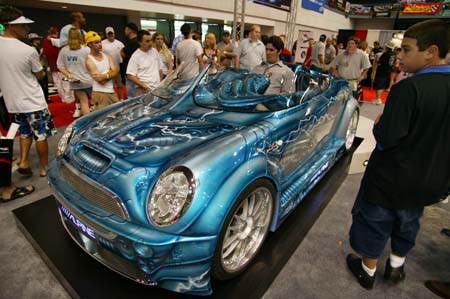 Although it's nearly impossible to contain my excitment at being in the sweetest MINI Cooper on the planet, I try my best not to break anything.
If you'd like to read more about it, check out our
profile of the Alpine MINI Cooper
. We'd like to say thanks, Steve, Mike, and everyone at Alpine for giving us this once-in-a-lifetime opportunity!