Alice C's 2004 Toyota Matrix
I started my Crutchfield career as a product advisor. I fielded thousands of customer questions about A/V equipment, designing systems for homes, cars, and the occasional party bus. Do that for eight years, and you begin to understand what people really want from their gear. You also get a lot of hands-on experience with the latest products. That's one of the coolest things about working here. As a writer, I enjoy translating technical jargon into easy-to-understand language. My goal is to make shopping for speakers and amplifiers simple. After all, this stuff is supposed to be fun! Outside of work, I enjoy playing and teaching music. I'm always on the lookout for interesting left-handed guitars.
More from Kramer Crane
Items installed:
Installation Description
The only things I did differently from the default instructions given were on the plastic mounting frame I punched off the extra bracket holes on the left so I could fit the Matrix's main panel back on.
Q&A Section
Why did you decide to upgrade your A/V system?
My Matrix will last me for plenty more years but I wanted Bluetooth to make my car more gadget friendly.
Why did you choose these products?
Sony has always been good to me as far as anything audio.
What was the most difficult part of the installation?
The wires. I've done wiring before, but I don't do it enough to do it fast or very well.
What plans, if any, do you have for future upgrades?
Speakers and a mount for my gadgets.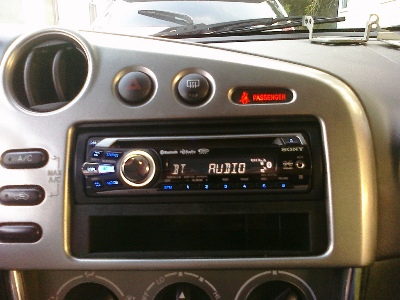 Installed and working great!