Gareth F's 2000 BMW 528i
I've been with Crutchfield since 1999, where I began as one our advisors, helping our customers choose new gear. After a couple of years, I moved to the writing team where I spent a decade researching new products and getting hands on with car stereos, amplifiers, speakers, and subs. Yeah, I've been doing this for a while.
For the past few years, I've been the managing editor of Crutchfield's Car A/V web article content. I couldn't ask for a better job — we get to play with car audio gear every day! I'm a Virginia native from the heart of the Blue Ridge Mountains. Outside of work, I love listening to music, playing board games, and installing new audio systems for my friends.
More from Robert Ferency-Viars
Vehicles in the Customer Car Showroom are submitted by customers and fans, and edited by Crutchfield writing staff. You can find more of these articles on the Showroom main page.
Items installed:
Installation Description
The first time around I went cheap (big mistake) and suffered the consequences. In order to ensure this new setup performed optimally, I had the entire car rewired from the head unit all the way back to the trunk. All of the speaker wire is labeled and integrated into the OEM wiring harness and to reduce noise and interference in the system a custom grounding point was made in the trunk. The equipment is packed precisely and organized neatly to allow for easy servicing (if the need ever be). Overall, the new system performs much better, has higher sound quality, and adds the visual appeal I have wanted the whole time. It's not the loudest system, or the best sounding system, but it is uniquely mine.
Q&A Section
Why did you decide to upgrade your A/V system?
This is the third time I have added a new system or changed things up and this time I learned from my mistakes in the past and really spent the time and money to make sure things were done properly.
What's the first thing you show people about your installation?
I still like to show off the trunk. This time the amp rack is built into the spare wheel well shows off the amplifiers and the blue LED lighting lights up the whole trunk at night. Overall, it looks really clean and tidy.
Why did you choose these products?
I went to stereo shops and listened to a variety of speakers. Alpine has always had reliable products and I've always loved Polk speakers so I figured the combination would work well and so far it has.
What was the most difficult part of the installation?
Rewiring the entire car and making sure everything was labeled was probably the most difficult part. BMW's have very little room, and running speaker wire and running RCA's took quite a bit of time.
What plans, if any, do you have for future upgrades?
I'm looking at this point to replace the 1DIN Alpine D106 unit for a 2DIN Alpine W505P1 unit sometime in the near future. I also want to add extra Dynamat to reduce as much rattling as possible and I plan to take care of that end of business this coming summer.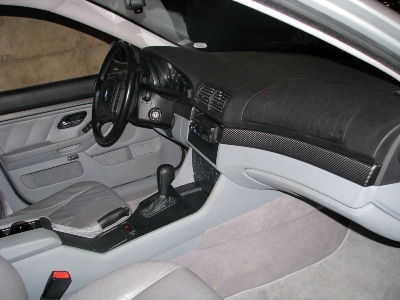 Neffy Wrapped interior trim with the Alpine IVA-D106 installed behind a Scosche dash kit soon to be modified for perfect fitment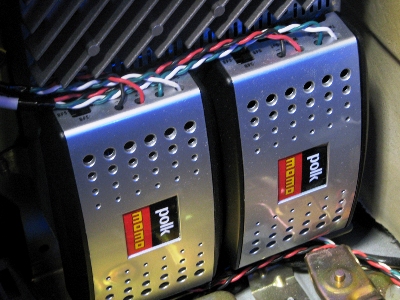 Crossovers for the front component mounted in the trunk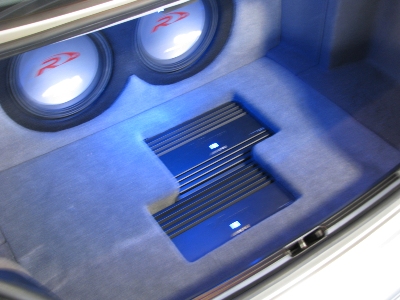 The custom setup in the trunk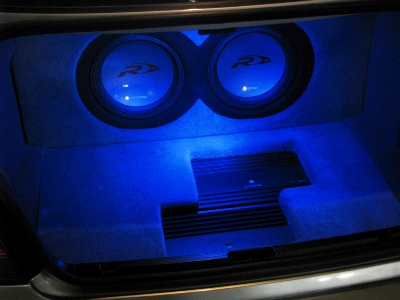 40 blue LED's take care of the lighting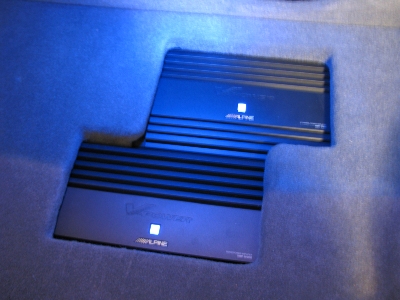 Alpine MRP amplifiers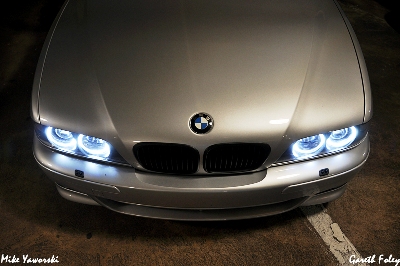 Umnitza Orion V2 Angel Eyes set up as DRL's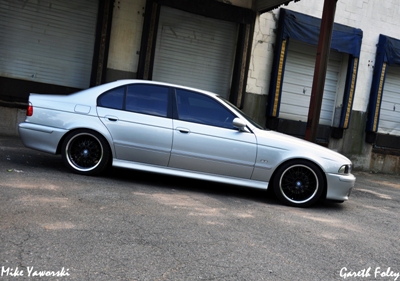 My car in its current state. A massive change from 3 years ago.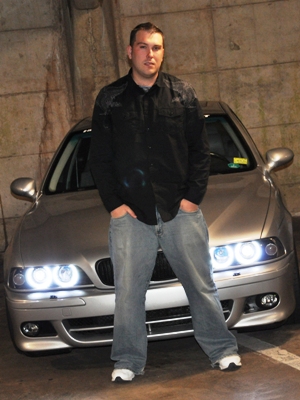 Me and my pride and joy
Return to the Customer Car Showroom.