James W's 2007 Ford F250 King Ranch
I've been with Crutchfield since 1999, where I began as one our advisors, helping our customers choose new gear. After a couple of years, I moved to the writing team where I spent a decade researching new products and getting hands on with car stereos, amplifiers, speakers, and subs. Yeah, I've been doing this for a while.
For the past few years, I've been the managing editor of Crutchfield's Car A/V web article content. I couldn't ask for a better job — we get to play with car audio gear every day! I'm a Virginia native from the heart of the Blue Ridge Mountains. Outside of work, I love listening to music, playing board games, and installing new audio systems for my friends.
More from Robert Ferency-Viars
Items installed:
Installation Description
There is just not much on the market for F250 Crew cab trucks, space is limited. Thank you Crutchfield. The JL Audio Stealthbox fit the bill. The head unit is perfect, Bluetooth connection to my Droid, iPod controls, and touchscreen DVD player, awesome!
With limited space I wanted to show you what you can do with the room behind the cab. Behind-the-seat boxes require cutting of the trim panels and removing the cab vent. This installation does not require that and is clean and looks great. I hope you like it.
Q&A Section
Why did you decide to upgrade your A/V system?
No bass in an F250, I wanted Bluetooth capability and iPod controls.
What's the first thing you show people about your installation?
The amplifier and capacitor location
Why did you choose these products?
Crutchfield recommended
What was the most difficult part of the installation?
removing the seats
What plans, if any, do you have for future upgrades?
Overhead monitors in the back for the dvd player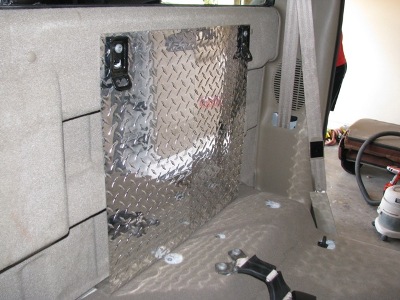 Blank slate, diamond tread aluminum.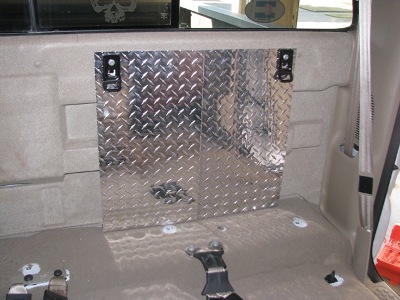 Mounted and bent for a solid installation.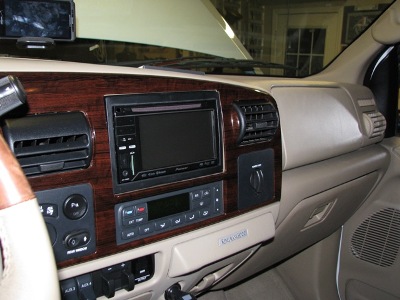 DVD receiver installed. The kits made it a snap.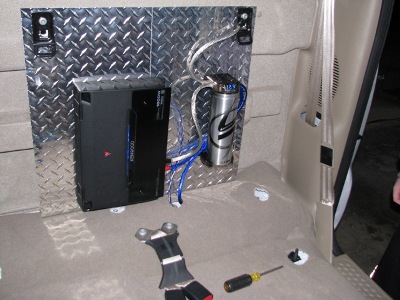 Love the look and solid mounting surface.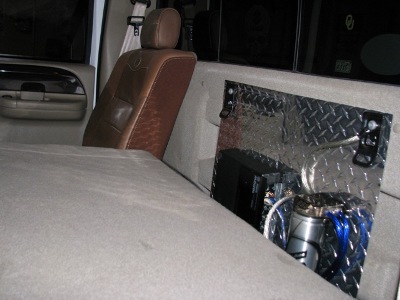 Finished look, clean and out of the way.
Vehicles in the Customer Car Showroom are submitted by customers and fans, and edited by Crutchfield writing staff. You can find more of these articles on the Showroom main page.