Rickey M's 2001 Mitsubishi Eclipse
I started my Crutchfield career as a product advisor. I fielded thousands of customer questions about A/V equipment, designing systems for homes, cars, and the occasional party bus. Do that for eight years, and you begin to understand what people really want from their gear. You also get a lot of hands-on experience with the latest products. That's one of the coolest things about working here. As a writer, I enjoy translating technical jargon into easy-to-understand language. My goal is to make shopping for speakers and amplifiers simple. After all, this stuff is supposed to be fun! Outside of work, I enjoy playing and teaching music. I'm always on the lookout for interesting left-handed guitars.
More from Kramer Crane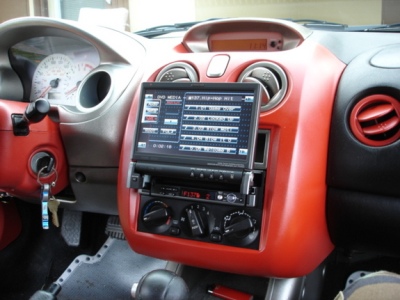 Items installed:
Kenwood KVT-717DVD 7" in-dash flip out DVD player
Kenwood Excelon XXV-02A 960 watt 4 ch amp
Kenwood Excelon XXV-03A 1600 watt mono amp
MA Audio 2.0 Farad Capacitor
Rockford Fosgate 0 gauge 2 amp wiring kit
Kenwood 4-way 6" x 9" 250 watt ovals
Pioneer 4 way 6 1/2" 260 watt rounds
3 12" Sony Xplode 4 ohm 1200 watt subwoofers (350 RMS)
Rockford Fosgate 300 AMP 0 gauge to dual 4 gauge distribution block
Audiobahn sealed tri-sub enclosure
Monster Cable RCA AUX inputs
KYB Shocks with Vogtland lowering springs
Liteglow LED underbody lights
Magnaflow exhaust
Installation Description
First and most important was running all the wires. After that was done, mount the brain for the DVD player, install the DVD player, wire the new speakers in the doors and rear panels, mount the amplifiers on the rear of the back seat, wire the suboofers up at a 1.33 ohm load, connect the 2.0 farad capacitor, get a good ground, reconnect the battery, turn it up and make anybody in a half mile radius deaf!My cardomain page has more details on all the work I've done. Everything was done at my house by yours truly.http://www.cardomain.com/ride/2041829
Q&A Section
Why did you decide to upgrade your A/V system?
Factory speakers just don't cut it
What's the first thing you show people about your installation?
The flip out DVD player
Why did you choose these products?
Best bang for the buck
What was the most difficult part of the installation?
Running the 0 gauge power wire
What plans, if any, do you have for future upgrades?
New box to put a 4th subwoofer in the back and $500 worth of Dynamat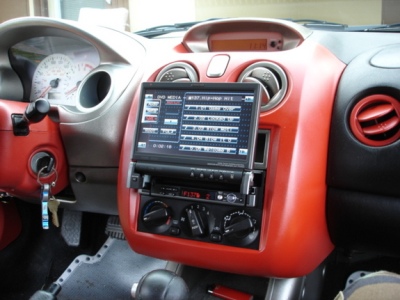 Kenwood DVD Player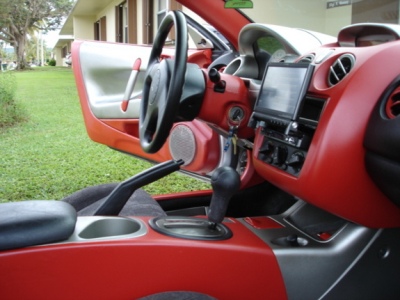 Side view of DVD Player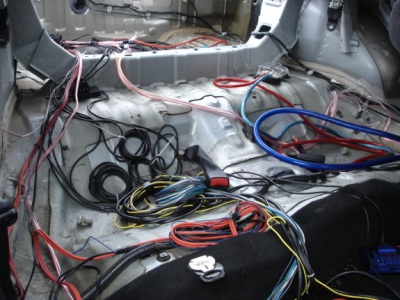 Wires are the tons of fun (50 pounds at least in here)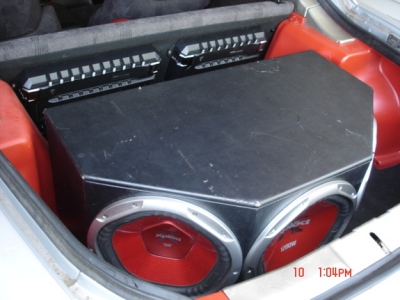 Kenwood XXV-02A and XXV-03A with Sony Xplodes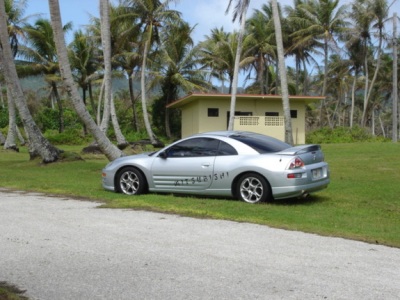 Slammed and parked at the beach in Guam