Phil S's 2008 Honda Accord EXL
Robert Ferency-Viars is the managing editor for the Crutchfield car A/V learning content, and has been with the company since 1999. A Virginia native from the heart of the Blue Ridge Mountains, he loves spending time with his wonderful wife and sons, listening to music, writing, and playing games with friends. Robert's love for car audio began at 16 when he installed his first car stereo.
More from Robert Ferency-Viars
Items installed:
Old School Kicker Comp 12" Sub in Sealed MDF Box
1.5 Farad Capacitor
Installation Description
Disconnected the Factory Sub and connected a high level converter to the factory sub output and connected the low level output to the Kicker AMP. By doing this I can still adjust the Sub bass via the factory stereo Sub EQ. Ran 6AWG power cable and AMP remote wire from engine compartment to trunk down/under the drivers side sill plates. Mounted AMP and Cap. to Sub Box.
Q&A Section
Why did you decide to upgrade your A/V system?
More Bass
What's the first thing you show people about your installation?
The box location
Why did you choose these products?
Had them on hand from past vehicles.
What was the most difficult part of the installation?
Running the cable.
What plans, if any, do you have for future upgrades?
Adding a MTX re-Q Signal Processor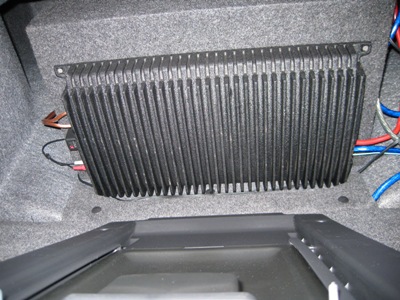 Kicker Comp XS-50 AMP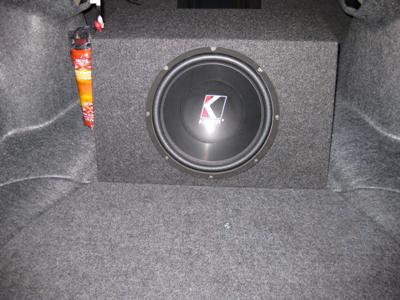 Kicker Comp 12" sub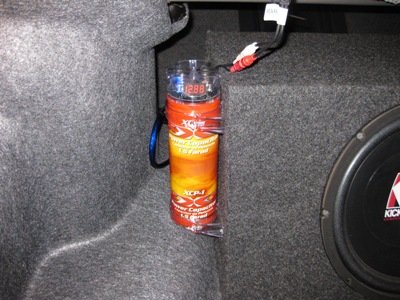 Cap mounted on the box
Vehicles in the Customer Car Showroom are submitted by customers and fans, and edited by Crutchfield writing staff. You can find more of these articles on the Showroom main page.