Terry S's 2006 Scion xA
My love for all things audio started back in the '90s when I built my first subwoofer enclosure. After joining Crutchfield in 2007, I spent seven years as a product advisor, designing A/V systems for homes, cars, and the occasional party bus. These days I specialize in home speakers and distributed audio systems, focusing on translating technical jargon into easy-to-understand language. My goal is to make shopping for speakers and amplifiers simple. After all, this stuff is supposed to be fun! Outside of work, I'm a hobbyist photographer and enjoy visiting our national parks.
More from Kramer Crane
Items installed:
Installation Description
Originally, I used this in my wife's Scion xB but then I bought my Scion xA and took back my parts. The original box would not fit my car so, following the specs I built a new sealed box @ .27 cuft per subwoofer. Good thing Crutchfield has the know how to help me build the box properly.
I designed the box so that I am able to access the spare tire area that most tuners lose when putting in a subwoofer box. The majority of people are truly amazed that the amount of bass in my car is only 50w and 8" subs. I added a couple of blue cold cathodes that go great with the blue led on the amp. I'm all about modifications on a budget and Crutchfield knows how to accomplish that.
Q&A Section
Why did you decide to upgrade your A/V system?
Although the factory head unit is 160w, it is limited on bass capabilities.
What's the first thing you show people about your installation?
That people can modify on a budget. My whole system cost about $250
Why did you choose these products?
Price was a big consideration.
What was the most difficult part of the installation?
I am used to modifying my own cars so probably the hardest was routing the wires.
What plans, if any, do you have for future upgrades?
I will eventually go to a bigger system with video as well.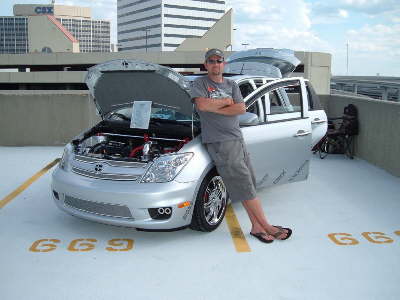 Great sound on a budget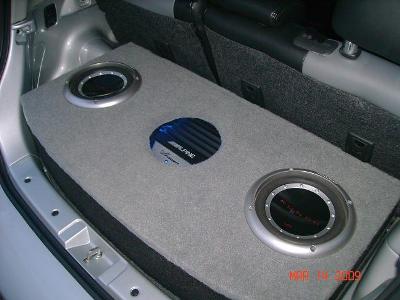 Overview of subwoofer enclosure.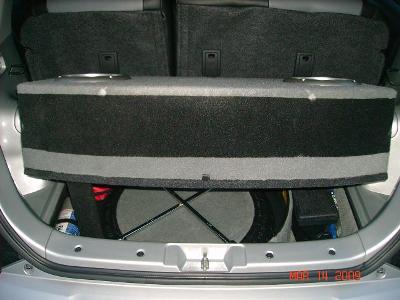 View from the bottom.