Jose A's 2001 Ford Explorer Sport Trac
I've been with Crutchfield since 1999, where I began as one our advisors, helping our customers choose new gear. After a couple of years, I moved to the writing team where I spent a decade researching new products and getting hands on with car stereos, amplifiers, speakers, and subs. Yeah, I've been doing this for a while.
For the past few years, I've been the managing editor of Crutchfield's Car A/V web article content. I couldn't ask for a better job — we get to play with car audio gear every day! I'm a Virginia native from the heart of the Blue Ridge Mountains. Outside of work, I love listening to music, playing board games, and installing new audio systems for my friends.
More from Robert Ferency-Viars
Items installed:
Installation Description
The thing that took the longest was the installation for the stereo. There was a wire that goes to the emergency brake sensor. The total was a couple of hours for each component.
Q&A Section
Why did you decide to upgrade your A/V system?
Fun and entertainment for the family during long trips. Can hook anything from iPod to ps2.
What's the first thing you show people about your installation?
The in-dash monitor comes out when you start you car.
Why did you choose these products?
Price and quality.
What was the most difficult part of the installation?
dropping the headliner to install the roof mounted screen.
What plans, if any, do you have for future upgrades?
gps and backup camera, upgrade stock speakers.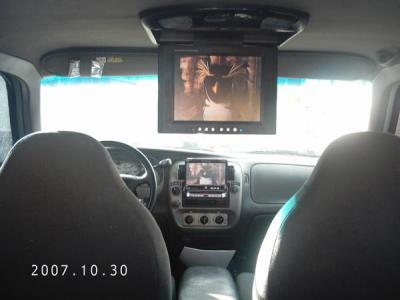 In dash monitor and drop down