David L's 2008 Toyota Tacoma
I've been with Crutchfield since 1999, where I began as one our advisors, helping our customers choose new gear. After a couple of years, I moved to the writing team where I spent a decade researching new products and getting hands on with car stereos, amplifiers, speakers, and subs. Yeah, I've been doing this for a while.
For the past few years, I've been the managing editor of Crutchfield's Car A/V web article content. I couldn't ask for a better job — we get to play with car audio gear every day! I'm a Virginia native from the heart of the Blue Ridge Mountains. Outside of work, I love listening to music, playing board games, and installing new audio systems for my friends.
More from Robert Ferency-Viars
David's story
David loves to tinker with his truck. He has already customized many aspects of it, from the Weather Tech floor mats to the black Tacoma badges on the doors, and plans to do much more. When it came time to add some bass, he opted for the Sound Ordnance B-8PT powered sub. Rather than pay $75 to a local installer, David rolled up his sleeves for a new experience.
Items installed:
Clarion NX501 in-dash navigation receiver
Clarion THD400 HD Radio tuner
RCB-199 external mic for the stereo
Sound Ordnance B-8PT powered subwoofer
Weather Tech floor mats
Many other mods and custom details
Q&A Section
Why did you decide to upgrade your A/V system? Was it music or navigation that was the primary draw for you?
I upgraded it for the music, and navigation was a plus. Today I use the USB playback, HD Tuner and Bluetooth playback the most often. We've watched a few DVDs on it also and now the kids always pick the truck over the Pilot. That's a personal win for dad!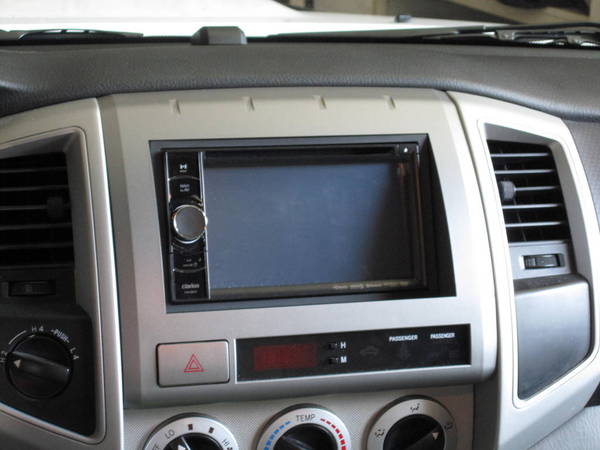 Clarion NX501 navigation receiver
What's the first thing you show people about your installation?
They usually see the wiring for the sub near the sub first then the firewall entry. It's a good port to use for other electronics.
Why did you choose these products? (specifically, the stereo and the subwoofer — the sub was all about size, right?)
The stereo was the 2nd one I bought. The Pioneer I had didn't have the audio playback via Bluetooth so I returned it and ordered the Clarion. I picked Clarion after a few weeks of research to make absolutely sure I had the features I wanted. The sub was picked because of it's size and convenience. Being powered and able to fit behind my rear seats made it all worth it. The sound is really close to what I am looking for. It needs a little fine-tuning still but the sub gives the music the depth I needed.
Are you still running stock speakers?
Yes, and not sure when I'll change them. I want a high quality speaker, but they're pretty pricey still.
Describe the installation of the Sound Ordnance powered sub. What was easy, what was hard?
After reading through the install guide from Crutchfield and talking with a Crutchfield Tech, the install was straight forward and easy. There were only a few tools that I needed. The most complex piece was finding a firewall port that I wanted to use, after that things moved pretty quickly. This saved me $75 that the local stereo install shop wanted to do the same job.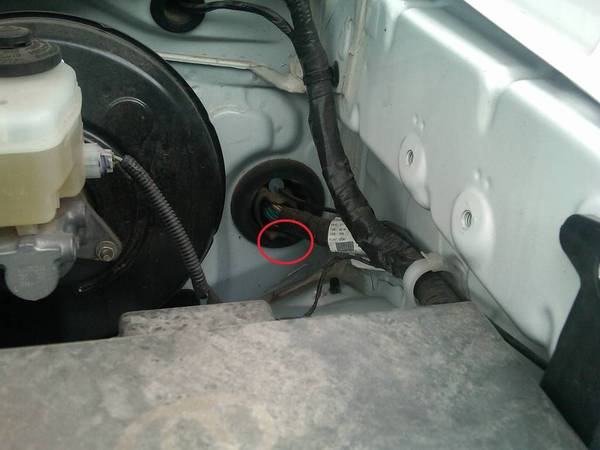 The spot where David ran the power wire through the firewall
Editor's Tech Tip: If you choose to run the power wire through an opening alongside other vehicle wiring, be extra careful not to damage those wires. Using a sharp object to start the pull could damage the wires, and pulling the power cable too fast could actually rip the insulation on the vehicle wires.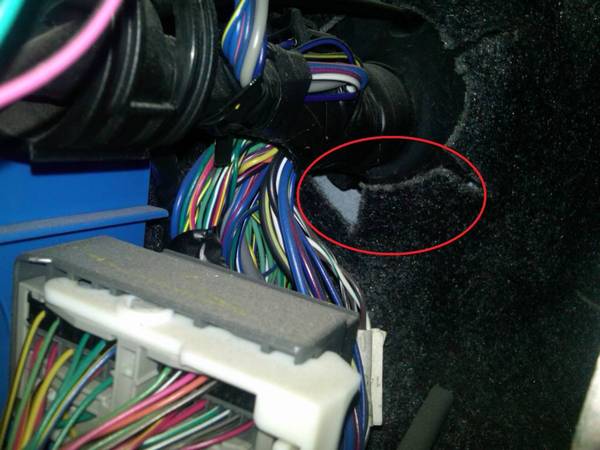 The same spot, inside the cab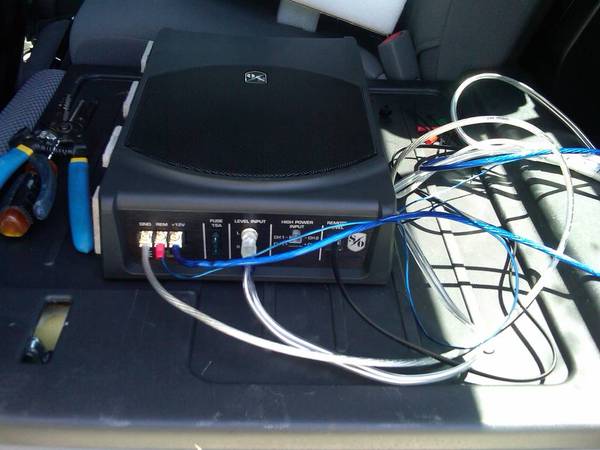 Installing the powered subwoofer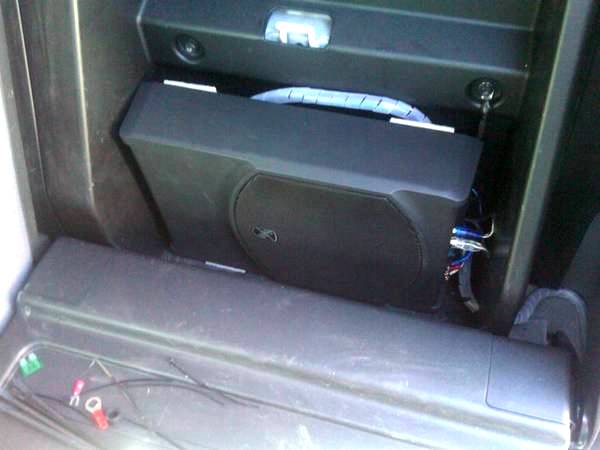 The B-8PT installed and mounted
How about the Clarion stereo? Was that your first stereo installation?
I absolutely love the NX501 Clarion stereo. It has every feature I was looking for and was very straight forward to install. This was my first stereo install and it took a total of 4 hours in my garage. To my surprise this was a lot of fun and ended up giving me the confidence to do more with the truck. The local stereo shop wanted $300 to do the same work, so again, I saved money!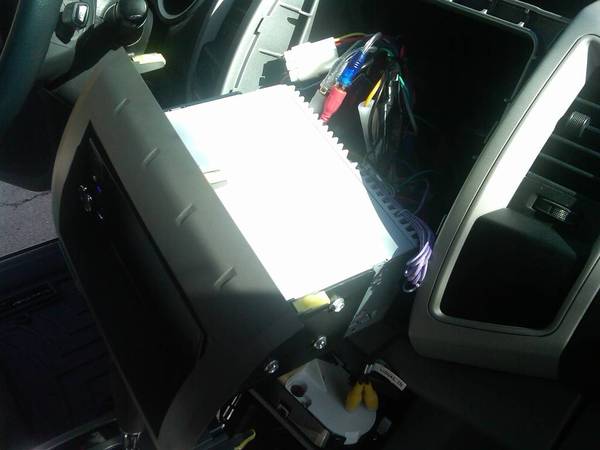 Installing the Clarion stereo
What plans, if any, do you have for future upgrades? (of any sort.sound system or more truck mods)
So there's actually a pretty big list of future upgrades, here's a short list.
NitroCharger Sport suspension kit
StubbsWelding HD-SKO rocksliders
Black vinyl front valence
Paint the engine cover
Lower and upper vents from Grillcraft
HID headlights
A front-bumper mounted light bar
It's obvious that modifying this truck is an ongoing project for David. If you'd like to follow his progress with these upgrades, check out his Tacoma World build page. Hopefully he'll get around to replacing the speakers too!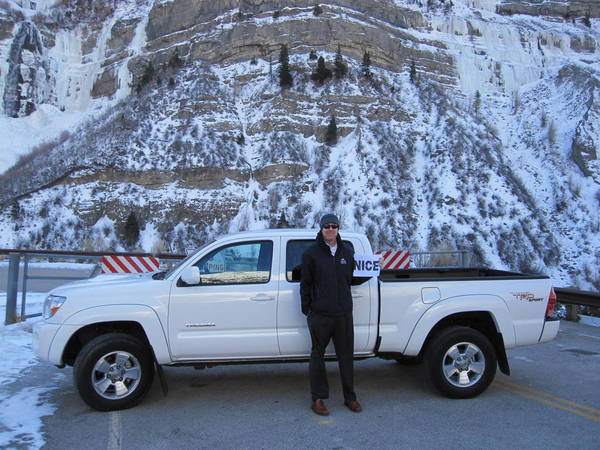 David right after purchasing the truck
Vehicles in the Customer Car Showroom are submitted by customers and fans, and edited by Crutchfield writing staff. You can find more of these articles on the Showroom main page.