Russell G's 1989 Dodge D-100
I started my Crutchfield career as a product advisor. I fielded thousands of customer questions about A/V equipment, designing systems for homes, cars, and the occasional party bus. Do that for eight years, and you begin to understand what people really want from their gear. You also get a lot of hands-on experience with the latest products. That's one of the coolest things about working here. As a writer, I enjoy translating technical jargon into easy-to-understand language. My goal is to make shopping for speakers and amplifiers simple. After all, this stuff is supposed to be fun! Outside of work, I enjoy playing and teaching music. I'm always on the lookout for interesting left-handed guitars.
More from Kramer Crane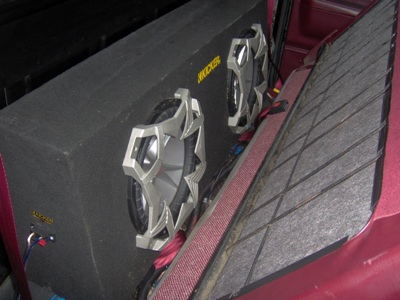 Items installed:
2 Kicker CRT 12'' 2 ohm Subs in custom box
Rockford Fosgate 1500 watt amp
SPL 2 farad cap
2 Infinity 6x9" 2 ohm speakers
Sony xplod CD player
Installation Description
I started with scratch. I installed several players, amps, speakers, etc.... then I found the right balance. I had the Rockford amp given to me, subs were a gift as well. The door speakers I bought myself along with the head unit. The only thing that I had to modify was the door speaker holes. I was determined not to return the 6x9's so I cut the holes in the doors bigger. The subs fit behind the seat in the cab (barely). A lot of time measuring was involved. The speaker box I built to be extremely strong. It is made with 3/4" MDF and the seams are held together with screws and West System Epoxy. I highly recommend this because it makes for the strongest, tightest sealed box. That's about it I guess. Thanks for looking!
Q&A Section
Why did you decide to upgrade your A/V system?
Jealousy................. I won
What's the first thing you show people about your installation?
Subs
Why did you choose these products?
Because the price was right.
What was the most difficult part of the installation?
Difficult? Did I read that right? It was easy.
What plans, if any, do you have for future upgrades?
Oh yes I do, But its still a work in progess.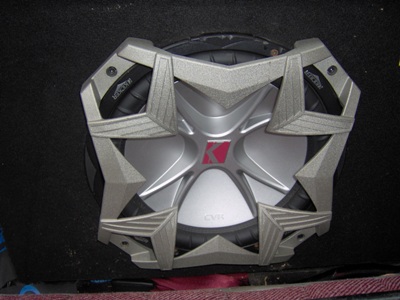 Mad Bass!!!!!!!!!!!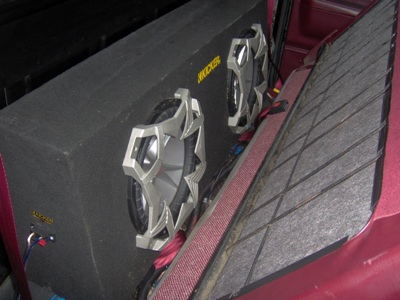 Tight fit right?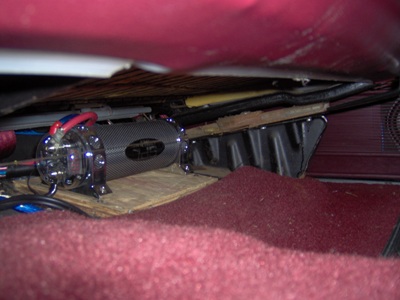 Cap, Drivers side.