Josh Hanley's 1998 Mitsubishi Eclipse
The Crutchfield writing team is a group of full-time, in-house copywriters who share a passion for consumer electronics. In addition to creating the articles and videos you find in the Research area of the Crutchfield website, these hard-working and talented people write the informational copy for the products on our website and in the Crutchfield catalog. Our writers constantly research the latest products, technologies, and industry trends, so that we can bring you the most helpful information possible.
More from Crutchfield Writing Team
Items installed:
Panasonic CQ-DF88 CD receiver
Blaupunkt PCxg542 5-1/4" 2-way speakers — doors
Infinity Kappa 32.1cf 3-1/2" speakers — dash
Infinity Kappa 692.1i 2-way 6"x9" speakers — rear deck
JBL Power Series P-1200 12" subwoofer (power range 18-280 watts RMS)
Q-Logic small sealed woofer enclosure
Optimus amplifier (bridged to 250 watts mono)
Monster power cable and speaker wiring
PAC BB800A2 Bass Blockers (800 Hz)
A self-confessed "Eclipse freak," Josh Hanley wanted more performance than he was getting from the factory Infinity sound system. His mission — more power, more system control, and more low frequency punch, without making major alterations to his 1998 Mitsubishi Eclipse GS.
He chose the Panasonic CQ-DF88 as the centerpiece for his system for two reasons: 1) its subwoofer preamp outputs have level and crossover controls so he can make quick, effective adjustments to accommodate his wide-ranging musical tastes; and 2) its Day & Night faceplate (champagne finish by day, glowing marine blue by night) looks great in his remodeled dash.
Josh installed the Infinity Kappa 32.1cf 3-1/2" speakers in the dash with the 800 Hz Bass Blockers eliminating all lower frequencies. The Infinity Kappa 6"x9" speakers on the rear deck provide excellent punch, while the Blaupunkt PCxg 542 5-1/4" door-mounted speakers fill in the details. All speakers are powered by the Panasonic CQ-DF88's hefty (22 watts RMS/40 peak x 4) internal amp.
In order to increase his bass performance, he installed an Optimus amp (bridged to 250 watt mono operation) powering a single JBL Power Series P-1200 12" woofer housed in a Q-Logic small sealed enclosure. All wiring is by Monster Cable. The system looks clean, sounds great, and provides all the power and versatility Josh requires for his sonic safaris. Mission accomplished!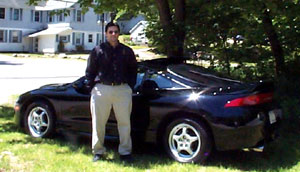 Josh Hanley with his 1998 Mitsubishi Eclipse GS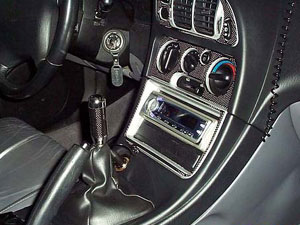 The Panasonic CQ-DF88 CD receiver with its Day & Night faceplate puts some flash in Josh's remodeled dash.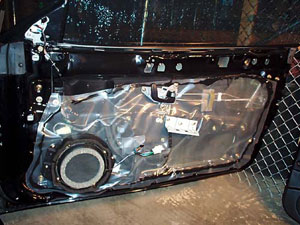 Blaupunkt PCxg542 5-1/4" speakers are installed in the Eclipse door panels, ready to rock.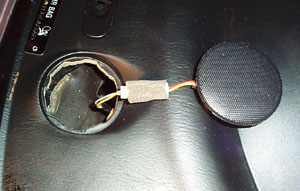 The Infinity Kappa 32.1cf 3-1/2" speakers (with PAC 800 Hz Bass Blockers) will anchor the soundstage up front with crystalline mids and highs.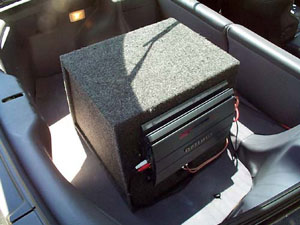 The Optimus amp rides piggy back on the Q-Logic box, powering the JBL Power Series 12" woofer inside.