Jason Olmstead's 1997 Pontiac Sunfire
The Crutchfield writing team is a group of full-time, in-house copywriters who share a passion for consumer electronics. In addition to creating the articles and videos you find in the Research area of the Crutchfield website, these hard-working and talented people write the informational copy for the products on our website and in the Crutchfield catalog. Our writers constantly research the latest products, technologies, and industry trends, so that we can bring you the most helpful information possible.
More from Crutchfield Writing Team
Items installed:
Pioneer DEH-P7400MP CD/MP3 receiver
Pioneer GEX-P900XM XM Satellite Radio tuner
Pioneer CD-R600 wireless remote control
Terk TRK-SR2 XM roof-mount antenna
Infinity Kappa 60.3cs 6-1/2" component system — front doors
Infinity Kappa 693.3i 3-way 6"x9" speakers — rear deck
2 Infinity Kappa Perfect 12.1D 12" subwoofers
Infinity Kappa 255a 5-channel amplifier (50 watts RMS x 4 with 200 watt mono subwoofer channel)
Infinity Kappa 202a 2-channel amplifier (200 watts RMS x 2)
Monster Cable Interlink 401XLN 16-foot RCA patch cables
Rockford Fosgate power and ground wire
Rockford Fosgate 12-gauge speaker wire
Lightning Audio power distribution block
Alpine SEC-8028 security system
When Uncle Sam sent back an unexpectedly large tax refund, Jason Olmstead seized the opportunity to put a dream system in his 1997 Pontiac Sunfire GT. He picked Pioneer's DEH-P7400MP as the centerpiece of his system — this versatile CD receiver features MP3 playback capability, Easy EQ, and the very cool-looking Organic EL display. A big XM Satellite Radio fan, Jason took advantage of the receiver's XM controls by hooking up Pioneer's GEX-P900XM XM tuner and Terk's TRK-SR2 roof-mount XM antenna for 100 channels of intense radio entertainment.
Aiming for high sound quality, Jason elected to install the Infinity Kappa 60.3cs 6-1/2" component system up front. The front doors originally held a 4"x6", so some cutting was necessary to install the hefty 6-1/2" Infinity woofer in the door panel — the 1" Ceramic Metal Matrix Diaphragm tweeters are also custom-mounted high on the door panels. The Kappa 693.3i 3-way 6"x9" speakers were too massive to fit into the factory speaker locations, so Jason built custom mounts to lift them off the rear deck. The front and rear Kappa speakers are powered by the Infinity Kappa 255a, a 5-channel behemoth that kicks out 50 watts RMS by 4 channels with an additional 200 watt Class D subwoofer channel (unused, for the moment).
Two Infinity Kappa Perfect 12.1D 12" dual voice coil subwoofers shake some bass action from their custom-fit enclosure. This high-performance woofer features an aluminum cone, rubber surround, and cast aluminum basket for ultra-tight low-frequency response. The two DVC subs are wired together for 4-ohm total impedance, and driven by 600 watts RMS from an Infinity Kappa 202a amplifier (200 watts RMS x 2) bridged to mono operation. The subwoofers handle 60 Hz and below, while the front and rear speakers employ a high-pass filter at 45 Hz for a little cleaner sound at high volume levels.
Jason used a pair of Monster Cable Interlink 401XLN RCA patch cables to carry audio signal from the receiver to the amplifiers. Rockford Fosgate 4-gauge power cable runs from the battery to the Lightning Audio distribution block, with RF 8-gauge leads to each Infinity amp. All factory speaker wire was replaced with Rockford Fosgate 12-gauge speaker wire. The vehicle and its sound system are protected by Alpine's SEC-8028 security system.
Jason and his father installed all the equipment themselves in a little over a week, including a fake floor in the trunk that flips up to allow access to the spare tire (and hides all the wiring). The Sunfire is Jason's first major installation — he's got to feel good about the look and sound of this awesome system. Jason, thanks for the look at your sensational Sunfire!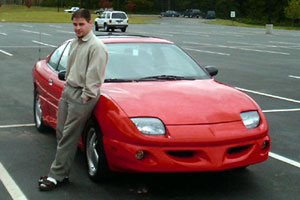 Jason Olmstead with his 1997 Pontiac Sunfire GT.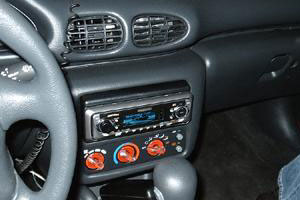 Pioneer's DEH-P7400MP CD receiver will play MP3-encoded CDs — with 10 hours of music on a disc, that's a lot of music in your visor CD holder!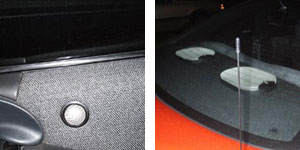 Left: Jason mounted Infinity's sweet-sounding 1" C.M.M.D. tweeter high up on the door panel to maximize imaging.
Right: The Infinity Kappa 693.3i 6"x9" speakers provide all the details for rear seat passengers with C.M.M.D. woofers and tweeters — and legendary EMIT supertweeters.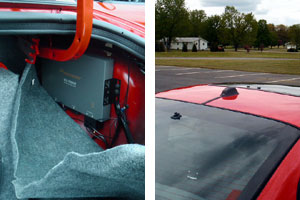 Left: With the help of Pioneer's GEX-P900XM XM tuner, Jason can drive from Atlantic City to LA without ever losing his favorite XM channel.Right: Terk's TRK-SR2 roof-mount XM antenna hauls in 100 channels of revolutionary radio programming direct from the XM satellites.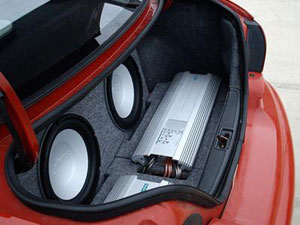 Two Infinity Perfect 12" subs (in a custom-fit enclosure) and two Infinity Kappa amps are lookin' fine in the cleanest trunk we've seen in a long time.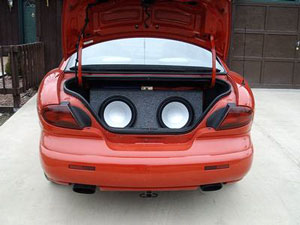 This rear shot shows off the Perfect subs in their custom-fit enclosure.