Ronnie Payne's 37 Go Kart
The Crutchfield writing team is a group of full-time, in-house copywriters who share a passion for consumer electronics. In addition to creating the articles and videos you find in the Research area of the Crutchfield website, these hard-working and talented people write the informational copy for the products on our website and in the Crutchfield catalog. Our writers constantly research the latest products, technologies, and industry trends, so that we can bring you the most helpful information possible.
More from Crutchfield Writing Team
Items installed:
Pioneer KEH-P440 cassette receiver
Pioneer TS-A1086 4" 2-way speakers
Monster speaker wire
Harada FM90G antenna
Ronnie Payne was thrilled with the looks and performance of his recently-completed 1937 Ford go-kart replica. But he had the nagging feeling that something was missing. The roar of the massive Briggs & Stratton 5-horsepower engine wasn't enough — Ronnie needed tunes! Together with co-builder (and stepdad) Floyd Johnson, he designed a high-performance system that truly put the finishing touch on this righteous ride.
Ronnie and Floyd visited their car receiver storage center (AKA the garage) and selected the Pioneer KEH-P440, a 1996-vintage cassette receiver which features detachable face, full-logic controls, and an excellent internal amp (14 watts RMS/30 peak x 4). The exceptional performance of its Supertuner III AM/FM tuner gives Ronnie the option of first-class radio reception when he's out on the track. The Pioneer was installed to the left of the driver's seat (for ease of operation), while the Harada antenna stretches across the engine compartment to ensure that Ronnie gets full benefit of his Pioneer tuner.
Ronnie wanted a speaker system that would perform well, that would stand up to the rigors of racing competition, and, most important, that would fit. He selected Pioneer's TS-A1086 4" 2-way speakers with their poly/foam composite woofer cones, 1-5/8" paper cone tweeters, and 15 watts RMS power handling. The speakers are installed on each side of the driver's seat, facing forward. Heavy-duty Monster speaker wire carries the signal to the Pioneer speakers.
Ronnie and Floyd used black carpet on the interior for low road noise and great looks. Check out the photos and you'll agree — Ronnie, that is one killin' kart!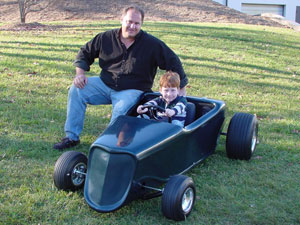 Ronnie Payne (with crew chief Floyd Johnson) in his 1937 Ford replica go-kart.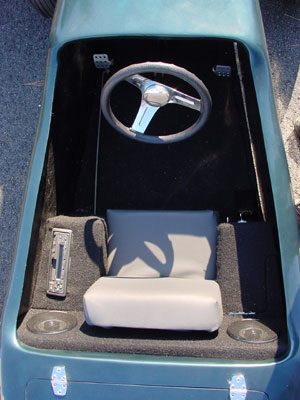 This view of the ultra-compact cockpit reveals the clever arrangment of the Pioneer KEH-P440 cassette receiver and the mighty TS-A1086 4" 2-way speakers.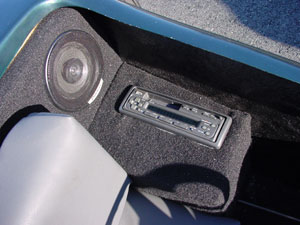 The Pioneer cassette receiver and speaker are framed by the cleanly-installed black carpet. No wasted space here!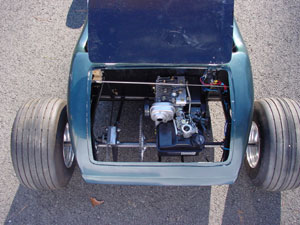 The Harada antenna stretches across the engine compartment (over the Briggs & Stratton engine) for great radio reception without an unsightly external antenna.