Jason Riley's 1999 Ford Ranger
The Crutchfield writing team is a group of full-time, in-house copywriters who share a passion for consumer electronics. In addition to creating the articles and videos you find in the Research area of the Crutchfield website, these hard-working and talented people write the informational copy for the products on our website and in the Crutchfield catalog. Our writers constantly research the latest products, technologies, and industry trends, so that we can bring you the most helpful information possible.
More from Crutchfield Writing Team
Items installed:
Installation Description
It took a little cutting into the sheet metal, but I got a Kicker Solo-Baric L7 10" Subwoofer into my truck. This sub POUNDS! I love it! This blows away the 2 12"s I had in my old car.
I completely ripped out the entire back end (plastic factory speaker location,) and rebuilt it using some scrap plywood I had in the backyard. I used black automotive carpet to contrast the stock tan. I think the contrast looks real good.
I only lost 2 clicks on the passenger side seat (where the sub is) and the driver seat still reclines all the way.
Q&A Section
Why did you decide to upgrade your A/V system?
I needed more bass
What's the first thing you show people about your installation?
Behind the seat
Why did you choose these products?
I wanted to try something new
What was the most difficult part of the installation?
Cutting the sheet metal behind the passenger seat
What plans, if any, do you have for future upgrades?
Not much — can't fit anymore equipment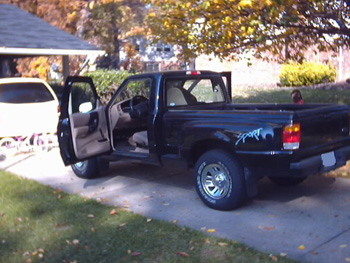 Exterior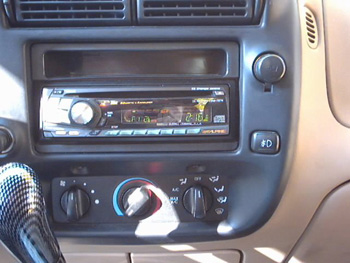 Alpine Head Unit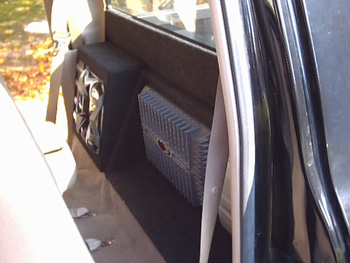 Driver's Side View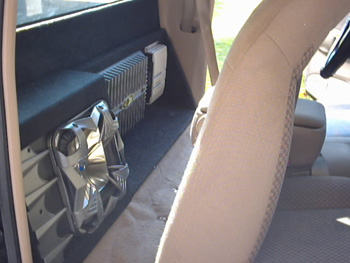 Passenger Side View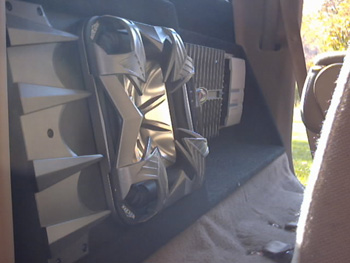 Close-up