Lee Thomas-Palmer's 1995 Pontiac Firebird
The Crutchfield writing team is a group of full-time, in-house copywriters who share a passion for consumer electronics. In addition to creating the articles and videos you find in the Research area of the Crutchfield website, these hard-working and talented people write the informational copy for the products on our website and in the Crutchfield catalog. Our writers constantly research the latest products, technologies, and industry trends, so that we can bring you the most helpful information possible.
More from Crutchfield Writing Team
Items installed:
Sony Xplod ES CDX-C5050X CD receiver
Sony Xplod ES CDX-838 10-disc CD changer
Two Polk/MOMO MM120 12" subwoofers
Q-Logic dual-12" custom-fit Firebird sub enclosure
Kicker DX700 Class D Mono Sub Amp (350 watts RMS, 700 watts at 2 ohms)
Lightning Audio 1.5-farad capacitor
Phoenix Gold power cable and speaker cable
The Pontiac Firebird is an American classic — it's a car that commands attention. Consequently, Lee Thomas-Palmer wanted to assemble a sound system that would do justice to his beloved 1995 'Bird. Since he planned to install the equipment in stages, he turned to the Sony Xplod ES CDX-C5050X CD receiver as his in-dash controller. Its excellent built-in amp (19 watts RMS/50 watts peak x 4) does a great job of driving his front and rear speakers (until he can upgrade to a component amp), its 4-volt preamp outputs provide some extra kick for his subwoofer amp, and it looks great in the Firebird dash. For added convenience, the Xplod ES CDX-838 CD changer stores 10 discs in the hatchback area.
Lee elected to let the Sony receiver power the stock speakers and upgrade the bass first. Since appearance is important when customizing a Firebird, he went straight to Q-Logic's color-matched, custom-fit Firebird dual 12" enclosure for a straight-from-the-factory look. For some Firebird-worthy bass, he installed two of Polk/MOMO's high-performance MM120 12" subwoofers (wired together in parallel). They are powered by Kicker's DX700 Class D mono subwoofer amplifier, which produces a monstrous 700 watts RMS into the 2-ohm load.
A Lightning Audio 1.5-farad Lightning Cap keeps an even supply of power flowing to the Kicker amp via Phoenix Gold 4-gauge power cable. Lee uses Phoenix Gold speaker wire and patch cords as well. The Kicker amp, Lightning Audio capacitor, and Sony CD changer are all mounted in the rear hatchback area.
Now that the low-frequency situation is under control, Lee plans to upgrade the stock speakers with Polk/MOMO components and a 4-channel amplifier. Keep us posted, Lee, and thanks for the look at your super-fine Firebird.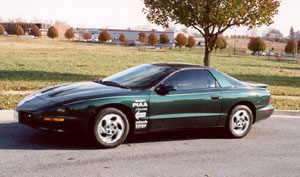 Lee Thomas-Palmer's 1995 Pontiac Firebird.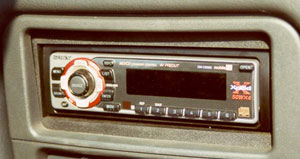 Sony's Xplod ES CDX-C5050X CD receiver breathes fire in the Pontiac dash — its 4-volt preamp outputs, CD changer controls, and wireless remote control make it a smokin' choice for a high-performance system.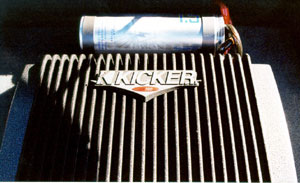 Here's the Kicker — the DX700 Class D mono sub amplifier cranks out terrifying power with the help of the 1.5-farad Lightning Cap.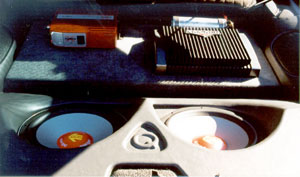 The Sony ES CDX-838 CD changer, Kicker amp, and Polk/MOMO subs are artistically arranged in the rear hatchback area.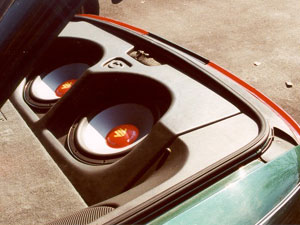 Check out the fit! Q-Logic's custom-fit Firebird box houses two of Polk/MOMO's awesome MM120 subs for incendiary bass.