Evan Yates's 1997 Pontiac Bonneville
The Crutchfield writing team is a group of full-time, in-house copywriters who share a passion for consumer electronics. In addition to creating the articles and videos you find in the Research area of the Crutchfield website, these hard-working and talented people write the informational copy for the products on our website and in the Crutchfield catalog. Our writers constantly research the latest products, technologies, and industry trends, so that we can bring you the most helpful information possible.
More from Crutchfield Writing Team
Items installed:
Panasonic CQ-DF88 Day & Night CD receiver
Polk Audio EX402a 4" 2-way speakers — front doors
Polk Audio EX693a 6"x9" 3-way speakers — rear deck
Two Audiobahn 10" High Excursion woofers
Dual 10" Virtual Technologies sub enclosure
MTX Blue Thunder PRO3002 amplifier (200 watts RMS x 2, 750 x 1 @ 14.4 volts)
Mobile Authority M50 5" video monitor
Funai Videocassette Player with remote
Sega Dreamcast
Lightning Audio 1-farad capacitor
Vector power inverter
StreetWires power cable and speaker wire
Evan Yates is into visual stimulation — he wanted the system in his 1997 Bonneville to appeal to the eyes as well as to the ears. So it stands to reason that he picked the Panasonic CQ-DF88 CD receiver to control his audio/video system — its Day & Night faceplate offers a conservative champagne coloring by day, and a bodacious marine blue glow by night. In addition to livening up the dash, the CQ-DF88's wireless remote affords basic system control to back seat moviegoers and game-players.
Evan and his father installed the Polk Audio EX402a 4" speakers in the Pontiac's 5-1/4" front door openings and the EX693a 6"x9" 3-way speakers on the rear deck, with power supplied by the Panasonic DF88's internal amp (22 watts RMS/40 peak x 4). The low frequencies are handled by twin Audiobahn High Excursion 10" subwoofers, mounted in a Virtual Technologies dual 10" enclosure and powered by an MTX Blue Thunder PRO3002 amplifier (which pumps out close to 750 watts in mono mode).
To complete his system, Evan went to Audio Surgeons in Decatur, Georgia, for the video installation. Visuals in the Bonneville are furnished by a Mobile Authority M50 5" video monitor (swivel-mounted on the dash), with images provided by a Funai Videocassette Player (rear console), and a Sega Dreamcast game system (front console). Audio from the A/V gear is routed into the system via the DF88's auxiliary inputs, so that movie soundtracks and Nintendo sound effects sound righteous.
All power cable and speaker wire is by StreetWires. A 1-farad Lightning Audio capacitor keeps the MTX Blue Thunder amp friendly with the Pontiac's electrical system.
Evan Yates has converted his Pontiac into a rolling entertainment center with an attitude — the Bonneville clocked in at an impressive 146.6 dB at a recent competition. Pass the popcorn and some earplugs too, bro!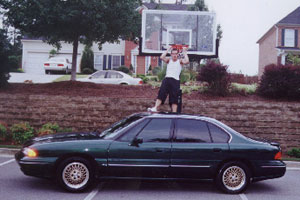 Evan Yates and his 1997 Pontiac Bonneville.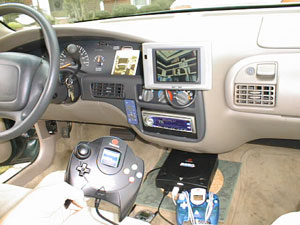 Multi-Media Conference: the Panasonic CQ-DF88 CD receiver, Mobile Authority M50 Video Monitor, and Sega Dreamcast game system get together in Bonneville entertainment central.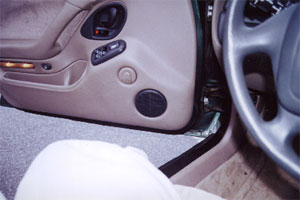 The Polk Audio EX402a 4" speaker brings smooth highs to the party, thanks to its polypropylene semi-dome tweeter.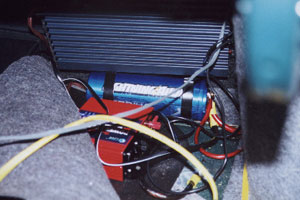 The naked truth — the trunk carpet lifts to expose the MTX Blue Thunder PRO3002 amplifier, Lightning Audio capacitor, and Vector power inverter.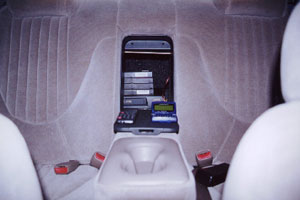 The Funai videocassette player (with its remote control) makes movie magic in the rear console.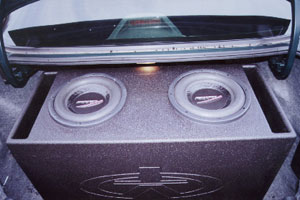 Two Audiobahn 10" High Excursion woofers in the Virtual Technologies enclosure put their bass mojo on the Bonneville.