Definitive Technology Sound Cylinder
Elevate your tablet's sound for mini home theater to go
David Brown is a member of Crutchfield's Home A/V writing team. He studied writing and politics at Ithaca College in upstate New York, where he grew up. He spent 12 years in Washington, D.C., where he earned a Masters degree in journalism and wrote an award-winning humor column. David relocated to Charlottesville, VA, in 2012. He enjoys listening to music, playing the guitar and piano, and hiking with his wife and children.
More from David Brown
Heads up!
Welcome to this article from the Crutchfield archives. Have fun reading it, but be aware that the information may be outdated and links may be broken.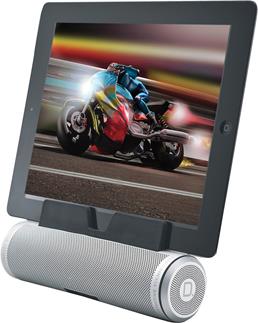 Tablets like the iPad® and the Samsung Galaxy are a lot like the current crop of HDTVs: they offer amazing picture quality with sound that leaves a lot to be desired. Just as sound bars were developed to improve TV audio, Definitive Technology has created a small Bluetooth speaker to do the same for tablets.
The Sound Cylinder is a compact, tube-shaped speaker system designed to fatten up the sound of your iPad or other tablet. It's also a cleverly-designed stand to hold your tablet in portrait or landscape position while you watch videos and movies. Can it turn your tablet into a mini home theater? I spent some time with it to find out.
Combination speaker and stand
The Sound Cylinder's aluminum exterior conceals three small speakers powered by an 8-watt amplifier to deliver full-range sound. Two mid/high-frequency drivers provide stereo sound across the wide surface of the 7.5"-long tube. A woofer pumps out low-frequencies from one end for enhanced bass response.
A rubberized clamp along the side of the Sound Cylinder grips your iPad or other 7" or 10" tablet and securely holds it upright for viewing. It was a perfect fit for my iPad 2, which was easy to slide in and out of the clamp with just a little pressure. There's also a flip-out kickstand to keep the speaker stable as it holds a tablet. It provided enough stability so I could tap away on the touchscreen without tipping it over.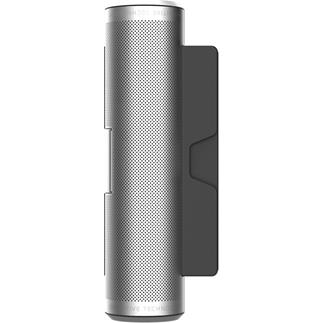 The compact Sound Cylinder is a mere 7.5 inches long with a clamp for attaching to a tablet or laptop computer.
I'll admit, at first I was nervous about standing my iPad up in something round. But I found the clever kickstand to provide plenty of stability. I had the unit set up on a somewhat rickety card table as I banged away on my laptop keyboard, and it never came close to tipping. It can even withstand reasonably aggressive touchscreen tapping without toppling over.
The Sound Cylinder's volume and power buttons are located on the opposite end from the woofer. The volume control is a little awkward to adjust during use, so I preferred to set it loud and then make adjustments on the iPad itself. And you can just about max out the volume before any distortion sets in.
Made for movies and videos
Because its design is similar to a sound bar, I was most interested in how this compact speaker performed with movie soundtracks. I placed my iPad in the clamp and set it up on my coffee table. After powering on the Sound Cylinder, it quickly paired with my iPad via Bluetooth – no need to hold any buttons down while the devices synced up.
Once paired, I opened up the Netflix® app on my iPad and selected Ronin, an action thriller starring Robert DeNiro. There are some serious car chases in this movie, so I thought it would be a good opportunity to test the Sound Cylinder's stereo imaging. That is, how well it places sounds. Does the sound of the car's engine follow the image as it moves from left to right across my screen?
Yes, in fact, it does. And it's quite impressive hearing it from such a small speaker system. The Sound Cylinder's internal speaker array and digital signal processing work together to create the illusion of sound emanating outside the physical range of the device. It gave Ronin's sound effects a remarkable depth, despite its small size.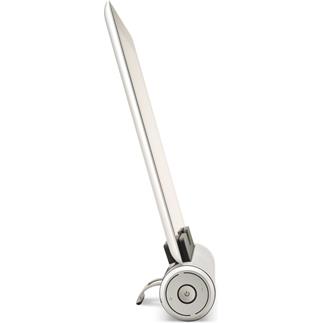 A flip-out kickstand keeps the Sound Cylinder stable and secure while holding your tablet.
The surround effect was quite similar to that of sound bars I've heard, just on a smaller scale. I found myself getting lost in a particular action sequence, with the Sound Cylinder delivering powerful sound effects, robust musical flourishes in the soundtrack, and easily discernible dialogue. This truly felt like home theater shrunk down to a very small package I could take anywhere.
I closed Netflix and opened the YouTube™ app. I wanted to watch Beck's recording of the David Bowie song "Sound and Vision" in which he uses a 160-piece orchestra complete with electric guitars, choir, marching band and more.
This was another great test of stereo imaging, as it was recorded in the round using binaural microphones to convey a three-dimensional sense of space and direction. The Sound Cylinder performed beautifully, not only with impressive left/right placement, but with overall sound quality that was dynamic and clear.
I did notice a minor lip sync issue, which is a "latency" issue with Bluetooth streaming that is not exclusive to the Sound Cylinder. If you're particularly sensitive to this, then Bluetooth streaming of video soundtracks may not be for you. I didn't find it particularly annoying, but if you do, you can always use the supplied miniplug cable to create a wired connection and eliminate any lag from Bluetooth streaming.
Not just for iPad
While the iPad may have been the inspiration for the Sound Cylinder, you can use it to stream audio with any Bluetooth device such as a smartphone or computer. It clamped nicely on the top of my MacBook, though you couldn't use it as a stand for anything smaller than a 7" tablet. A fully charged battery (a USB charging cable and AC adapter are included) provides up to 10 hours of use, and its Bluetooth range tops out at about 33 feet, making it great for streaming music from your smartphone as you move about.

The Sound Cylinder can be used with a tablet or laptop in a variety of applications.
So how does it sound with music? I cued up "Amethyst," a dark dirge by slowcore mainstay Low. There's a lot going on in the low end of the frequency spectrum in this song, so it was a good test for the Sound Cylinder's bass response. I would expect this song to sound pretty thin on such a small speaker, but the sound was beefy thanks to the woofer's bass response. It didn't rattle my walls, but there was nice presence in in the upper bass and lower midrange that accentuated the piano and bass guitar. They formed a nice deep bed for the acoustic guitar and vocals, which sparkled with definition.
It's all about positioning
Because of the side-firing woofer, how you position the Sound Cylinder can greatly affect the sound. When it's serving as a stand for your tablet, you're obviously going to have it face you directly. But if you're just using it to stream music, a 45-degree rotation can seriously alter the sound signature, particularly the bass performance. I recommend experimenting with it to see how various positions change the tone. You can practically fine-tune the bass response to your own liking.
The bottom line
The beauty of the Sound Cylinder is its versatility. I could find a lot of uses for it, from watching a show in the kitchen while cooking, to setting it on a nightstand for catching up on shows in the bedroom, to adding more powerful sound effects to video games. Weighing less than 12 ounces, it would be perfect for traveling, so you've always got something to entertain the kids, whether they're in the car or the hotel. Or simply use it with your smartphone to add streaming music to any room.
Most of all, the Sound Cylinder is an excellent complement to your iPad, elevating its sound quality to the same heights as its gorgeous display. This combination creates instant home theater in miniature that you can take anywhere.