Denon AH-D7100 Music Maniac Artisan stereo headphones review
Low fatigue, high satisfaction
Former Crutchfield staff writer Woody Sherman spent years working as an editor and manager in the video industry at the national level.
More from Woody Sherman
Heads up!
Welcome to this article from the Crutchfield archives. Have fun reading it, but be aware that the information may be outdated and links may be broken.
I could get used to luxury
Caviar. Fine Italian sports cars. Silk. Decades-old sipping whiskey.
There are a few things in this world that show their quality before you've even experienced them up close. I'd like to add the Denon AH-D7100 Music Maniac Artisan headphones to that list. Even unboxing the headphones was a luxurious experience.
The substantial box unhinges high to expose the headphones lying on a satin bed with recesses for the earcups. Hand-carved mahogany earcups support leather-clad memory foam, and the lightweight headband (also graced with leather-covered memory foam) feels solid yet unencumbering.
Two cords for two purposes
Quite a visual introduction for what is unquestionably a luxury offering from Denon. I took the shorter of the two provided cords, the one with the microphone and remote switch, and plugged in the twin cables — one for each earcup.
Individual ports for each channel's wire on the headset are a nice audiophile touch, as they encourage knowledgeable enthusiasts to build their own cables to suit their individual preferences. There's another 10-foot oxygen-free cable with a combination 1/4" plug/miniplug connector included as well.
Check out the following video to see all the features of the 'D7100s: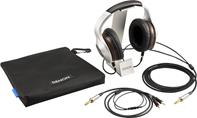 Lots of handy accessories come with the Denon AH-D7100 Music Maniac headphones
It's so cozy
Having completed the connections for my listening session, I took the unit and put it on. If the act of placing headphones on your head can be considered sensual, then this was the time to use that adjective. Memory foam makes a great pillow, and its characteristic cushiony comfort makes it ideal headphone padding.
Plus, the leather covering breathes enough to keep your ears from getting hot after a lengthy listening session. In all, this was one of the most comfortable wearing experiences I've had with a pair of headphones, equaling or exceeding the comfort I've experienced with the Sennheiser HD 598s and the Grado PS1000s.
Play the music already
Enough setup. Time to ramp up some tunes. I first tried these headphones playing straight out of my iPhone®. It might seem odd to do that with headphones as well-appointed as these, but with the deliberate inclusion of such a nice mic/remote cable, they seemed to be asking for it.
So I fired up an acoustic tune to start, James Taylor's Frozen Man from the New Moon Shine album. The doubled acoustic guitar at the beginning of the song, the components of which are panned pretty hard to the right and left, created an inviting, spacious soundstage for me to dive in, so that I almost felt as if I was being enveloped in warm liquid audio. What a big acoustic space, and better yet, it felt like it was surrounding my head, not trapped inside it, always a sign of good things to come.
As the song's textural elements thickened, I could sense a few more aspects of the AH-D7100's personality. First, James Taylor's voice is very listenable, but it has a strong nasal midrange peak that can be accentuated by some audio presentations. The Denons were no exception, at fuller volumes I found the midrange peak a bit distracting, but at lower volumes, the overall response was clear and smooth, without drawing attention to itself. The bass, while not deeply extended on this track, was full, rounded and satisfying, and the high end was surprisingly smooth considering this was just a fairly compressed file playing off my iPhone.
It was early in the listening session, but already I was feeling the itch to hear how they rocked. I put on a college era anthem, Joe Walsh's Life's Been Good from 1978's But Seriously, Folks… album. Cranking it up a little, I was noticing the same slight emphasis in the midrange, so I took a moment to attach my trusty Nuforce iDo digital-to-analog converter (DAC)/headphone amp.
Immediately the overall sound became more balanced, though the vocals and other midrange sources stayed largely in the foreground. Bass was punchy and tight, with focused tonal definition. The snare had snap and the cymbals had a lively sizzle. This was perfectly appropriate for rock and roll, though, so I sat happily bobbing my head till the end of the song.
Later on, I decided to hear exactly how focused the bass was. Recordings of acoustic "stand-up" basses are perfect for the task, because any looseness in the headphones' sonic presentation will be evident. You should hear a note with a well-defined frequency, that isn't overwhelmed by the instrument's percussive characteristics.
The Bill Evans jazz tune Waltz for Debby performed by the Oscar Peterson Trio was a great choice. Virtuoso bassist Niels-Henning Ørsted Pedersen is recorded very prominently on my version of this track, and he performs a tasty solo. I found the entire track giving me a feeling of intimate presence, as if I were sitting six feet away from an awesome jam session. And the bass presentation was everything I hoped it would be, right down to the snap of a fat string hitting the instrument's fingerboard with authority.
Summing up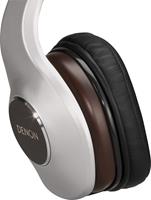 Hand-carved African mahogany earcups are a prime feature of the AH-D7100 Music Maniac Artisan headphones
On balance, I enjoyed these headphones more at low listening levels. That's a good thing for my older ears. It's hard to find a pair of headphones that can fully "bring it" at lower listening levels, and the AH-D7100s surely do. If your experience doesn't parallel mine and you like these headphones at fuller volumes, be aware that they don't completely seal your listening from the outside world. Sound will leak somewhat into your immediate neighborhood, and you will hear some outside noises, although it's not the wide-open broadcasting that the higher-end open-design Sennheisers do.
I enjoyed my time with the Denon AH-D7100 Music Maniac™ Artisan headphones. I must admit, my curiosity is piqued about their little brother, the Denon AH-D600 Music Maniacs now, as they share many features (except for the lovely, resonant carved mahogany earcups). The '600s are available for a comparative steal in terms of price, and I'd like to hear where the fine wood adds to the listening experience.
In addition to being sweetly cushiony on the head, these headphones give a balanced music presentation that's comprehensive and compelling without requiring hefty volume levels. If you want to do critical listening for your entire lifetime, that's more important than you think. As a person who likes his music listening in big chunks, I've found the Denon AH-D7100s deliver low-fatigue, high-satisfaction sessions with no discomfort. Can't ask for much more than that.