Enjoying music with AirPlay® around the house
Kristen is a former copywriter for Crutchfield. She wrote copy for both the web and catalog, covering a variety of home A/V products that included speakers, camcorders, and Blu-ray players. She also wrote a number articles and blog posts for the Crutchfield Know Zone.
More from Kristen Schaub
Heads up!
Welcome to this article from the Crutchfield archives. Have fun reading it, but be aware that the information may be outdated and links may be broken.
Ralph wrote a great introduction to Apple's AirPlay a couple of months back. As an example of how you can use it, I thought I'd share with you some of the ways that AirPlay works in my house.
AirPlay with our home theater system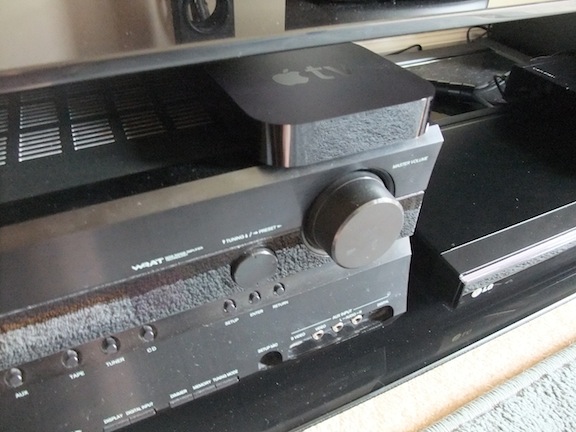 You can see our Apple TV on top of our home theater receiver.
The room where we enjoy AirPlay the most is in our living area. I call it a "living area" because in our tiny apartment the kitchen, living room, and dining room are all open to each other. Our home theater setup consists of an older Onkyo receiver and our Mirage Nanosat® 5.1 home theater system (among other components).
These speakers work great for our space! They're compact enough to fit nicely in our living room, and spread sound in a wider, omnidirectional pattern than our old speakers. This makes it possible to hear great sound whether I'm on the couch or in the kitchen, without having to crank up the volume and disturb the neighbors — proof that you can still enjoy great sound in a tiny apartment!
To get AirPlay in our living room with our older receiver, we use an Apple TV® connected to our wireless router. We can browse music on our computers — either music we own or music clips on iTunes® — and listen to our songs through our home theater speakers while the cover art displays on our TV. The Apple TV also lets us use our TV screen and Harmony remote to browse our iTunes music collections stored on our Macs — no matter where they are in the house. We've even used it to show off vacation photos and home movies of our beagle to friends and family.
Of course, this means our computers have to be on and iTunes has to be up, which isn't a huge deal (since we're usually on our computers), but it is a little clunky. For a simpler solution, I can use my iPhone to control and stream music to the home theater as well — no computer necessary. It's great when I'm reading and want to put on a soundtrack to create the right atmosphere, or when I'm busy cooking in the kitchen and need something to sing to. I can control what's playing from my phone, regardless of whether I'm in view of the TV or receiver or not.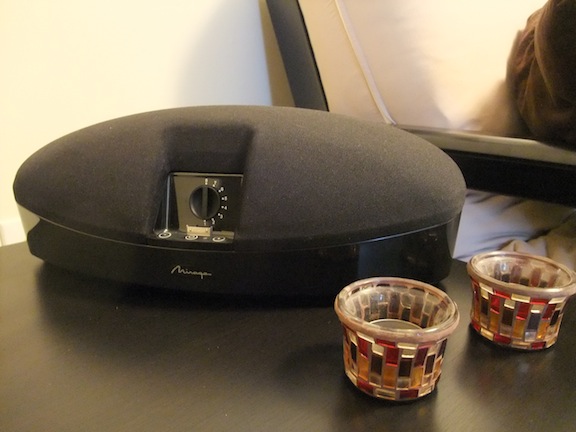 We have the Mirage OmniVibe with the Apple AirPort Express
set up in our guest room for easy wireless music streaming.
In other rooms
We also use AirPlay in our guest bedroom/office. We have a Mirage OmniVibe iPod® dock/speaker in there, which we originally purchased as an iPod dock. We've since added an Apple AirPort Express to the speaker via a stereo mini cable — something you can do with pretty much any powered speaker.
It allows us to choose the guest room speaker in the drop-down menu for AirPlay on our phones and iPad® for instant streaming. It makes a really great atmosphere for studying or for web-surfing, and the OmniVibe sounds so much better than our computer speakers.
At a friend's house
Where else do we use AirPlay? My brother- and sister-in-law have an Apple TV as well, so when we go over to their place and want to share our music or new YouTube videos, we just have to use our iPhones® to send it to their home theater system. There are no cables, tiny iPod speakers, or thumb drives to deal with. And it's really great for larger get-togethers — when the music stops, someone else can control the tunes for a really unique party mix!
Of course with a lot of the newer products coming out with AirPlay, it's even easier to stream your tunes directly to your receiver or a powered speaker (no Apple TV or Airport Express involved). So where do you use AirPlay? Use the comments field below to share your stories.
---
UPDATE: We've had the Zeppelin Air floating around with some of the Crutchfield employees, so I took the opportunity to snag it and try out its AirPlay feature for my system. Rather than dismantle the Mirage speaker in our office, I decided I'd just add the Zeppelin Air to our bedroom, for a truly whole-house audio system. I won't talk a lot about the sound — you can read either Ralph's review or Marshall's review to find out more about that. Though I will say the bass was more defined and smoother than our Mirage OmniVibe, which probably had something to do with the Zeppelin's built-in subwoofer with its own amplification. The extra bass was a great addition to some of my more soulful ADELE tunes and beat-heavy Glitch Mob tracks.
On the whole, I found the setup to be slightly less friendly than I would have liked. The quick start directions were easy enough, but after two failed attempts at setting it up automatically, I had to manually configure the set up. The problem seemed to be that it wasn't recognizing the separate SSIDs (the public name of a wireless network) in our network — we have one for 2.4 GHz and one for 5 GHz. I'm not the wireless geek in the family (my husband is in IT), so this was a bit frustrating for me. Especially since my Mac, iPhone, and nook color™ have all never had a problem finding the right 2.4 GHz SSID for our network. If your wireless network is more straight-forward than mine, you may not have this problem. But it's something to keep in mind if the automatic configuration doesn't work right away.
Another hiccup: the Zeppelin Air requires a wired connection to set up (the cable is included), and my Macbook Air doesn't have an Ethernet port. I was lucky enough to have my work laptop (a Dell PC) on hand, but if you only have an Air (like me) or an iPad, then this speaker probably won't work for you. (Unless, or course, you purchase Apple's USB-to-Ethernet adapter, which I've never had a need for until now.) On the plus side, I only had to configure the wireless setup once, even though I moved the speaker around the room to different outlets. So you could technically borrow a friend's laptop if you had to, and use their Ethernet port/Internet browser to set the Zeppelin Air up for the first time.
Once it was up and running, the ease of a single speaker with just a power cable was wonderful! I really do hate additional wires, and the sleek-looking Zeppelin Air looked right at home with our minimalist aesthetic. If you're even remotely interested in creating a great-sounding AirPlay or whole-house audio system like mine, have access to a computer with an Ethernet port, and want a premium speaker to do the job, then I suggest you check out the Zeppelin Air.