Grado GS1000i Stereo Headphones
Mahagony makes for marvelous sound
Ralph Graves is one of Crutchfield's blog editors, and part of the company's social media team. He writes about home audio/video gear, specializing in Apple-related and wireless technologies. Ralph holds a master's degree in music composition, and his works have been released on various labels. He's served as product manager for an independent classical and world music label, produced several recordings, and worked extensively in public broadcasting. Since 1984 he's hosted a weekly classical music program on WTJU, and is also active as a blogger and podcaster.
More from Ralph Graves
Heads up!
Welcome to this article from the Crutchfield archives. Have fun reading it, but be aware that the information may be outdated and links may be broken.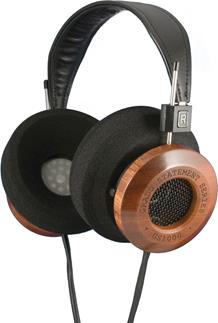 There's nothing like listening to music with top-of-the-line headphones. I had the experience when I reviewed the Sennheiser HD 800 headphones, and again recently with the Grado GS1000i stereo headphones.
Wood is good
The 1000i's are part of Grado's "wooden" line — they feature mahogany earcups that give them an elegant look and feel. These are open-ear headphones, so I wouldn't recommended them for work, or listening in close quarters — but then that's not what they're designed for. These are headphones made for those listening sessions at home when you're playing music through your best audio system, intending to savor every note.
The open design gives the headphones a warm, spacious sound. The earcups are much larger than the Grado RS2i's, which I also reviewed, and the sound is correspondingly more expansive. One advantage to using wood for the earcups (besides its inherent acoustic properties) is that it's a lightweight material. So the earcups can be very large without being very heavy.
Padding where it counts
Grado uses that large size to their best advantage. They used the large circumference of the earcups to hold a generous amount of foam padding. The cups rested lightly on the sides of my head with plenty of room for my ears. And because the earcups were open, I never felt like my ears were cooking after especially long listening sessions.
If I have any complaints, it's that the headband could have used (in my opinion) a little more padding. Had I owned these headphones, I would have wrapped some lambs wool around the headband for extra cushioning.
Sturdy cable for quality sound
These headphones come with a nice, thick eight-conductor cable running from each earcup to a quarter-inch plug. This type of cable transfers signals with a high degree of accuracy, which the Grado's dynamic transducers can take advantage of.
A word about headphone amps
A minijack adapter is included, but these really aren't headphones you'd want to plug into your iPod®. The drivers are extremely sensitive, and require more power than a minijack connection can supply to properly power them.
For my listening sessions, I used a NuForce Icon HDP headphone amp connected to my laptop. All of the audio files on the computer are in Apple Lossless format. The HDP's headphone amp supplied all the power the 'phones needed.
It also had a built-in DAC (digital-to-analog converter) that did a better job processing my digital music files than the token DAC in my laptop's sound card (I've done A/B tests with this unit, so I know).
Classical passes the test
Overall, the sound was extraordinarily transparent, although with a touch of warmth (probably from the wood). These headphones were perfectly suited for classical music. I played a lot of it during my time with these 'phones, and was seldom disappointed. Solo instruments such as the flute, grand piano, and even the lute benefited from the warm sound. But that slight coloration never distorted the character of the instruments. Even at extremely high (and low) volume levels, they had a very natural and full sound.
Chamber ensembles, such as string quartets and piano trios, also fared well with the Grados. The headphones delivered plenty of detail, so I had no trouble making out individual lines. This was especially critical in recordings such as Bach's Art of the Fugue by Bernard Labadie and Les Violins du Roy. Being able to follow each line of the complex counterpoint played by a string ensemble convinced me these were extremely accurate headphones indeed!
The spaciousness of the sound was well-suited for recordings of large orchestras. I wasn't aware of how squeezed the soundfield is in a normal set of headphones until I listened for a while with the Grados. For works like the Berlioz Symphonie Fantastique (in this case, the classic Everest recording with Euguene Goossens and the London Symphony), the over-sized everything-including-the-kitchen-sink ensemble seemed to be spread out across the room.
But there's more to life (and sound) than classical
Of course, headphones that are only good with one genre have limited appeal, so I made sure I sampled other musical genres of my collection. Usually I find a set of headphones to be either better at electronic music (such as trip-hop or drum and bass) or acoustic music (such as bluegrass or singer-songwriter balladeers). With the Grados, I think they probably did a little bit better job with acoustic music, but the difference in performance between electronic and acoustic was very small.
The tracks from the current Now 39 album (Lady Gaga, Black Eyed Peas, Katy Perry) had real in-you-face presence. This is highly compressed music, and it did feel somewhat closed in. But the open earcups kept the music from sounding tinny or claustrophobic. Hip hop tracks from Tinie Tempah and Chiddy Bang had a solid, visceral sound. The bass didn't hit a hard as one might be used to with a closed earcup design, but it still packed plenty of punch.
I checked out some Bad Plus, which combined jazz with, um, whatever it is they do. The instruments sounded very real, and there was no problem placing the members of the trio in the sound stage in front of me. Singer-songwriters, such as Scott Christopher Murray also had an authentic sound. If I heard him live, I would expect a little more of an edge than I got through the Grados. But if he just came over to play in my living room, then the sound was dead on.
Overall impressions
Most of my audition time wasn't really fair to the headphones.The Grados delivered a lot of very subtle detail. But I had to pay attention to hear it. When I did, I often heard some surprising elements in very familiar tracks that I simply hadn't noticed before. But if I was concentrated on something else, surfing the Internet, or answering email as I listened, many of those details just went by unnoticed.
Had I only listened while doing other things, I might not have thought these headphones worth the price — I might have said "very good, but not great." But when I used the Grado way they were intended to be used — listening with my full attention devoted to my music — the Grados amply rewarded the time investment with a sound that was deeply engaging and moving. If you take your music seriously, then invest in some headphones that are serious about sound — like the Grado GS1000i stereo headphones.