Grado PS1000 Headphones Review
Former Crutchfield staff writer Woody Sherman spent years working as an editor and manager in the video industry at the national level.
More from Woody Sherman
Heads up!
Welcome to this article from the Crutchfield archives. Have fun reading it, but be aware that the information may be outdated and links may be broken.
A mission to know more
One of my first-ever assignments here at Crutchfield was to review a couple of Grado's low-to-medium end headphone offerings, so I was happy to hear that a package containing the product's flagship PS1000 'phones had appeared on my desk for some in-depth analysis. I don't often get a chance to have some extended hands-on with headphones that cost in the four-figure range. Were they worth it? I had to know.
The first look
Grado ships its headphones (yes, even the high-end ones) in sturdy, flat, white cardboard boxes that are almost generic in appearance. So the unboxing experience is not all that dramatic until you remove the top interior layer of foam and get a good idea of what you're dealing with.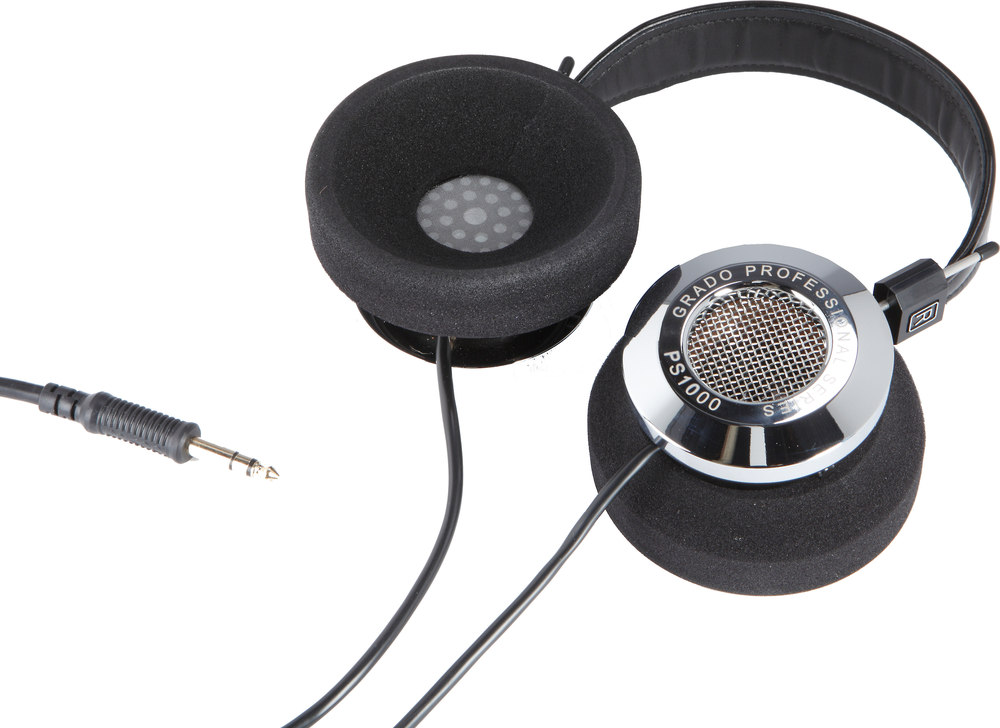 The Grado PS1000 headphones have it all: amazing sound and a retro style
The first look at a pair of Grados will stick with you. Their styling is classic, almost unabashedly retro, and designed to put sound reproduction and wearability ahead of any other item on the agenda. The PS1000's are exquisitely hand-crafted — the outer housings are made from a "stressed, then cured," non-resonant, hard-metal alloy. In combination with a carefully designed mahogany-wood inner sleeve, it makes the PS1000's immune to any ringing that would color or distort sound from the drivers.
And then there's the cabling. It's thick enough to not be out of place connecting power or phone lines. The eight-conductor UHPLC (ultra high-purity long-crystal) copper-graced cable is intended to pass every nuance of your music with transparent, faithful detail and no anomalies.
Comfort that lasts
Okay. I've seen some Grados before, this overall approach to design was nothing new. But I hadn't yet tried any of their large circumaural headphones. The firm, yet lightweight flaring foam cushions of the PS1000s slipped on to my head and stayed there as if they were designed with my head's dimensions in mind. I have to say, from the moment I put these on it was easy to forget they were there at all. They were that comfortable.
The PS1000s are open ended, like most of the Grado line. While low-level listening is not disruptive in a shared working environment, I wanted to give these cans a good listening at a normal, well-supported listening level. That meant I was taking them home to let them run a little.
Release the music
First, a word about my sample sources. I listened to a mixture of Apple lossless (ripped from standard 44.1kHz CDs) and 256k AAC files, through an iPhone® 4 connected to a NuForce iDo DAC/headphone amp. This setup has given me great performance and a strong, trustable signal with my everyday headphones.
Often, when evaluating headphones, I like to progress from primarily acoustic tunes to music with a more popular perspective. True to form, I kicked off my listening with an old acoustic classic from my library, Nick Drake's Pink Moon from the album of the same name. I've always thought of this tune as intimate, it's mostly just a vocal and a tightly-mic'ed six-string acoustic guitar. And yet, from the get-go on the PS1000s I had a sense of broad soundstage that I had never, ever had on this tune before.
The sense of the guitar and vocal in space were as I had perceived them before. But the individual voices had developed new, internal dimensions that I had not explored. Drake strums his guitar with his fingers on this song, not with a flatpick. I was suddenly acutely aware of the sound of each string as it was struck by either his nails or the pads of his fingers, and how that complicated the guitar's texture in an engaging way. A piano line joins halfway through the song, and I felt as though I could hear the mechanics of the piano's hammers as they struck home.
Add some texture to your texture
So is the soundstage always intimate? No, it's true to the engineer's intent. My next tune was Fountains of Wayne's Dip In The Ocean from their 2011 release Sky Full Of Holes. FOW is well-known for a pop-inspired pattern of lightly voiced break-downs that morph into big walls of sound. Dip In The Ocean starts out with that wall already in place. So the soundstage in this song was wide, and fully three-dimensional. I could easily dissect multi-voice harmonies, and discern the entire instrumentation.
If I were trying to transcribe an "ear-copy" of a tune, these would be excellent tools, as their definition is so clear as to be holographic. The bass frequencies were deeply extended yet musical, and the overall response felt very even, with a slight presence peak in mid-treble frequencies —perfect for vocal intelligibility and the voicing/phrasing nuances of wind instruments.
I fed them some classic anthem rock next: Love Reign O'er Me from The Who's classic Quadrophenia. It was like getting a direct mixing-board feed from 1973. You could hear every drawback and strength of that era's recording state of the art, but the analog love that flows from Daltrey's heartfelt vocal turned the headphones into a bit of a time machine. I'm not sure if I've ever heard that song sound so good.
Finally, I dropped in one of my favorite fusion tunes: 99 Flavors from Chick Corea Elektric Band's Beneath The Mask album. This tune, from the heyday of FM-synthesis synthesizers, snaps with demanding fast transients from the bass/drum battery of John Patitucci and Dave Weckl. A lot of gear isn't up to the high-energy attacks this genre can generate, but the PS1000s handled every bolt of lightning in stride. Funky and super, SUPER clean.
Integrity and Retro Sauce
Did I enjoy my time with the PS1000s? The answer is an unequivocal yes. These are some of the most balanced, transparent, fully-extended headphones I've had the luck to try, and wearing them is like having a little fluffy cloud on your head; they're ready for the long haul. Personally, I feel the best headphones are ones that get out of the way of the original producers and engineers intent, and just report the signals they receive with honesty and integrity. The Grado PS1000s fall into that category, and with their extra little dash of retro sauce, they're pretty darn stylish as well. Believe me when I say I miss them already.