A custom sound system for a hotel
We designed and installed a commercial sound system at Charlottesville's Graduate Hotel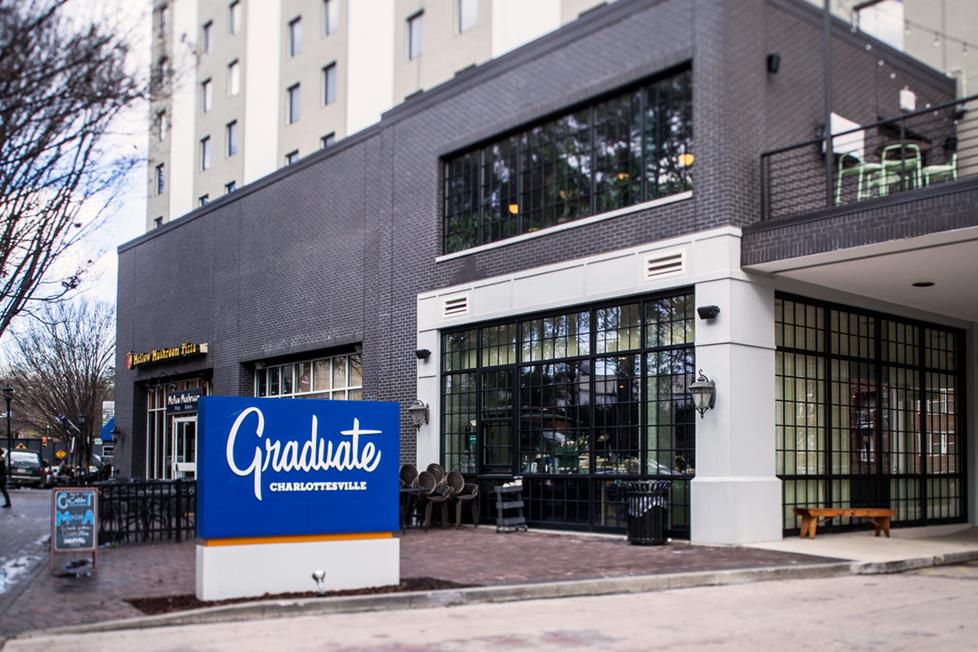 The perfect audio system for a unique hotel
The Graduate Hotel Charlottesville sits right at the edge of the grounds of the University of Virginia. The Graduate's unique sense of style and comfortable vibe needed one last touch – a flexible sound system that could provide different volume levels in different areas of the hotel. A Crutchfield system designer came up with the perfect solution.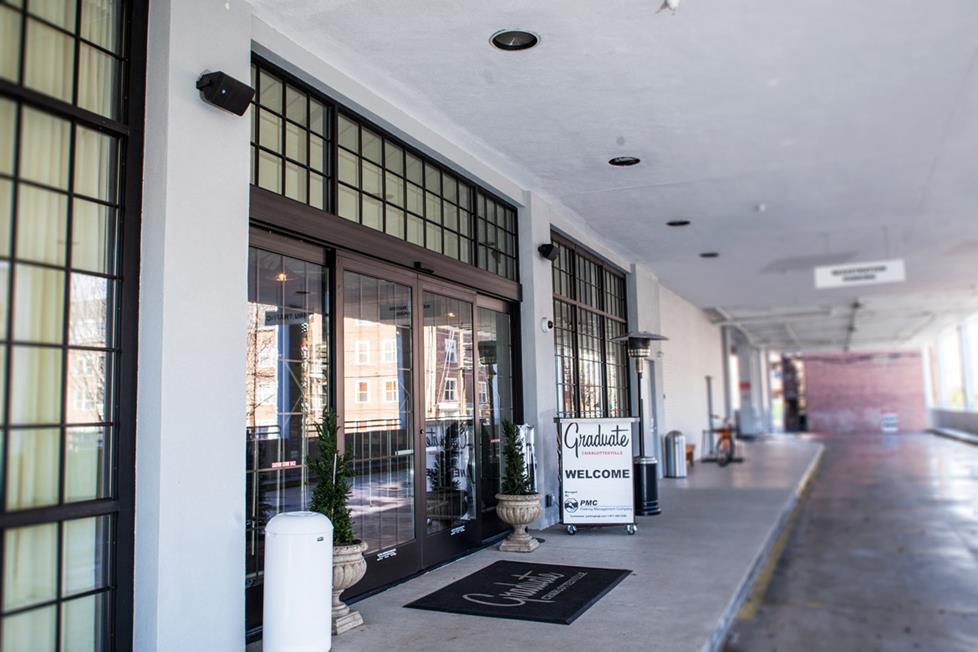 Welcome to the Graduate
Two all-weather Atlas SM52T surface-mount speakers mounted above the vestibule provide a welcoming first impression, as the automatic doors swish open to reveal the front desk. The door speakers are tapped at 7.5 watts apiece, so they can play loudly enough to overcome street noise.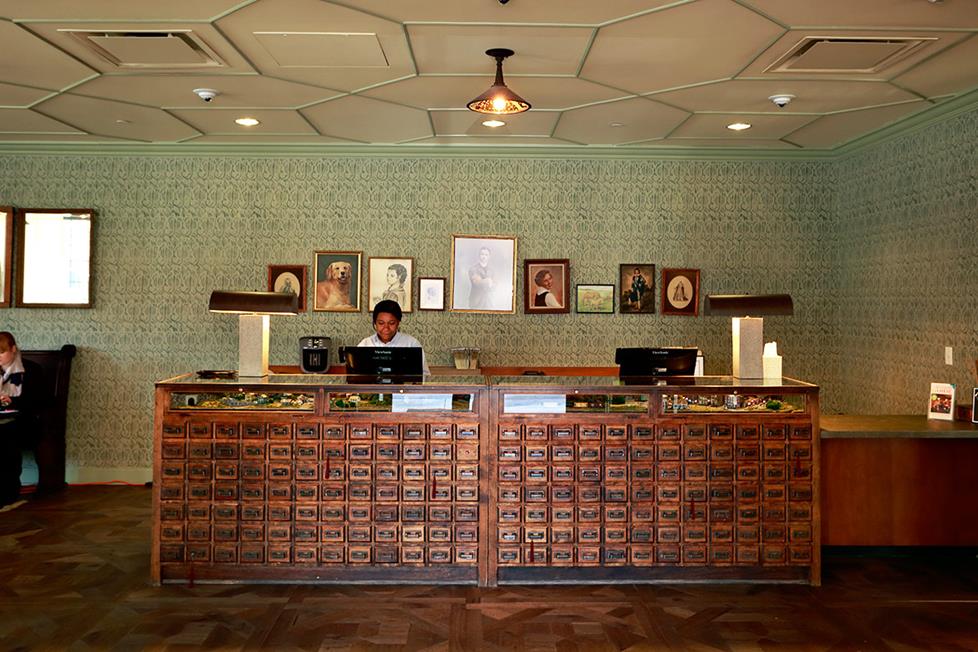 The front desk
The front desk is made from a charming wooden library card catalog. Models inside the glass case on top depict local scenes. A pair of 6" Atlas FAP62UL in-ceiling speakers at this location are tapped at 4 watts each. The lower relative volume level facilitates conversation between staff and guests throughout the day.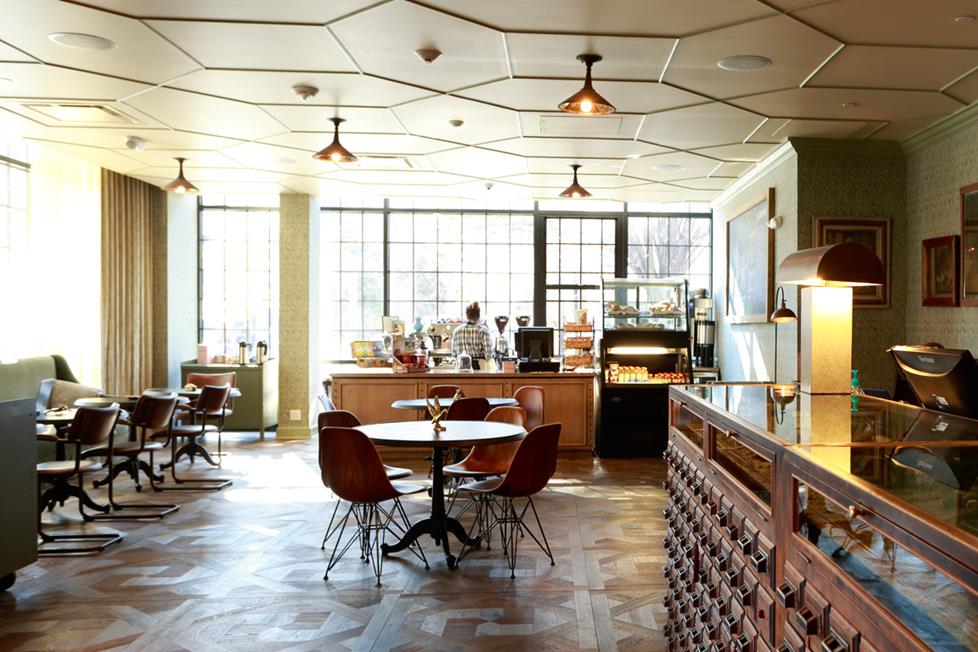 The coffee shop
There is no wall separating the front desk from the first floor coffee shop, but the four 6" speakers mounted here are tapped at 8 watts each, so they can play a little louder. Guests chatting over breakfast can still hear the music, while desk staff enjoy relatively lower volume mere feet away. The outdoor seating area is served by two more Atlas 5-1/4" surface-mount speakers, just like the ones in the vestibule.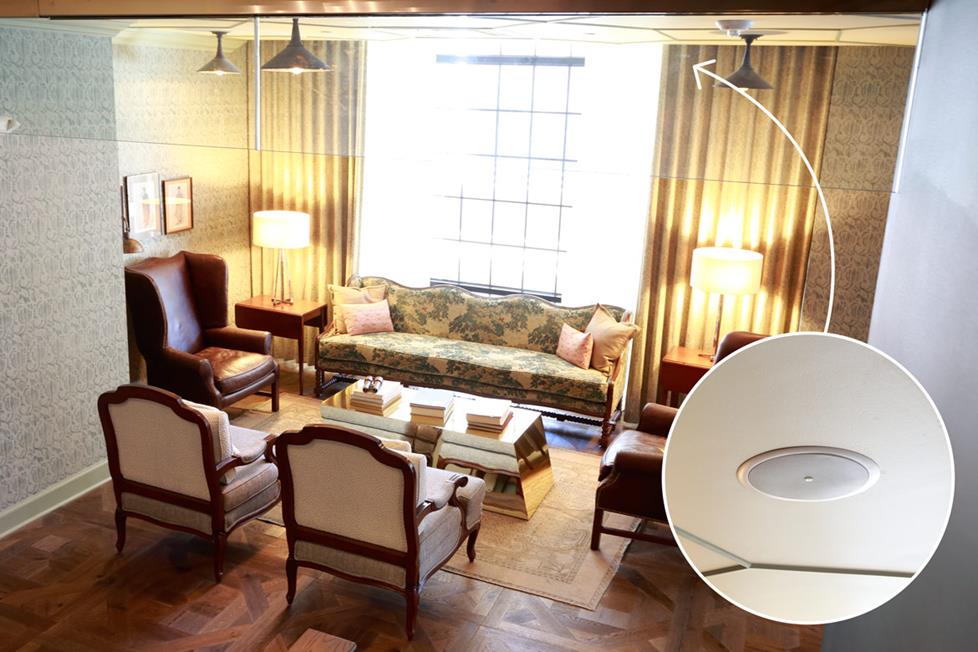 The sitting room
This comfortable seating area near the elevator features a single 6" speaker tapped at 4 watts, so guests can sit and talk without straining their voices. Two more speakers located above the elevator doors keep the mood consistent while guests wait for a lift.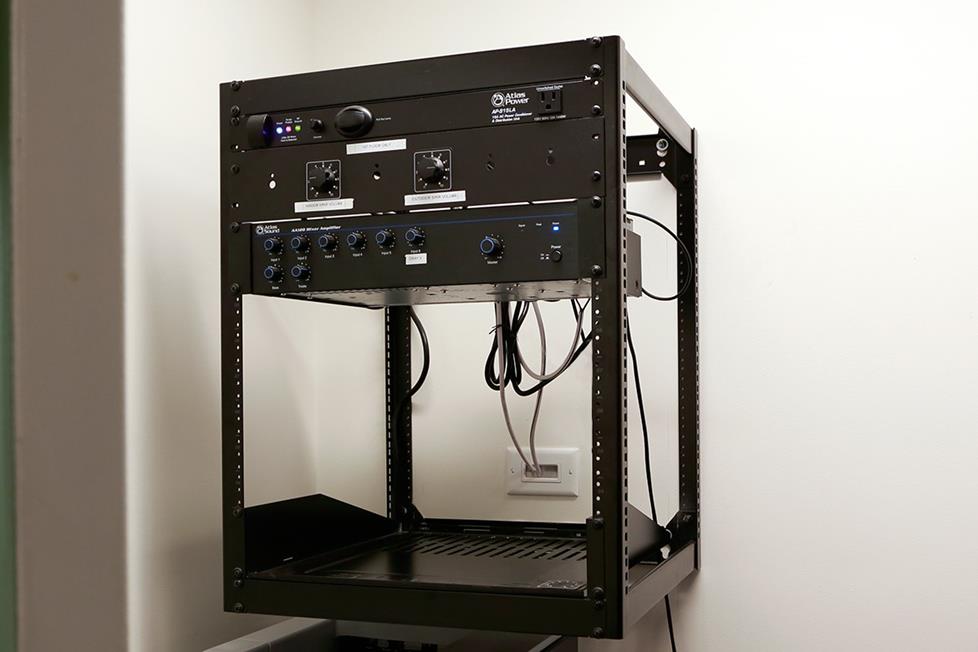 First floor volume control
An equipment rack is wall-mounted in the hotel's first floor business office. A single Atlas AA120 amplifier provides plenty of power for all of the speakers on this level. Our designer rigged two volume controls – one to manage the indoor speakers, and another to provide separate control of the outdoor volume – where they can be easily adjusted.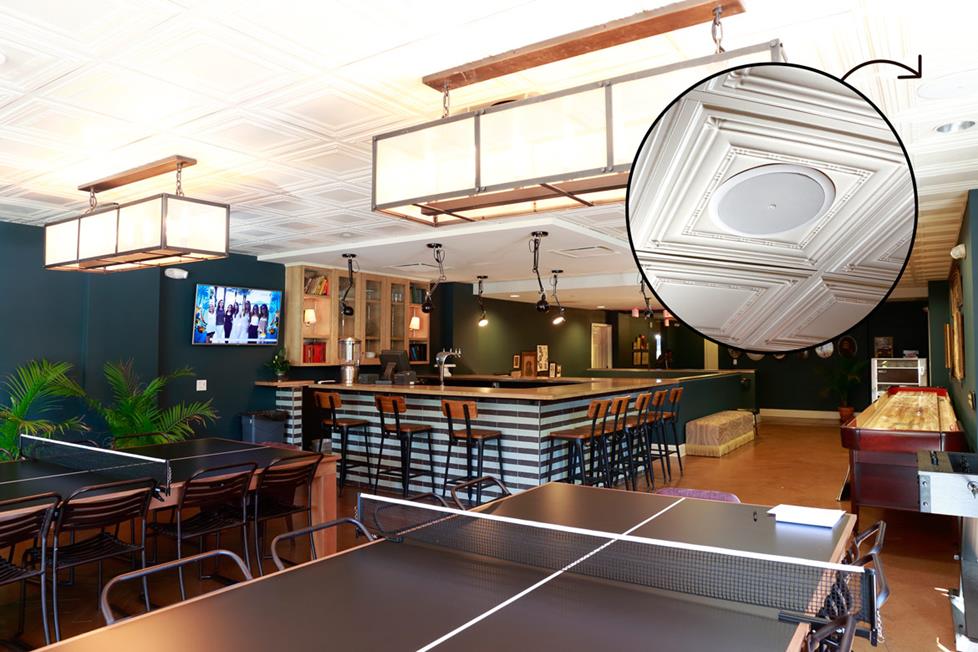 The Game Room
The gathering area on the second floor is known as the Game Room, for good reason. Even the tables provided for casual seating can be drafted into service for ping-pong at a moment's notice. As on the first floor, volume level increases gradually as guests walk past a pair of 4-watt speakers near the bar and into the social area, where six in-ceiling speakers with 8-watt taps provide party tunes.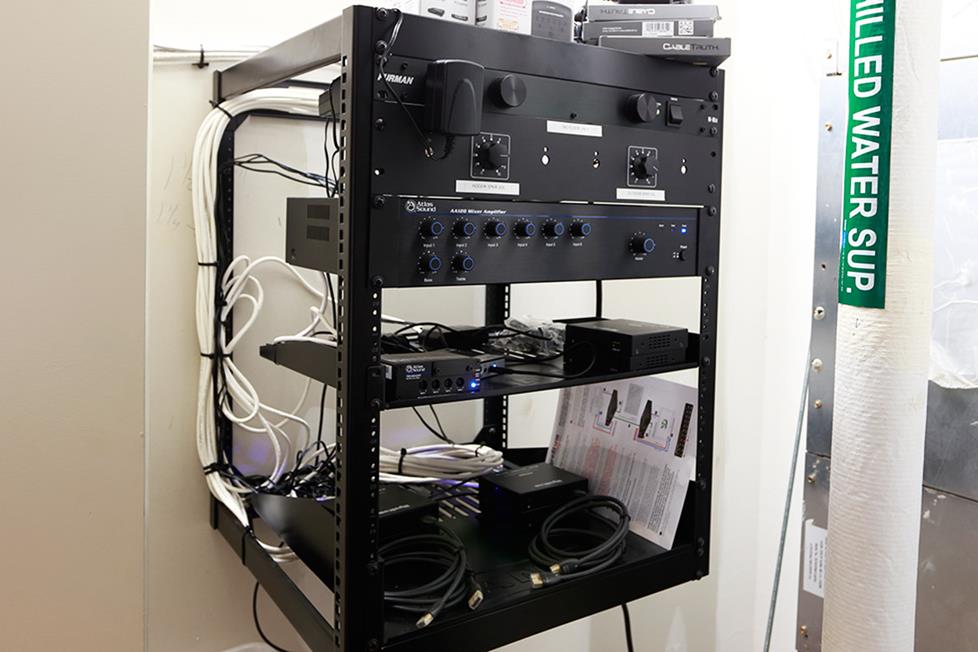 Second floor volume control and TV signal routing
The sound equipment on the second-floor rack is similar to what is installed in the first-floor business office, with some additions. A WyreStorm Express™ HDMI over coax converter delivers HD signal to the TV on the patio. A small Atlas TSD-MIX42RT mixer lets staff choose to broadcast iPod input, background music, or TV audio from a wall plate mounted behind the bar.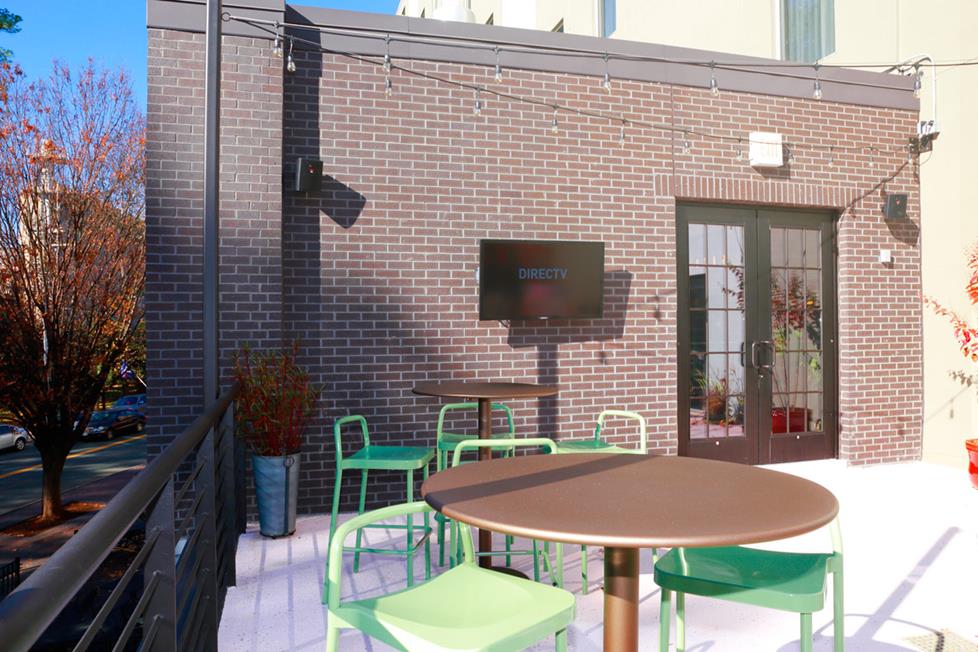 The outdoor seating area
On sunny days, guests can enjoy drinks and conversation on the second-floor patio, overlooking the university. Two weatherproof outdoor speakers provide the sound, and a Sun Brite TV lets sports fans tune in to the game. The television is specially designed for outdoor use, with anti-glare protective glass, an extra-bright LED panel, and a powder-coated aluminum exterior that resists heat, cold, and moisture.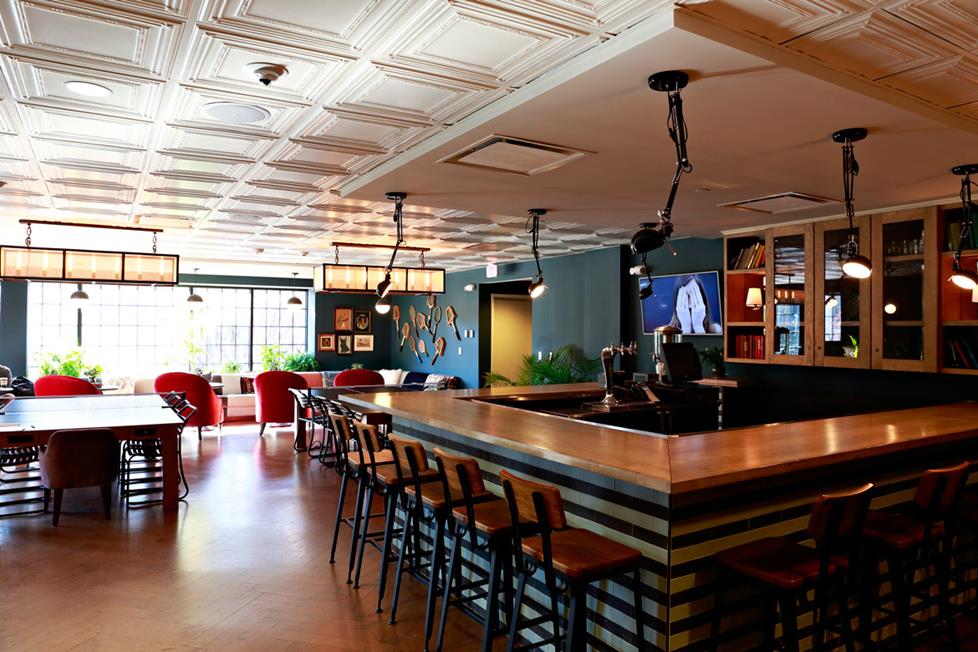 Let us help you grow your business
This is one example of how an experienced Crutchfield system designer can create a custom system for a unique business location. If you're just getting started building your dream business, and aren't sure where to turn for sound advice, give us a call at 1-800-315-2758. One of our designers will work with you to take the guesswork and worry out of building the A/V system for your needs.
---
Get a free system design
in 3 easy steps
We can help you put together an A/V system that makes your restaurant, gym, office – any place you do business – stand out from the crowd. You can attach floorplans and photos to your systems design request. Your detailed system plan includes a link to a pre-filled shopping cart. Ordering is super easy. Delivery is fast and free.
See what our satisfied customers have to say
1

Share your info and ideas
2

Approve your design
3

Install your gear
Want to save money by doing your own installation? Free tech support is available 7 days a week.
---