Garmin Edge® 510 GPS cycling computer review
Taking performance to the next level
A graduate of the University of Arkansas, Deb took her degree in Political Science and Journalism. She enjoyed a successful 13-year career as a radio DJ. Deb joined Crutchfield in 1996 as a Sales Advisor, and is now part of the Marketing Team. Deb spends her free time following sports, running, and trying not to fall off her bike.
More from Deb Gilbert
Heads up!
Welcome to this article from the Crutchfield archives. Have fun reading it, but be aware that the information may be outdated and links may be broken.
I'm not a professional cyclist, but Garmin makes me feel like one.
It's no secret that I'm a big fan of Garmin fitness products. I have a trusty Garmin Forerunner 205 that has survived rain, snow, heat and the occasional fall. So when I was given the chance to test out the Edge® 510 GPS cycling computer, I jumped at it.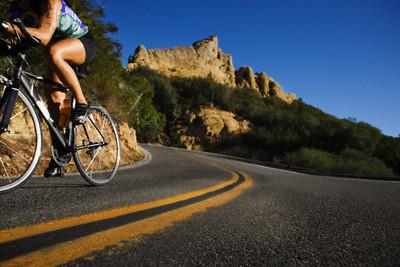 The first thing that struck me was its size. I was expecting something the size of a smartphone. In reality, the 510 is only 1.5" x 3". Mounting the 510 on my bike was very easy, as it involved two rubber straps. No tools required.
Mechanical vs. Digital
I already use a mechanical cyclometer with no download capabilities, so I thought I would use both it and the Edge 510 and see how they compare.
My Cateye has three components. It uses a wheel-mounted sensor, a fork-mounted transmitter that sends the signal to the handlebar-mounted display. It counts wheel revolutions to calculate speed and distance. It can tell you peak speed, distance travelled, time elapsed, average speed, and total distance on the bike. The problem is that if you want to reset the clock for daylight savings, you have to reset the whole thing. You also have no way to download your info. Yeah, you gotta rock it analog-style with a pen and paper or just create your own digital training log and type in the data.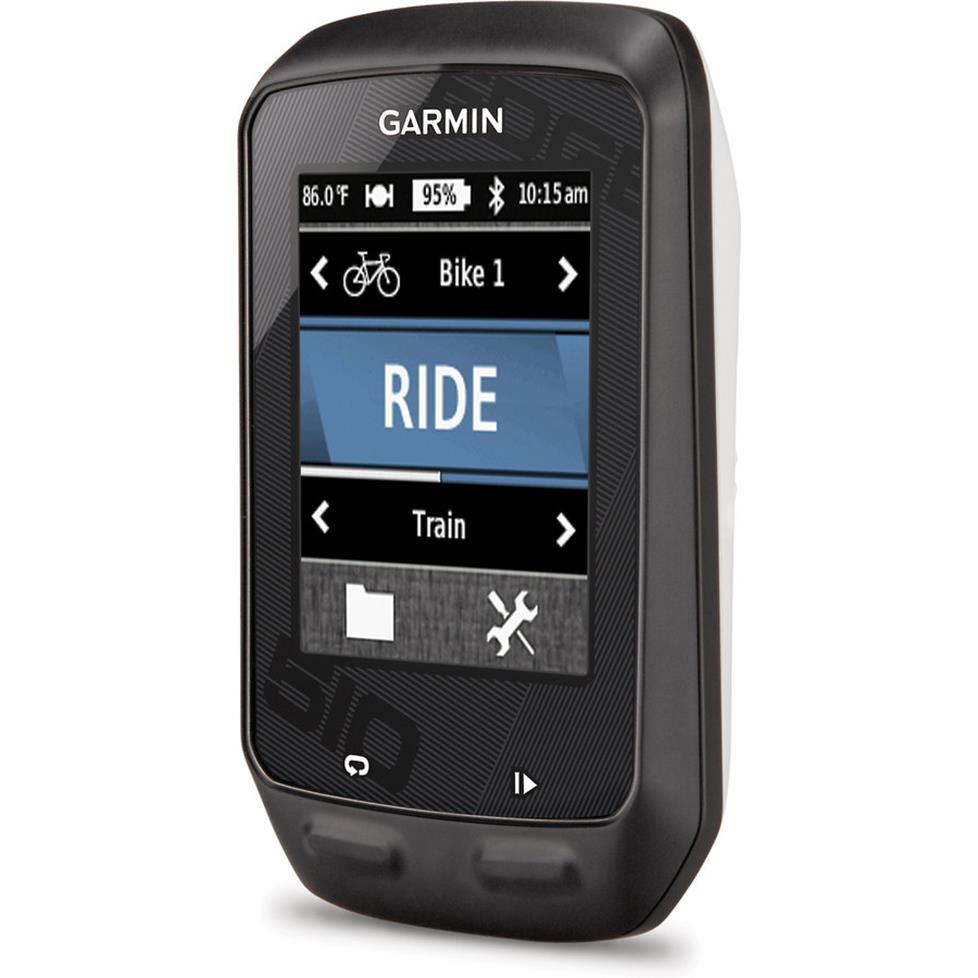 The Edge just has a monitor, and uses GPS tracking to calculate speed and distance. It includes a charger that can either be AC power or USB. The USB jack also serves as your computer connection to transfer data. Or, you can sync the Edge to your phone and get the Connect app from Garmin. I created an account, downloaded the app, and then went to Connect.Garmin.com to get the full experience (more on that later).
Riding along with the Edge
My first test was in a charity ride. I turned on the Garmin, waited a few moments for the satellite to be located, and started pedaling. Fortunately, it set off a tone and the display said that it had sensed we were moving and did I want to start tracking? Why yes, yes I would, thanks for alerting me.
During the ride, I noticed the Cateye and the Garmin were both pretty much in agreement. Speeds were about the same and distance was spot on. It was overcast with a chance of rain, so I wasn't worried so much about screen glare on the Edge. I should have been worried about the weather.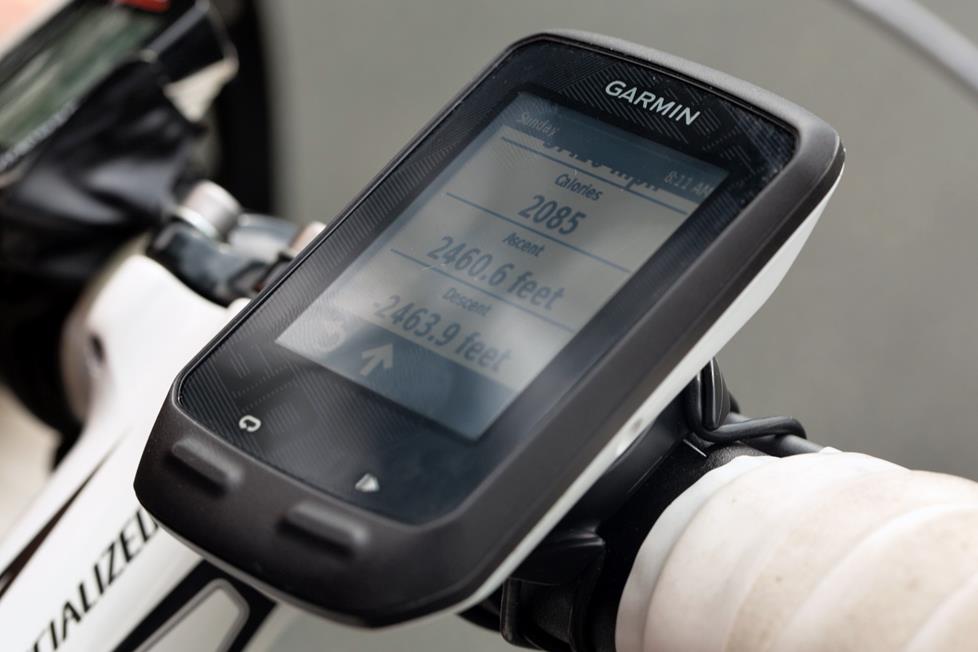 Here's the Edge 510 fastened to my bike's handlebars. It was easy to read, and easy to use.
In Rain and Sun
As the rain started to come down, I got dropped by my group. None of us was experienced in riding in the rain, so it was just a matter of getting to the next rest stop. I was trying to read the display to see how far away I was, but I couldn't really make it out. I didn't know if it was the angle, the rain, the shivering from hypothermia, or my tears.
Turns out, it was just the angle. A slight adjustment once I safely made it to the rest stop and all was good….well, except that it was still raining and I had two climbs ahead of me.
The sun came out and the display was easy to read. I had set up the virtual training partner hoping that I would increase my speed. You select the pace that you want to average and the display will show an animated version of you and your virtual training partner. It's cool because the display has you in lanes like a race. My virtual partner was a good 5 miles ahead of me. I guess it doesn't rain in the virtual world.
Autopause feature
I went back to the main display because distance was really what I needed to track. Before I began the ride, I programmed it to pause when I stopped. I knew I would forget to turn it on or off at a stop, so AutoPause to the rescue.
A bit about me, as a biker, I'm not a strong climber. I love to fly on the downhills and sprint on the flat sections. Living in Central Virginia, there is no such thing as a flat course.
On some of the steeper climbs, I noticed the Cateye was not agreeing with the Garmin. In fact, the Garmin went into AutoPause. I know I was slow going up Peacock Hill, but I also know I was still moving. I attribute the pause to several factors: my very slow speed, tree cover, and cloudy conditions. It only paused for a second or two and then resumed. The pausing did not seem to have any effect on the final time or distance either.
Connect.Garmin
Once I finished the ride, I did a quick download to my Android™ phone, and started looking at my results. I really liked what I saw and took the 510 out for a few more rides.
The real fun came when I checked in at Connect.Garmin.
The free site imported all of my routes, let me name them, and gave me many different ways to compare the results. You can see your speeds at any point in the ride, check your elevation, and compare performance on your different rides, among other things. You can even add a heart rate monitor for better training.
The Bottom Line
I've been a fan of the Garmin Cycling team for a while, and a fan of the Garmin Forerunner. I now add the Edge 510 GPS cycling computer to my list of favorites. Who knows? With these training tools, I might even become a better climber.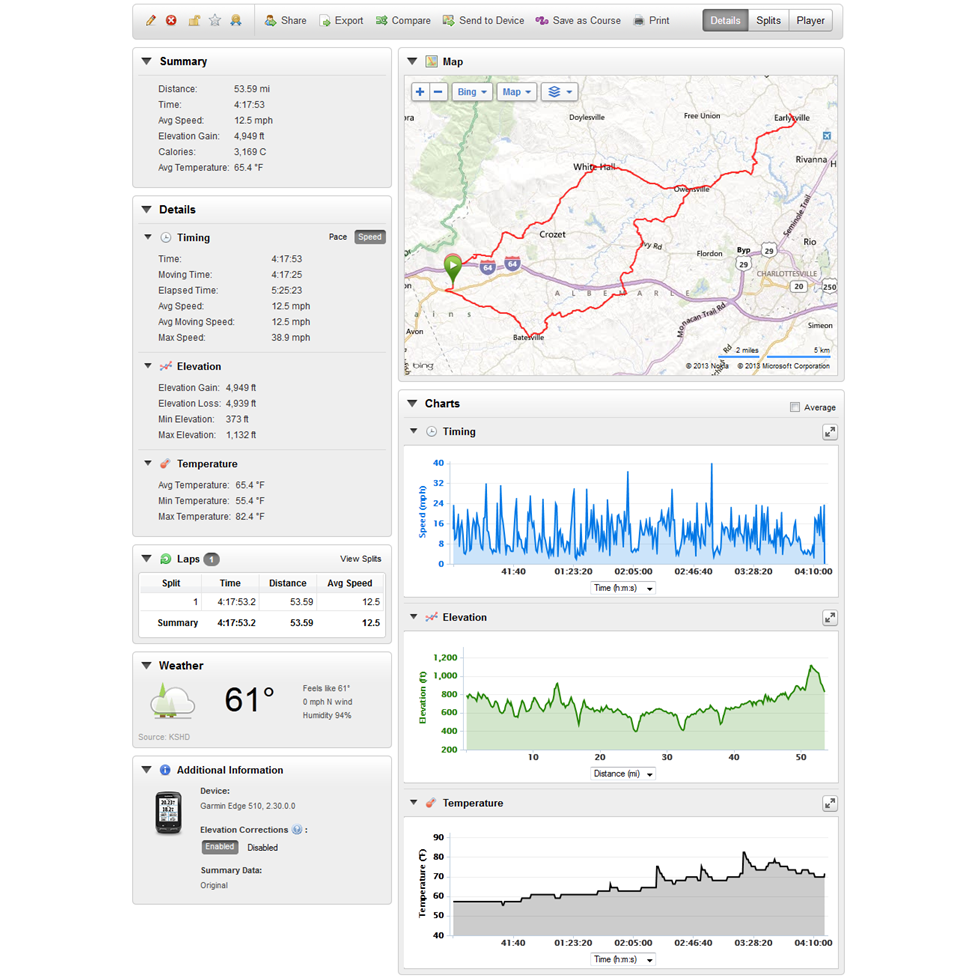 The Connect.Garmin site lets you look at your data in many different ways — helpful for tracking progress and planning an exercise regimen.