Guide to digital scrapbooking
A photo album on steroids
Lynn worked as part of the Crutchfield car audio writing staff in 2013. She left to pursue a greater opportunity, but made a strong mark on our team while she was here.
More from Lynn Thorne
Heads up!
Welcome to this article from the Crutchfield archives. Have fun reading it, but be aware that the information may be outdated and links may be broken.
You shot several awesome photos of your child's first day of school – great! Now what do you do with them? In digital scrapbooking, you can relive the entire experience in storybook style instead of merely viewing a few pictures out of context. You'll preserve a detailed memory for generations to come. It's easy and inexpensive. Here's how.
---
What to shoot for a scrapbook
The first rule in scrapbooking (digital or otherwise) is to capture things you might not normally consider. For this article, let's pretend you're planning to scrapbook your kids making their first batch of brownies. Don't just take a picture of the perfectly baked product when it's done. Get a shot of kiddos reading the directions, cracking the eggs, licking the bowl. With digital cameras you have the freedom to take as many photos as your memory card can handle, so shoot with abandon. More pictures = more options.
Also, make sure you have fully charged batteries and a memory card with plenty of space.
Tip: Even the mixing bowl mess and an empty plate with crumbs can make for a great background picture!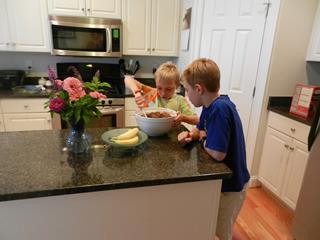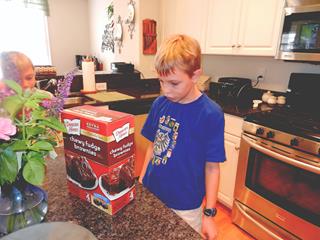 Details help tell the story. But make sure you vary your shots - get some wide shots to set the scene,
some medium angles for a more personal feel, and close-ups for detail and emotions.
---
Saving and editing your photos
The brownies are baked, and now you've got a plethora of pictures to work with. You'll need to transfer them to your computer either using your camera's memory card or the cable that came with your camera.
If you're working with older pictures that aren't in your camera, you'll need to scan and save them to your computer. A good scanner will give you ultra-high resolution images, along with user-friendly installation and easy operation.
Chances are good you have a few photos you'd like to edit – whether you need to lighten, straighten, or crop. You can do it free with programs like Picasa Web Albums™, Pixlr™, or if you have a Mac®, the iPhoto® program that came with your computer. You'll get a broader range of editing options with software like Corel Paint Shop™ Pro, Corel PhotoImpact X3, or Adobe Photoshop® Elements, which also offer extra storage and organizational tools.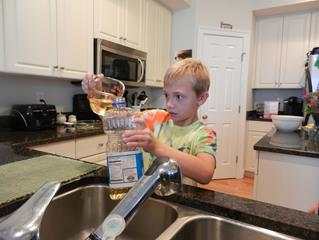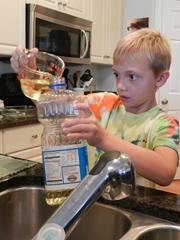 Before: This photo was a bit dark and the background was distracting.
After: This cropped version really lets us focus on the subject. We also lightened it a tad.
---
Creating layouts that further the story
Once you've uploaded and edited your photos, choose the pictures you want to feature. Don't know where to begin? Most scrapbooking programs have free templates to get you started, and many websites offer downloadable kits for purchase. Many people scrap in chronological order, but this is where creativity reigns—there's no wrong way to scrap! Try using one of your photos as the background of the page, or blend a photo into the background with an edge-softening tool.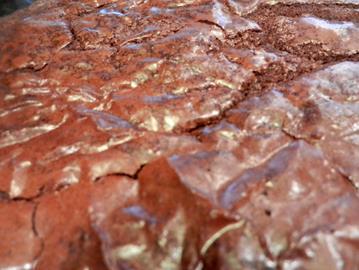 Extreme closeups of something with texture make great layout backgrounds!
Tip: Group a large number of related photos into a mosaic to show them all off at once.
Next, choose a font and add text to give your 'story' more details. And don't forget to add graphics to embellish the layout.
Tip: Tutorials abound online, so search to get ideas for your page.
Two places to start: http://www.digitalscrapbookplace.com and http://cottagearts.net/tutorials.html, both of which offer great suggestions and plenty of advice. You can even check YouTube® for inspiration (try searching "YouTube digital scrapbooking" for a selection).
---
Saving and sharing your page
When you've got a page (or a whole scrapbook) you're happy with, you'll want to save it as a full-sized file, either in a .pdf or .jpg format (both of which are high resolution and will let you resize without compromising quality).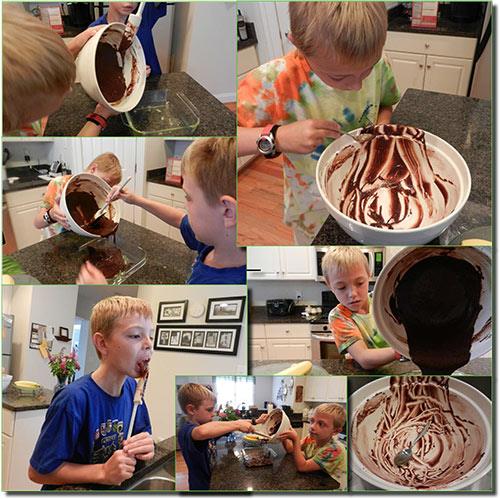 This finished page really captures the scene, from the mixing and pouring to the bowl clean up!
Now you have a decision to make – what are you going to do with your masterpiece? You can
burn it to a CD and have it printed at a professional copy center (great for framing!)
print it on photo paper and save it in a traditional scrapbook
post it on Internet sites to share with others
email it to family and friends
upload it, and other pages, to a photo site like Shutterfly or your iPhoto program and print an entire coffee-table book of your event (complete with custom covers)
Tip: If you're planning to upload or email your pages, you might want to save copies of them at a lower resolution (with a different name to help keep them separate), like 72 dpi and 500-600 pixels wide, with a file size around 100 KB, which will let the files load more easily.
The benefits of digital scrapbooking are numerous. It's easily organized (no more bins of supplies), you simply download new supplies (and re-use them as often as you want), you can always find the perfect shade of paper thanks to your graphics program, cleanup is as easy as pushing the 'save' button when you're done, and you can share your project with anyone and everyone easily and efficiently.