Headphone Happiness
Dave Bar worked for Crutchfield from 1981 until his retirement in 2016. After a 23-year stint in the sales department, he joined the home A/V writing staff. Dave's expertise and good humor will be sorely missed.
More from Dave Bar
Heads up!
Welcome to this article from the Crutchfield archives. Have fun reading it, but be aware that the information may be outdated and links may be broken.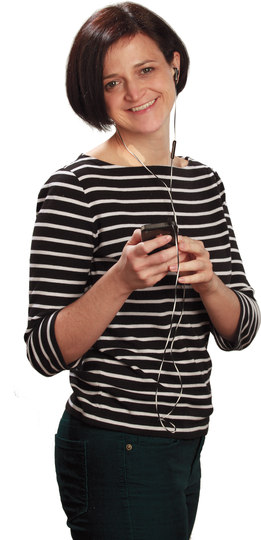 Bose® MIE2i mobile headset worn by Rachel, Crutchfield web production specialist
What kind of headphone listener are you? Do you take your favorite music with you to work? Do you enjoy your tunes while you're at the gym, doing housework, or traveling? Or, are you a late-night movie buff or audiophile? With the right kind of headphones to match your lifestyle, you'll not only hear better sound, you'll also have more fun listening. To see if we could find ways to make their listening more enjoyable, we gave each of four Crutchfield staffers a different type of headphones to see how it fit their needs.
A headphone for all occasions
Experience high-quality Bose® sound and convenience with your iPhone® and iPad®
Rachel, one of our website production specialists, recently auditioned the Bose MIE2i mobile headset. Here's what she had to say: "The Bose MIE2i is the headphone for multi-taskers. I have it on while I'm working, and when I'm home doing stuff around the house. I use it with Pandora® Internet radio on my iPhone®, and then switch it over to my iPad® to watch Netflix® videos while I'm doing the dishes. The sound is fantastic!"
Bose® MIE2i mobile headset
An inline microphone/remote lets you take calls on your iPhone and control other select Apple® products while enjoying rich Bose sound.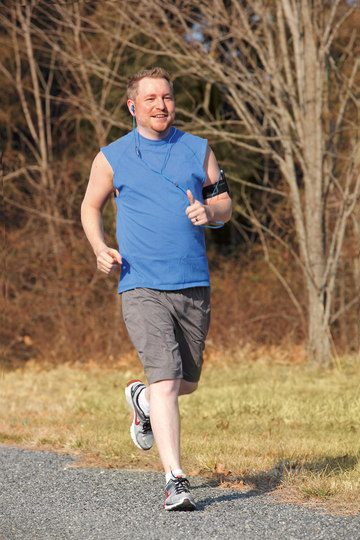 Monster iSport Immersion worn by CJ, Crutchfield phone sales advisor
If you listen on the run
Immerse yourself in crisp, powerful sound
Crutchfield product advisor CJ took the waterproof Monster® iSport Immersion headphones with him to the gym for a major workout session. Here's what he says: "One of the things that makes these headphones stand out to me is the fact that I don't have to waste any time trying to clean or sanitize them. I can literally throw them in the washing machine with my gym shorts and they are good to go! Plus, they do a really great job blocking out background noise."
Monster iSport Immersion
Machine-washable sports headphones with a customizable fit for a secure and comfortable listening experience.
---
Sennheiser RS 220 wireless headphones worn by Ken, Crutchfield A/V copywriter and video producer
Cut the cord, not the sound quality
Wireless has never sounded so good
Ken, in our Creative department, took home the Sennheiser RS 220 wireless headphones for a test drive and was mighty impressed. Here are a few things he had to say: "I've used some pretty good wireless headphones before, but these are clearly the best I've heard. I loved the clear, uncompressed sound I got when I plugged them into the digital output of my Blu-ray player. And even when hooked up to an analog source, the underlying quality of the drivers and digital wireless technology delivered impressive results."
Sennheiser RS 220 wireless headphones
Advanced Sennheiser engineering gives these wireless headphones the detailed sound and dynamics to please even demanding listeners.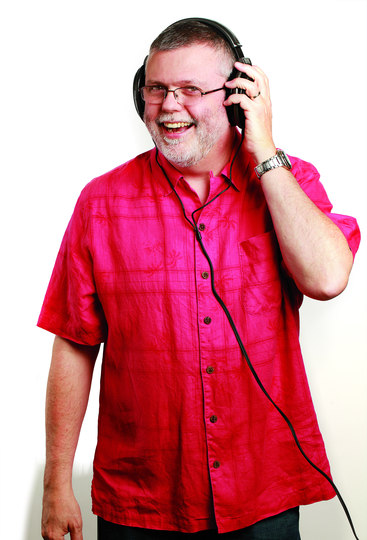 Sennheiser HD 650 stereo headphones worn by Woody, Crutchfield A/V copywriter
When sound really matters
Headphones that convey the emotion of your music
Music enthusiast Woody from Crutchfield's Creative department got a chance to enjoy the sound of one of Sennheiser's best headphones played through a NuForce HDP headphone amp. Woody says: "I tried out the HD 650 'phones because of their reputation. I wasn't disappointed. They handled acoustic, rock, jazz and classical like a fine European touring sedan handles mountain curves. Equal parts thunder and satin, these even-voiced marvels deliver with controlled power. And I thought they sounded wonderful through the NuForce HDP — clean as a whistle with lossless audio files."
Sennheiser HD 650 stereo headphones
Experience precise, high-definition sound that will transport you right into the studio with your favorite recording artists.
NuForce HDP headphone amp/DAC
Make your best headphones sound even better. Give them the power they deserve.