Home Theater Makeover
Dave Bar worked for Crutchfield from 1981 until his retirement in 2016. After a 23-year stint in the sales department, he joined the home A/V writing staff. Dave's expertise and good humor will be sorely missed.
More from Dave Bar
Heads up!
Welcome to this article from the Crutchfield archives. Have fun reading it, but be aware that the information may be outdated and links may be broken.
Putting together a great home theater system doesn't have to be hard. The key is pairing a good high-def picture with engaging surround sound. Along with adding new components, you might end up replacing some existing gear along the way. For instance, if you want to watch a high-def 3D movie on your new HDTV, you'll need to swap out that old DVD player for a 3D-ready Blu-ray model.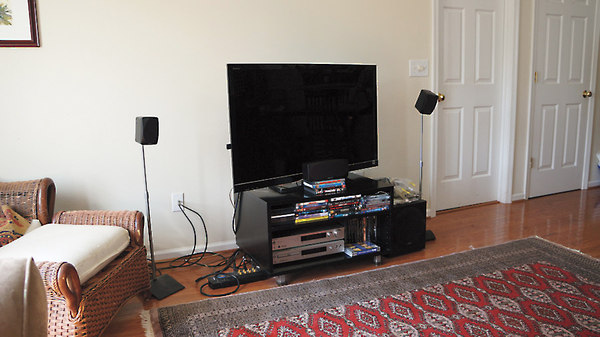 Tami's old system
Tami's new space needs some new gear
Crutchfield Graphic Designer Tami recently finished the basement in her home. Knowing in advance that she wanted a home theater in her new space, she had her electrician run in-wall speaker wiring. But even though Tami's Sony 3D HDTV was ready to go, the rest of her A/V components simply weren't up to the task.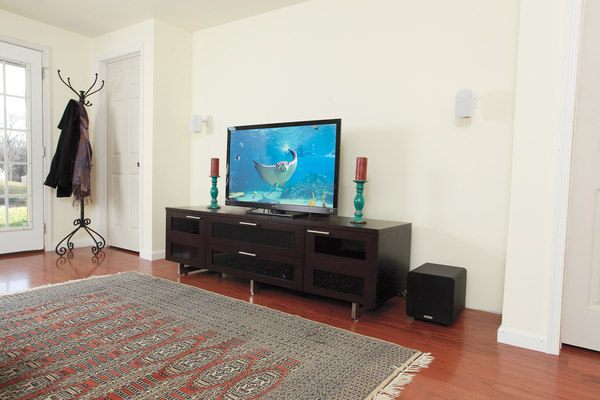 Tami's new system
Room-filling sound without a room full of gear
"I wanted a system that was easy to set up, and that would blend in with the look of my newly finished basement," says Tami. "My old system had wires running all over the room, and it couldn't take advantage of my TV's 3D capability or high-resolution picture." No problem there. The in-wall wiring helped keep clutter to a minimum, and Tami's new 3D-ready Denon receiver features a handy first-time Setup Wizard. "I connected the receiver to my Sony TV and Blu-ray player with a couple of HDMI cables, then just followed the simple on-screen instructions." The Wizard also stepped her through the Audyssey® auto setup and room calibration adjustments for precise, enveloping sound. "The sound is amazing. It completely fills the room."
Tami begins her home theater installation
She started by preparing her new Polk Audio Blackstone TL2 satellite speakers for on-wall mounting using Pinpoint AM20 brackets.The Pinpoints fit directly on top of pre-installed in-wall junction boxes to create a clean, uncluttered appearance. She then mounted the TL2s on the Pinpoints and connected them to the in-wall wiring. The speakers sound great, and their white finish blends in nicely with her walls for a low-key look.
Netflix® movies plus broadcast high-def TV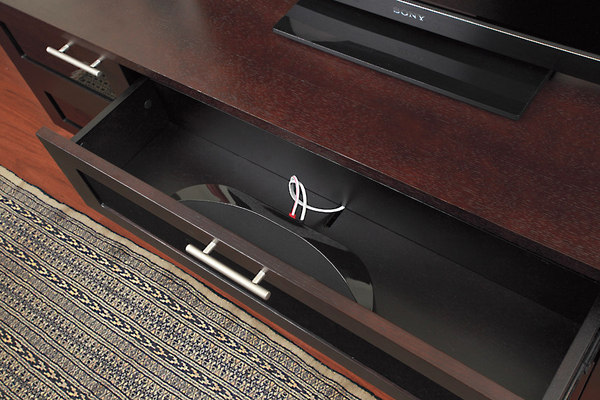 The Polk Blackstone center channel speaker hides neatly out of sight behind a grille cloth-covered drawer panel located directly under Tami's TV.
Another must-have for Tami was Netflix instant streaming for watching movies. "As a 'cable cutter' I don't really watch TV, but I am a big fan of Netflix for movies, so that had to be a part of my system." Tami's new Sony Blu-ray player not only delivers Netflix movies and more off the Internet, it also gives her a beautiful high-definition picture and stunning sound when spinning Blu-ray discs. And she can even watch 3D movies on her Sony flat-panel HDTV when she wants. Tami also made another discovery along the way:
"Because I don't subscribe to cable, one of my co-workers suggested trying an antenna to receive broadcast TV. So I connected one of our Channel Master antennas to an old satellite dish mount and now I get 11 digital channels, including all the networks in high-def. Oh my gosh, who knew getting local stations over an antenna was so simple?"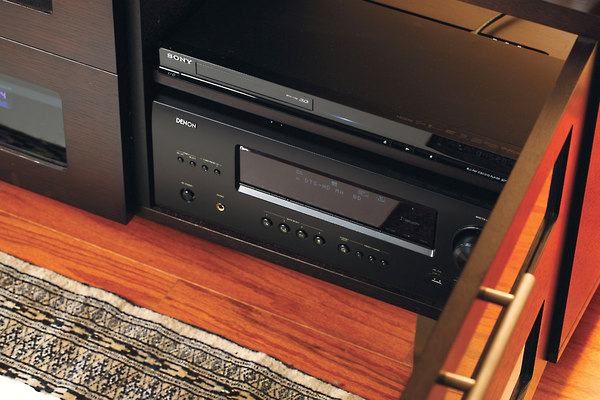 Tami's new Denon receiver and Sony Blu-ray player nestle together comfortably, along with the rest of her gear, inside a BDI equipment cabinet.
Internet and wireless music options with AirPlay®
For music, the Denon receiver lets Tami surf thousands of Internet radio stations from around the world. Plus, it features Apple AirPlay — a technology that allows her to enjoy her iTunes® library from her networked computer. AirPlay can also work wirelessly. "My daughter, when she's home from college, will be able to listen to tunes from her iPod touch through the system without using any wires. It's a very cool feature." We couldn't agree more, Tami.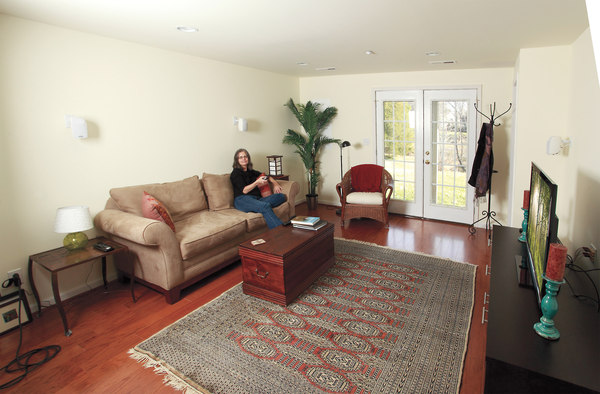 Here's Tami enjoying her new home theater. When asked how she liked it, Tami said, "This new system totally rocks!"
Tami's new home theater components
Denon AVR-1912 home theater receiver
This receiver can drive five home theater speakers with ease, and still power a pair of outdoor speakers, too. Cutting-edge surround sound decoding turns your movie soundtracks into clear dialogue, high-impact explosions, and musical scores that immerse you in the unfolding story. Its Apple AirPlay® technology lets you stream music from your iTunes® library directly to the receiver, either from a networked computer or right from your iPhone®, iPad®, or iPod touch®.
Sony BDP-S580 Blu-ray player
If you aren't crazy about setting up new equipment, and like to skip right to the fun part, the BDP-S580 is the Blu-ray player for you. It comes out of the box ready to connect to your wireless home network, no additional wires or adapters required. It's all set to play exciting 3D movies on Blu-ray, movies off the Internet from Netflix®, YouTube™ videos, and even music stored on your home computer. And if you have a large collection of DVDs, the 'S580 not only plays them, it also upconverts their standard-def picture to near-HD quality.
Polk Audio Blackstone™ TL2 center channel speaker
Enjoy crisp movie dialogue and incredibly lifelike sound effects that really draw you into your on-screen entertainment.
Polk Audio Blackstone™ TL2
Compact yet powerful, Polk's TL2 satellite speakers deliver clear, detailed sound for your home theater and music-listening pleasure.
Polk Audio PSW111 powered sub
Add impact to your favorite movies and full-bodied bass to your favorite tunes with this powered sub.
Panamax M4300-PM Power line conditioner and surge protector
This surge protector/line conditioner delivers clean, safe power to help your home theater perform at its best.
Don't forget these useful accessories
Pinpoint AM20 Wall- and ceiling-mount speaker bracket
These décor-friendly speaker mounts attach directly onto an in-wall junction box.
Channel Master 3010 Outdoor HDTV and FM antenna
Pull in high-quality digital TV broadcasts, plus FM radio, with this antenna.
Niles HTP-7.1 wall plate
Use this Niles wall plate to give your in-wall wiring a clean, professional look.
AudioQuest Forest HDMI cables
Connect your A/V gear with these high-quality cables to enjoy cutting-edge picture and sound quality.
AudioQuest SUB-A subwoofer cable
Get clearer, more accurate bass from your powered subwoofer with this high-quality cable.