Home Theater on the Rise
Loren Barstow started at Crutchfield in 1999. After working a few years as a sales advisor, he moved on to become a writer and then an editor. He has written about televisions, Blu-ray players, speakers, and various other audio/video components.
More from Loren Barstow
Heads up!
Welcome to this article from the Crutchfield archives. Have fun reading it, but be aware that the information may be outdated and links may be broken.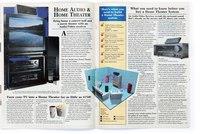 While we were putting together our January 2013 catalog, we got to talking about how awesome products designed for home theater have become. Take, for example, today's HDTVs and Blu-ray players that deliver large, stunning images and put a wealth of entertainment options at your fingertips. Or, modern home theater receivers that put you in the center of the action with thrilling surround effects.
This got us trying to remember: when did home theater start to take off? Our search led us back to our Fall 1993 catalog. It included an article on "a revolution in home entertain­­ment" that showed everything you needed to get a theater experience at home—a new concept at the time. The centerpieces: a 27" TV, a Dolby® Pro Logic® receiver, and a Hi-Fi VCR. Just for fun, we decided to post it online so our customers could check it out – home theater circa 1993.
We've come a long way since then, but our passion for offering you the hottest gear hasn't changed. Whether it's by phone, email or chat, our advisors can help you find the right gear for your needs.