How to use technology to make life easier with a new dog or cat
Smart Pet products help you care for and train your new family member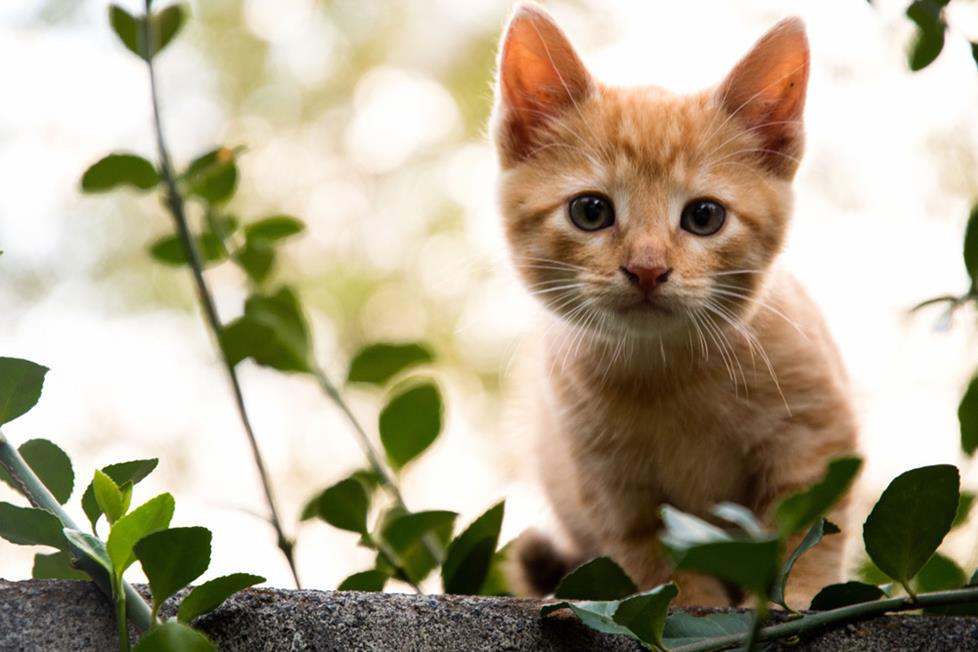 As a proud mom of four cats and one dog, I'm no stranger to adopting pets. In fact, I just brought home a new kitten a few weeks ago. Even though I've introduced many new pets into my household over the years, I still get a bit nervous during the first couple of weeks.
Leland, the new kitten, was so tiny when I brought him home. I worried about him crawling into small spaces and getting stuck there. And of course I was worried about how my other pets would get along with him too. More than anything, I wanted to feel confident I could keep this kitty happy and meet all his needs.
Smart Pet products can take a lot of the stress out of that transitional time when your new pet is getting used to his new surroundings. For tips on training a new dog with Smart Pet products, check out this article. Here are a few ways technology can help you welcome home a new pet.
Make sure your new pet feels comfortable and secure
Entering a new environment can be stressful for a new pet, and if you already have other pets, they can be equally stressed out by the new arrival. Start off by introducing your new dog or cat to a quiet area of the house where they can start getting comfortable.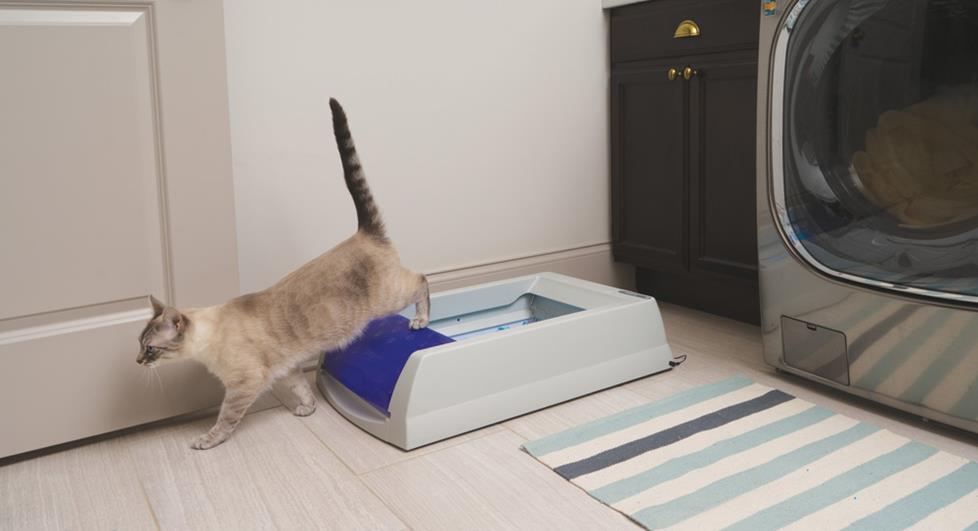 Make sure your new pet knows where to find all the essentials. PetSafe's ScoopFree® Original self-cleaning litter box is a must-have for busy cat parents.
When I brought my new kitty home, the first things I showed him were his litter box and food and water. Then I brought him to a quiet area where those things were still easily accessible. My three other cats were understandably pretty upset, so I tried keeping things as calm as possible. I put on some relaxing music and settled down with my laptop, to keep activity levels to a minimum for a few hours. This ended up being a nice, smooth introduction for everyone.
Relaxing music soothes our canine and feline companions. Pet Tunes speakers come pre-loaded with original music for dogs and cats.
The calming effect that soothing music can have on animals is pretty remarkable. A lot of us here at Crutchfield have either bought or tried Pet Tunes. These little speakers are great for everything from maintaining a chill environment at home to easing the stress of car rides and veterinary visits.
Keep your new dog or cat on a set feeding schedule
With our busy lives, it isn't always feasible for us to be home to feed our pets at the same times each day. Automatic feeders and fountains can help maintain your pet's schedule.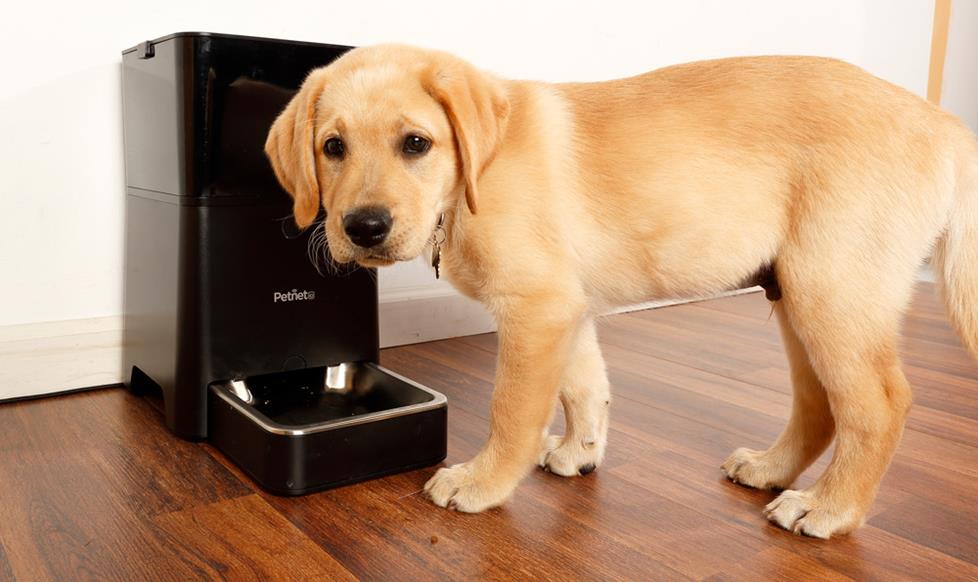 Keep up with your pet's dietary needs with an automatic, Wi-Fi equipped feeder like the Petnet SmartFeeder.
Puppies and kittens need to be fed often, and in increasing amounts as they get bigger. You'll find feeding guides on pet food bags, but consult with your veterinarian to make sure your puppy or kitten is getting the right amount of food. Automatic feeders let you measure the exact amount of food your puppy or kitten needs, and can dispense it at the right time interval.
Keep your new pet safe, indoors or out
A healthy relationship needs boundaries. If there are areas of your house or yard that are unsafe or inappropriate for your new dog or cat to visit, you'll need to train them where not to go.
Pet safety indoors
If your new pet is a puppy or kitten, it's best to keep them confined to a small area of your house at first. Even bigger pets will do better if you let them get used to one area of your home at a time.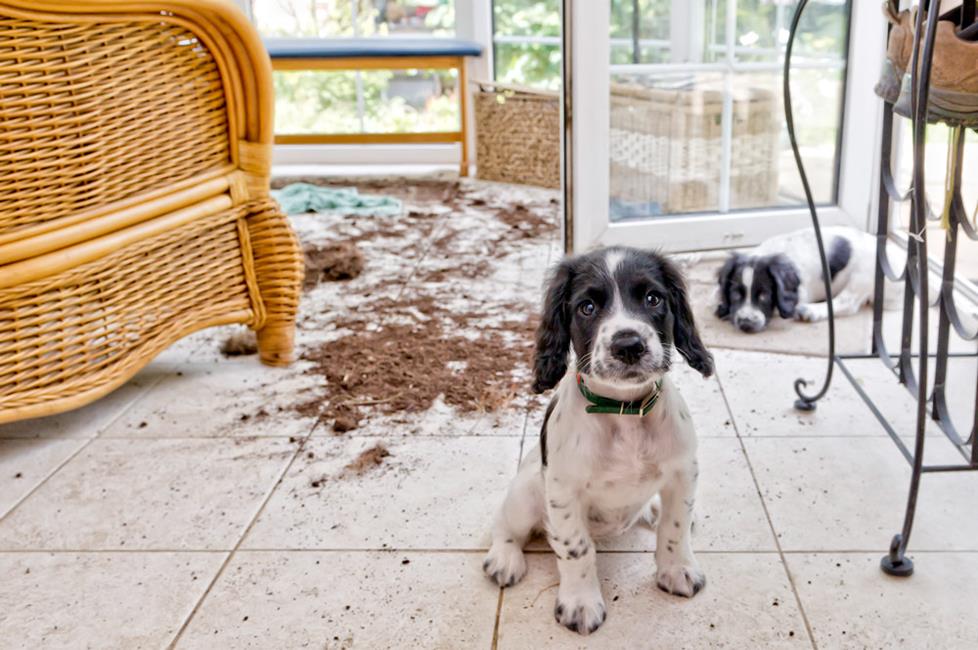 If you give a new pet the run of the house, they're likely to stir up trouble. Setting up boundaries prevents them from getting into things.
Indoor pet barriers like Pet Safe's Pawz Away® are great for keeping dogs out of the trash or off your furniture, and there's a mini version for cats and smaller dogs. These barriers work on animals five pounds and up. You can use a baby gate or other means to keep smaller puppies and kittens from roaming too much.
When you're away, you can use a pet camera or other surveillance camera to keep an eye on your pet.
Pet safety outdoors
If you want to let your dog play outside but you don't have a fenced-in yard, an electronic fence is a great way to keep him from wandering into danger. Outdoor pet barriers keep dogs and cats from digging around in your flower bed or getting into anything they shouldn't.
If your new pet will spend part of the time indoors and part of the time outdoors, consider an electronic pet door so they can go in and out at will. These smart doors will only open for your pet, so random animals can't get into your home through an open flap.
Keep your new dog or cat active and entertained
After I'd had little Leland for about a week, I could tell the big cats still weren't completely sure about him. He was definitely curious about them, and they were sometimes intrigued by him — particularly when they saw him playing with toys.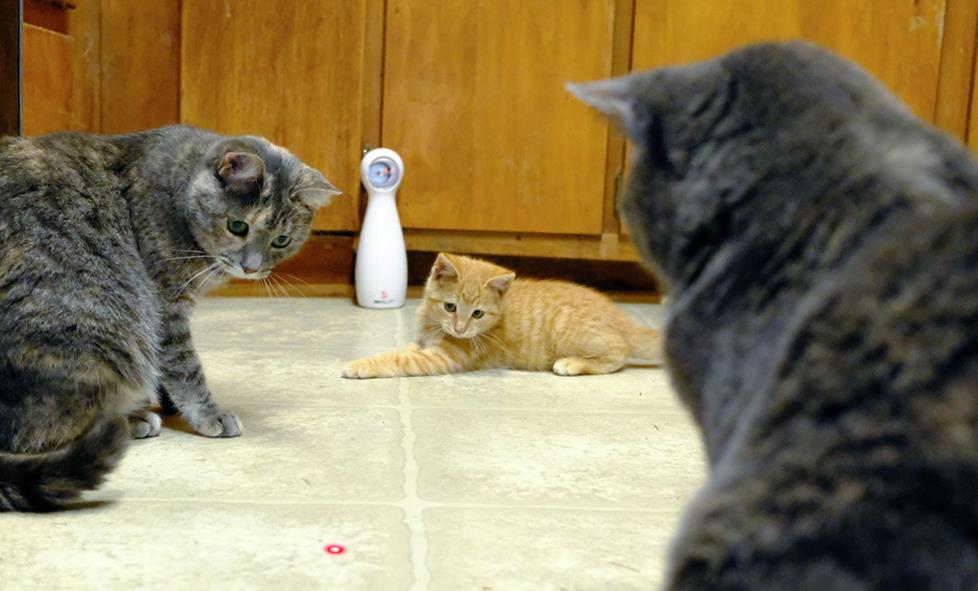 The FroliCat Bolt interactive laser toy helped break the ice between my new kitten and my big cats.
Interactive toys for cats
Tired of throwing little balls around and having them get lost around the house, I gave the Bolt interactive laser toy a try. All you do is turn it on and it moves the laser in random patterns for 15 minutes before shutting down on its own. This toy really worked to get my big cats engaged and playing with their new little brother. It's cool to see my older cats so active and playful. Now I turn on the Bolt when I leave the house in the morning so all the cats can start their day with a play session.
A cool upgrade from the Bolt laser toy is the PetKit Mate Wi-Fi pet camera. Not only can you use it to check in on your pet throughout the day, you can also start a laser game any time you want, from anywhere you happen to be.
Interactive toys for dogs
Some dogs have boundless amounts of energy. If you help them expend some of it when you're home, they'll be happier and mellower when you're away. Playing fetch is one great way to let dogs work out some of their energy, but it can also tire your arm out pretty quickly. Automatic ball launchers keep dogs active and happy. Most dogs can learn how to load a ball into a launcher on their own and keep the game going while you go about your business.
The iFetch ball launcher keeps canines active and happy. Crutchfield intern Lincoln can play with it for hours without getting tired.
To make sure your new pet is getting the right amount of exercise and food for her age and breed, try an activity monitor.
If you're welcoming a new dog or cat into your life, we've got you covered with solutions to make the transition easier for everyone involved. Need help choosing? Check in with one of our friendly, knowledgeable, pet-loving advisors at 1-888-955-6000.