HTC One® (M8) Harman/Kardon® Edition review
A smartphone designed for music lovers
Before joining the Crutchfield team, Eric Angevine began his education in great sound as an announcer and studio engineer for a radio station in his hometown of Lawrence, Kansas. He is the author of Hinkle Fieldhouse: Indiana's Basketball Cathedral. He loves college basketball, music, cooking and traveling with his family.
More from Eric Angevine
Heads up!
Welcome to this article from the Crutchfield archives. Have fun reading it, but be aware that the information may be outdated and links may be broken.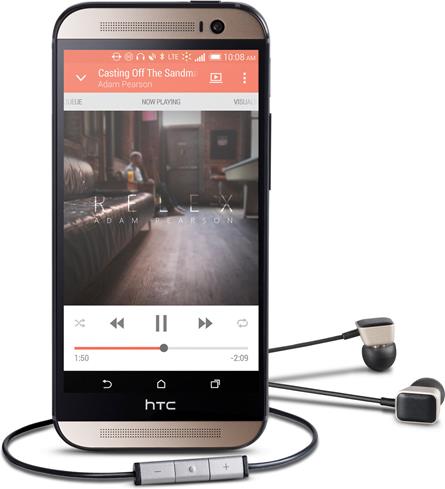 The smooth design and 5" high definition screen on the HTC One (M8) Harman/Kardon Edition are eye-catching. But how does it sound?
You can fit hundreds of low-resolution digital music files (like the ones you get from the iTunes® store) on a mobile phone. These compressed files sound OK on a typical smartphone that comes with cheap earbuds. But they sound lame when played through a good audio system.
The Harman/Kardon edition of the HTC One (M8) is not your typical smartphone. It also bills itself as a high-end portable audio system, promising "unmatched audio" from low- and hi-res music files alike.
Bold claim. We decided to put it to the test in the Crutchfield Labs.
To get ready for a listening session, I loaded it with a variety of music that had been captured at varying levels of audio resolution. I also installed the popular streaming apps Pandora® and Spotify® (note: Sprint and Spotify are offering a low-price "framily" subscription plan to M8 users).
First, I used Bluetooth® to pair the M8 with the JBL Authentics L16 console speaker, which was set up in the Crutchfield Labs. My colleague Jordan Greenstone and I made the musical rounds, playing pop, rock, jazz, classical and roots music. In his capacity as manager of the Crutchfield Labs, Jordan has listened to a lot of smartphones playing through a lot of different Bluetooth speakers. He was floored by the sound of this demo.
"We played a couple of 24/192 high-res cuts from Jackson Browne. Even via Bluetooth it sounded fantastic," Jordan said. "Best Bluetooth I have ever heard, bar none. It was an awesome combination — the quality of source material (24/192 file), the quality of the M8, and the performance of the JBL L16, which is a beast."
---
"The best Bluetooth I've ever heard, bar none."

— Jordan Greenstone, Senior Manager of The Crutchfield Labs
---
Clari-Fi™ restores lost harmonics
If you have a hoard of compressed dowloads, or listen to lower-res streaming services, you'll appreciate the built-in Clari-Fi technology, which is meant to restore life to those smushed-down sounds.
Clari-Fi is an algorithm that analyzes your music file in real time and applies intelligent sound processing — designed by Harman/Kardon's experienced audio engineers — to restore lost dynamics. It can be turned off and on in the phone's settings menu, so I was able to do A/B comparisons inside each song we listened to. In my listening session, bass that went "thud" in ultra-compressed files sounded more musical when Clari-Fi was engaged; voices were fuller, and crucial harmonics were restored. In short, the music sounded much more like what the artist originally intended.

The Clari-Fi algorithm restores detail and musical dynamics to compressed music.
With Clari-Fi off, a classic track from the Buena Vista Social club sounded pretty good. When I flipped the Clari-Fi switch on, the acoustic guitars went from sounding slightly twangy to full and resonant. On Paul Simon's groundbreaking Graceland album, the vocal harmonies of Ladysmith Black Mambazo raised goosebumps when I switched on Clari-Fi.
High-resolution-ready
The Harman/Kardon edition of the HTC One can play high-resolution (24 bit/192kHz) music files that are available at places like HD Tracks. It also has a micro SD card slot for extra file storage (which you'll likely need for those large hi-res files).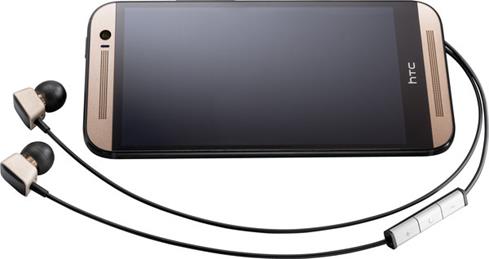 Included AE earbuds reveal all of the details in your music.
Dynamic sound from AE in-ear headphones
After listening to the phone's audio output on a variety of speaker systems, I turned to the AE in-ear headphones, which are included with the special edition phone. If you listen to music while exercising, flying or commuting on public transport, these in-ear headphones are the most significant audio upgrade the Harman/Kardon edition has to offer. They're a dramatic improvement over the cheap earbuds that typically get tossed in the box with a new mobile device.
The visually striking aluminum housings contain 9mm drivers that dish out accurate lows, mids and highs. They're pretty comfortable straight out of the box, but additional silicone ear tips of varying sizes are included in the box, so you can customize if your ears need something different. An inline three-button remote makes volume adjustments easy, and a hidden microphone lets you answer incoming phone calls without fumbling.
The headphones sounded great on their own, but there was one more improvement that made them sound even better.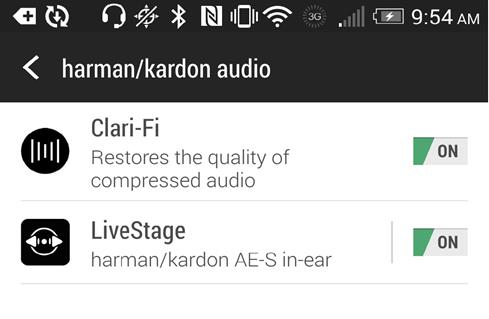 Turn on LiveStage for a truly immersive headphone listening experience.
LiveStage™ opens up your music
When I listen to earbuds, I can almost hear that the music has been narrowed down to fit into my ear canal. On their own, even the nice AE headphones suffered from a somewhat unnatural soundstage. Another visit to the settings menu allowed me to turn on the LiveStage technology, which provided the most dramatic sound improvement I'd yet heard. It was like walking down a hallway toward a concert hall, then entering the actual performance space. With LiveStage engaged, the music went from a two-dimensional thing that was happening in front of me, to an immersive sound with me in the middle. This was where the Harman/Kardon engineers really made their expertise pay off.
The menu also allowed me to select settings for other headphones, and I gave a listen through a pair of on-ear Grado SR225i 'phones as well, to equally satisfying results.
Get better Bluetooth® with aptX
The HTC One (M8) smartphone is equipped with the most recent aptX codec. That means the M8 can be paired with aptX-enabled speakers, headphones or car stereos to provide more accurate frequency response and extended dynamic range.
The verdict
The HTC One (M8) Harman/Kardon Edition phone will provide a legitimate boost to your mobile listening experience. With high-quality (and visually appealing) in-ear headphones, enhanced soundstage dynamics and an improved restoration algorithm, compressed music files can open up and breathe again.
Learn more about the HTC One (M8) Harman/Kardon Edition smartphone