JBL OnBeat™
A simple system, a simple pleasure
Ralph Graves is one of Crutchfield's blog editors, and part of the company's social media team. He writes about home audio/video gear, specializing in Apple-related and wireless technologies. Ralph holds a master's degree in music composition, and his works have been released on various labels. He's served as product manager for an independent classical and world music label, produced several recordings, and worked extensively in public broadcasting. Since 1984 he's hosted a weekly classical music program on WTJU, and is also active as a blogger and podcaster.
More from Ralph Graves
Heads up!
Welcome to this article from the Crutchfield archives. Have fun reading it, but be aware that the information may be outdated and links may be broken.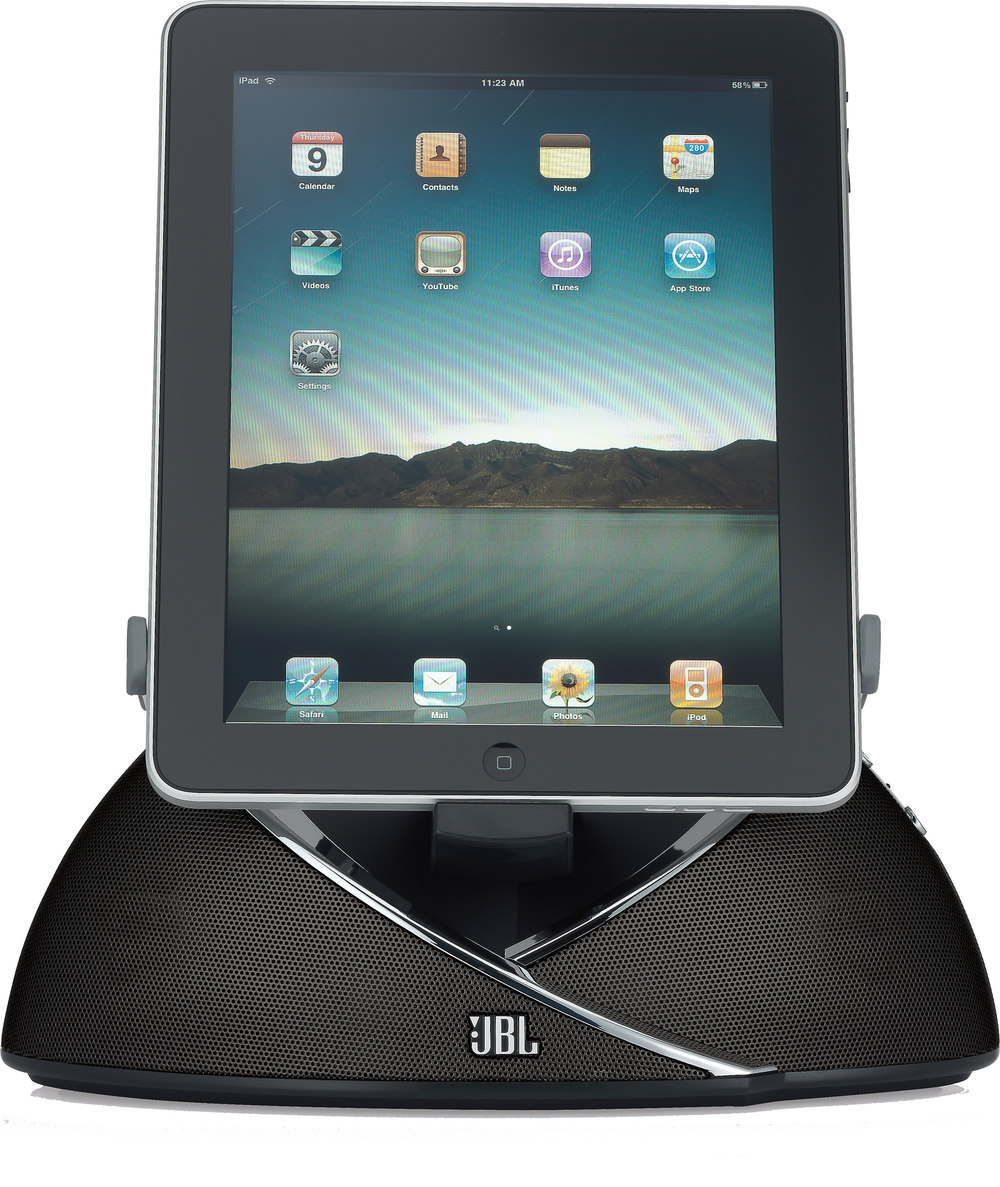 The JBL OnBeat in black
In the beginning, there was only the iPod, and the basic iPod speaker system — just a 30-pin connector sitting on top of (or nestled into) an array of two or more powered speakers. Docking was no problem.
Then came the iPhone, and that basic system had to support both the iPod and the iPhone® (and the resultant reassignment of pin connector functions).
Now there's the iPad®, and all of a sudden, even a basic system needs a level of sophistication that rivals some of the "advanced" speaker systems of those bygone days.
When the choice was just iPhones or iPods, docks were pretty straightforward — after all, the dimensions between the two weren't that different. Add an iPad to the mix, though, and things change.
No-nonsense, yet totally flexible
The JBL OnBeat is a basic docking speaker system for today — it easily handles an iPod, iPhone, or iPad. It's still a pretty simple system. The OnBeat just plays audio from a docked i-Device.
The first thing I noticed when I opened up the box was how substantial the OnBeat felt. And no wonder. By necessity it has to have a base wide and stable enough to support an iPad.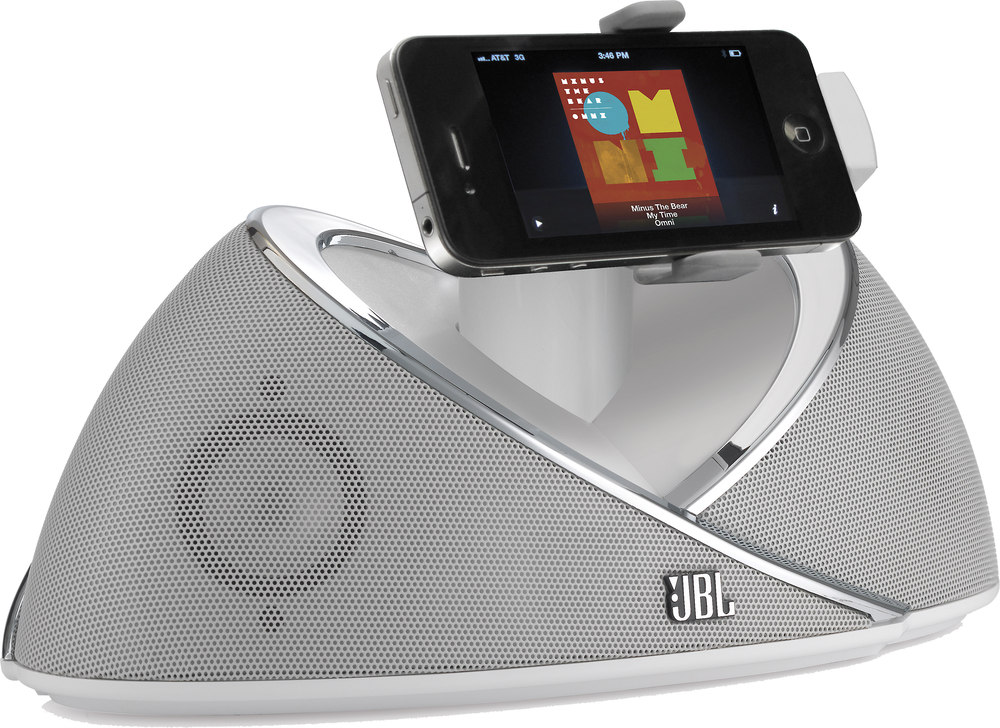 The dock turns for horizontal viewing.
JBL's constructed an ingenious multi-purpose dock for the OnBeat. Its 30-pin connector sticks straight up (as it does with most docks), so I could place my iPod or iPhone in it, vertically oriented as usual. But it also came with an adapter for the iPhone and iPod touch. With it, I could swivel the dock and orient my player horizontally. This can be an advantage if I want to use Cover Flow, or watch a video on my docked player.
The OnBeat also had a brace for the iPad. I snapped it into place, and had nice, stable support for a docking iPad. And the tablet doesn't look outsized perched on the dock. While the OnBeat works well with an iPod or iPhone, it just seems to look better with an iPad.
Solid build, solid sound
Dock construction isn't the only thing that's advanced over time. So have the quality of speakers for these small systems. A friend of mine still uses a JBL OnStage for her iPod touch. It's an entry-level system from just a few years ago. The sound is adequate (she loves it), but best for close-in listening.
The OnBeat has two full-range speakers, but because the case is bigger than that of the OnStage, the speakers can be bigger, too. And that translates into better sound quality. The OnBeat speakers are angled upwards and slightly out to produce a fairly wide soundfield.
Quality sound from a small system
In my listening tests, the OnBeat did equally well with both acoustic and electronic tracks. My classical selections are all lossless files. Through the OnBeat they had a good amount of detail and sounded nice and expansive. Heavy metal and dance tracks hit with a tight solid bass and crisp treble. Acoustic genres, such as jazz, folk, and Americana sounded clear and natural.
While I could crank up the volume and get the music really loud, I wouldn't say the sound was room-filling. These are still fairly small speakers with about 15 watts total system power. That's not to say that the OnBeat is exclusively for desktop use. I thought it did best with both near- and mid-range listening. And, for background music, it worked just fine in our large family room.
Overall impression
The JBL OnBeat is a simple, stand-alone iPod/iPhone/iPad docking speaker system that delivers on sound. Based on my experience, I think it would be a good addition to a den, office, or bedroom. If your i-Device is looking for a home, the JBL OnBeat just might be for you.