Klipsch® Gallery™ G-17 Air
Slim profile, big sound — and AirPlay® to boot!
Ralph Graves is one of Crutchfield's blog editors, and part of the company's social media team. He writes about home audio/video gear, specializing in Apple-related and wireless technologies. Ralph holds a master's degree in music composition, and his works have been released on various labels. He's served as product manager for an independent classical and world music label, produced several recordings, and worked extensively in public broadcasting. Since 1984 he's hosted a weekly classical music program on WTJU, and is also active as a blogger and podcaster.
More from Ralph Graves
Heads up!
Welcome to this article from the Crutchfield archives. Have fun reading it, but be aware that the information may be outdated and links may be broken.
I recently took home a Klipsch Gallery G-17 Air wireless speaker system to audition. The system sounded good when Klipsch demonstrated it in Crutchfield's training room, but the acoustics of that space are very different than a typical apartment or house setting. I was curious to hear how the G-17 would sound like in an actual home environment.
Horning in on the sound
Klipsch uses horn technology to enhance the sound. The concept is that a long horn with a flared edge (like a bugle) can channel the sound waves and deliver a more natural-sounding acoustic. Horns also boost efficiency for better sound with less power.
The flares of the horns in the G-17 Air are designed to deliver an open, clean sound — and they certainly do. And they did something a little more (at least to my ears). The sound was subtly different from what I hear though standard speakers. As best as I can describe it, the sound seemed more natural somehow.
Overall, the highs were very clean. I'd almost characterize them as slightly crisp, but not unnatural or harsh. Mids and lows sounded very full, but at the same time they had a certain softness to them.
Simple wireless setup with AirPlay for computer
The G-17 Air has Apple AirPlay, which means it can connect wirelessly with an iTunes® library (our Intro to Apple Airplay has more details about the process). Once connected, G-17 volume controls appeared in my iTunes window, along with any other AirPlay devices I happened to have activated at the time. The nice thing is I can either adjust the volume on each speaker system individually, or use the master volume control in iTunes to pump up the sound across the board.
For the G-17, as with other AirPlay units I've tried, I had to "register" the device with my computer. That just meant going to an Internet address that came with the instructions and doing a simple download. Once completed, my computer and the G-17 were able to find and connect with each other wirelessly, and the G-17 popped up in iTunes.
Simpler wireless setup with AirPlay for smartphone
Connecting the G-17 to a smartphone was even easier. After turning on the G-17 and getting it to seek, I opened up the iTunes browser on the iPhone and found the G-17 listed. I selected it, and the connection was done. I could now start streaming audio from my iPhone® (or iPod touch®, or even iPad®) using AirPlay.
Although I didn't test it, I could have also used an Android™ phone with the G-17, making a simple Wi-Fi connection. I wouldn't have had quite as much control over the system as I did through AirPlay, but if you want just one wireless speaker system to stream your smartphone's audio and aren't concerned with streaming to multiple speakers, then the G-17 Air would be a good option.
The warm sound of acoustic music
The acoustic tracks I played through the system sounded great. Acoustic instruments have a softness to them that sounded warm and natural through the G-17. And the clarity of the highs helped keep the music in focus. Listening to the bluegrass band the Dixie Bee-Liners, for example, I could easily hear every note of guitar and mandolin, and thus appreciate the interplay between the two.
Another of my test tracks, "Terminal" by Robin Wyn, features a variety of unusual acoustic instruments, in addition to stand-up bass, guitar and piano. The tabulas sounded clean and well-defined, and the cello which provided the counter-melody had a nice resonance to it.
Classically trained
Of course for me, the real test for acoustic sound fidelity is classical music. Being able to reproduce the subtle tone colors and the extreme upper harmonics and lower fundamentals can make the difference between a recording sounding alive or flat. Orchestral music sounded expansive and full through the G-17, creating a soundfield that extended far beyond the modest width of the system.
Chamber music presents slightly different challenges, and the G-17 delivered. Solo instruments sounded open, and I occasionally heard small details such as keys clicking or bows scraping against strings. Every voice was clear, plus I could clearly hear the low register.
Energized electronic and lo-fi tunes
I played a selection of pop tunes and hard rock classics through the system. While I wouldn't characterize the bass as ground-shaking, it still had a strong presence that was appropriate for the music. Making the most of its limited cabinet space, Klipsch included a side-firing bass port that helps considerably.
Electronic music can be mastered to be preternaturally crisp, and the remixes I played from my Buddha Bar had that characteristic. I've heard these selections through cheap speakers, and the sound can be really harsh. Not so with the G-17 Air. The highs were crunchy (as they were supposed to be), but never distorted.
On a lark, I also played some selections from a Pebbles compilation. These are reissues of mid-60's singles recorded by teenage bands on a budget. The sound is so lo-fi, it sometimes goes past muddy to indecipherable. The G-17 actually managed to clean up the sound a little. Not that the fidelity improved, but it was as clean as I've ever heard those selections sound. Garbage in, garbage out? Perhaps, but the G-17 Air didn't add any garbage of its own!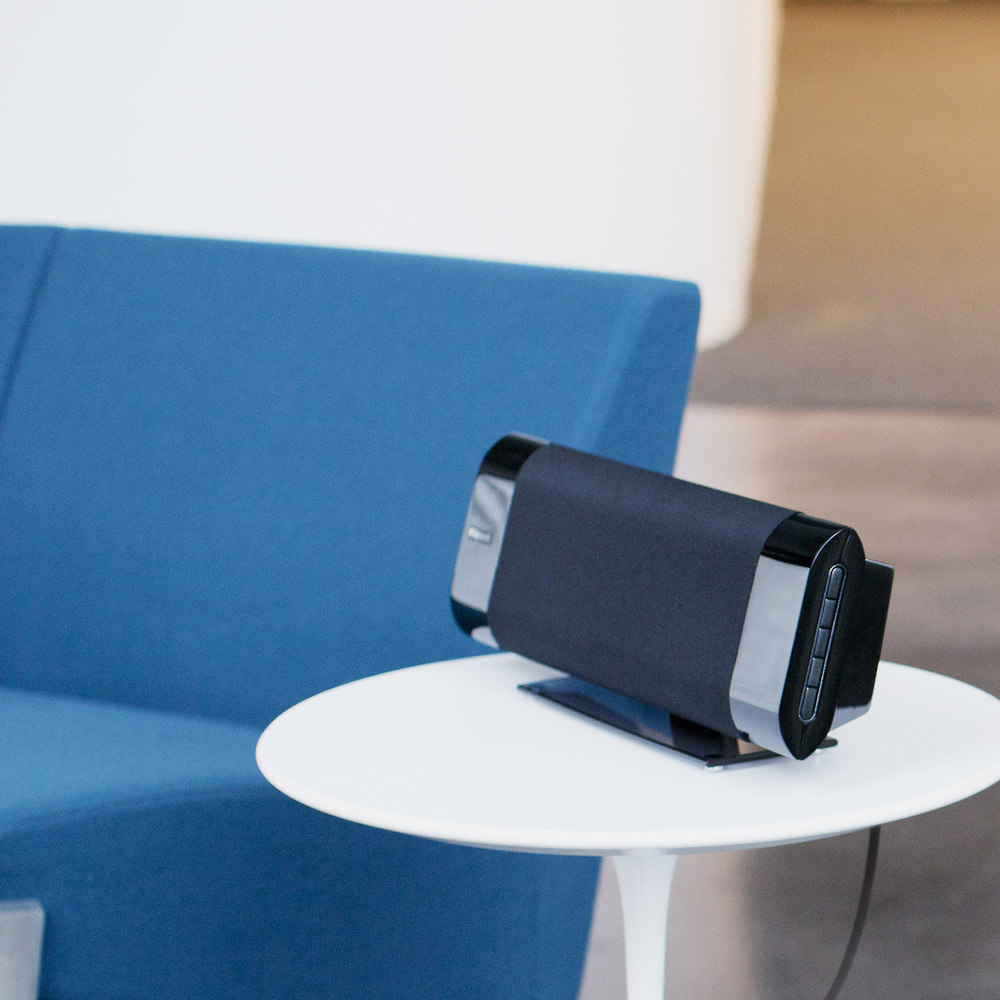 The G-17 Air with its speaker grille on.
It looks good that way, too.
An unusual request
The G-17 has a detachable speaker grille that's secured with magnets. I generally left it off, as I liked the look of the speakers themselves. So did some friends I had over. One was particularly impressed with the sound, and noting how flat it was, asked if I thought it would make a good soundbar.
Well, no. It could serve as one if you're watching videos on an iPad or iPhone, but it's not designed to connect to a TV. But since he liked the sound, I suggested he check out the Klipsch G-42 soundbar which is also part of the Gallery line and uses the same horn-loaded speaker technology as the G-17 Air.
Overall impressions
Horn-loaded speakers have a characteristic sound, and it's one I like. I'm impressed that the G-17 Air could deliver highly detailed sound from speakers contained in a cabinet so small. Most of my iTunes library is made up of lossless files, and there seemed to be nothing lost in the transmission from computer (or smartphone) to speaker.
And their compact design meant I could place them just about anywhere — even on an end table (I could even wall-mount them if I chose). The Klipsch Gallery G-17 Air wireless speaker system is a great choice for someone with limited space, but who doesn't want to compromise with audio quality.