Klipsch Image S5i Rugged In-ear sports headphones
Keeping pace and sounding good doing it
Ken Nail has written about car audio for Crutchfield since 2003, after four years as Crutchfield Sales Advisor, and 10 years as a music teacher. He's an avid music listener, whose favorites are classical and film music. When not chained to a desk, Ken spends most of his time training for triathlons and marathons, and likes getting outside for backpacking, downhill skiing, and bicycle touring. He attended West Virginia University, where he received a Master's Degree in Music Performance and a Bachelor's Degree in History.
More from Ken Nail
Heads up!
Welcome to this article from the Crutchfield archives. Have fun reading it, but be aware that the information may be outdated and links may be broken.
Whether I'm at the gym, on a favorite running trail, or pounding the sidewalk, I see headphones. Lots of headphones. They're as much a part of most people's workout gear as a pair of shoes.
I'll admit I'm a bit of a purist and I don't usually wear headphones when I'm running outside. But if I'm in the closed confines of the gym, it's a different matter. Let's face it, when you're stuck inside on a treadmill or a spin bike it's easy to let your motivation flag. A few well-chosen tunes can be a great pick-me-up.
But if a set of headphones isn't specifically designed for active use, it can be a real pain in the ear. I've found that over-the-ear models, even lightweight ones, are hot and heavy. And I've had little luck with earbuds — they never want to stay put when I'm sweating.
And then there's the sound quality (or lack thereof). The inexpensive earbuds that came with my iPod® just don't do a very good job of reproducing the sound of my sometimes eclectic music choices.
Klipsch to the rescue
So I was glad to try out the Klipsch Image S5i Rugged sport headphones. The in-ear design offered the promise of a more reliable fit than run-of-mill ear buds, and Klipsch's audio pedigree held out the hope of enjoying much better sound quality than I'd been accustomed to.
Secure and comfortable fit
The last thing I want headphones to be are a distraction. It's hard to concentrate on staying on a treadmill at speed when you're trying to adjust the fit of your earpiece. The S5i Rugged's set of differently sized soft gel ear tips (small, medium, and large, naturally) took care of that problem.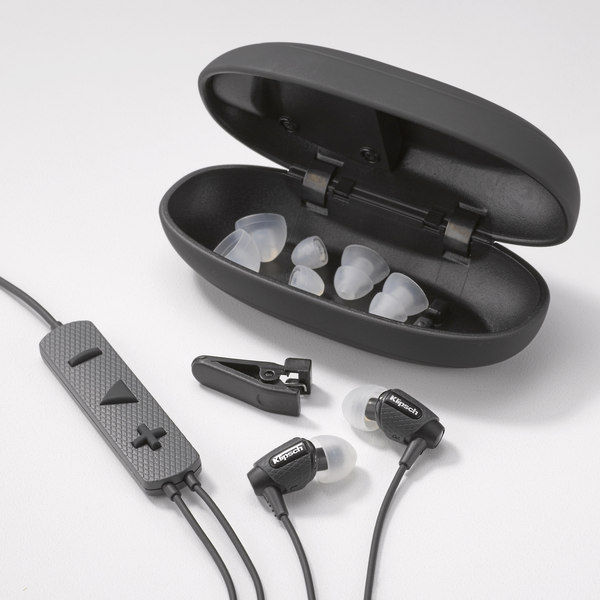 The Klipsch S5i Rugged sports headphones
come with three different sizes of ear tips.
A little experimenting and I had a set that fit comfortably in my ear and, ore importantly, stayed put. Unlike most in-ear headphones, the S5i Rugged's earpieces are eliptical-shaped to better match the contours of the ear.
Proof was in the using — the S5i Rugged earpieces stayed securely in place, whether I was on the treadmill, working on a spin bike or running on the indoor track. They even stayed put when I was laboring up steep trails during a multi-day backpacking trip on the Appalachian Trail.
Sound quality that makes the grade
Even though working out or exploring the great outdoors isn't the best environment for audiophile listening, I do appreciate good sound when I'm active. And the S5i Rugged delivered.
I did the majority of listening with my iPod®, mainly populated with 256 Kbps iTunes® downloads, and I enjoyed good response throughout the frequency spectrum. Highs came through with clarity and none of the tinniness often associated with small earbuds.
But bass was the big surprise. Klipsch boasts that these 'phones employ dual-magnet, dynamic moving coil micro-drivers for strong bass response. Whatever they want to call it, the bass response was surprisingly good, whether listening to some classic rock cuts, or kicking in some heavy-duty symphonic film score bombast.
One other nice side effect of the in-ear design of the S5i was their noise blockage. Outside sounds were shut out very effectively, letting me get into my own exercise zone and ignore outside distractions.
Control at my fingertips...
The S5i Rugged also feature a handy in-line remote control that worked with my iPod. I could skip ahead to the next track, or raise and lower the volume much more conveniently than fumbling around for my player when I'm on the move.
...and a nice extra
One problem I always have with this type of headphones are the knots that they constantly tie themselves into. The S5i Rugged came with a sturdy snap-shut case for storage. When I was done with my workout, I just rolled them up and put them away.
The carry case can also be either a
flashlight or blinking safety light.
And here's another nifty little bonus — the case has a built-in belt clip and an integrated LED light you can use in either flashlight or blinking mode. The flashlight was a great little nightlight when I was backpacking, and in the flashing mode it can double as a safety device if you're out running or walking in the dark.
My take? I'll take them!
For a set of rugged and ready-to-go in-ear headphones, you won't go wrong with the S5i Rugged. They'll ride comfortably in your ears even under extreme conditions while providing impressive sound quality at the same time.
Sure, you can spend a lot less for other ear buds or in-ear phones, but if you care about what you hear when you're putting forth your best effort, go with the Klipsch Image S5i Rugged sport headphones.