Amplifier wiring diagram
Buck Pomerantz was born and raised in Philadelphia. His parents bought their first television set when he was born. He figured out how to run it by the time he was two. Besides athletics, his formative interests included electronics, amateur radio, music, and stage crew work. He got his BA in writing from Brown University. Then he joined a rock 'n roll band as their soundman and moved to Charlottesville, Virginia. After that venture failed, he spent time in Boston, New Orleans, and Berkeley. He worked in a music store in Austin manufacturing, installing, repairing, and operating sound systems for recording studios, clubs, and bands. He moved back to Charlottesville, ran a little recording studio and finally joined Crutchfield as a copywriter. He has 2 grown children and 3 grandchildren, but after a good nap he can still rock out.
More from Buck Pomerantz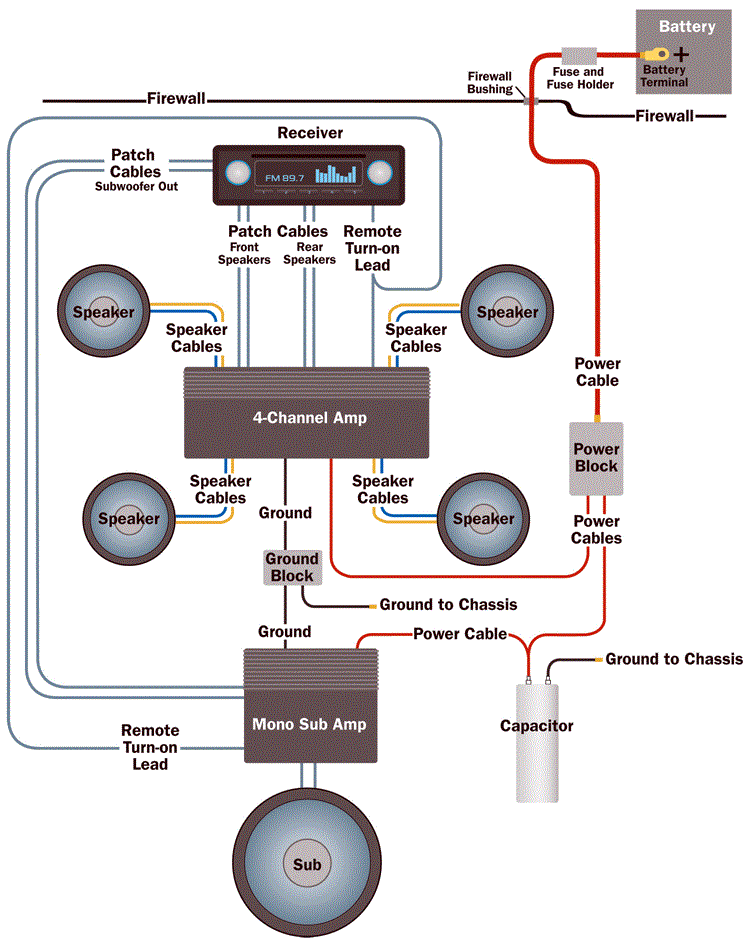 This simplified diagram shows how a full-blown car audio system upgrade gets wired in a car. The system includes a 4-channel amp for the front and rear pairs of full-range speakers and a mono amp for a subwoofer. Capacitors aren't usually necessary in a car stereo installation but we included one here to show how it would get wired into a system.
Start building your system today
Now that you've seen what all the components and parts consist of and how they fit together, you can knowledgeably shop Crutchfield's extensive selection of car audio gear and start building your system. We carry amplifiers, wiring, speakers, caps, and more. Give us a call and an Advisor will help you get what you need. If you want to learn more about amplifier systems, check out our Amplifier Installation Guide.