Subwoofer wiring diagrams
Which wiring option will work best for you?
Buck Pomerantz was born and raised in Philadelphia. His parents bought their first television set when he was born. He figured out how to run it by the time he was two. Besides athletics, his formative interests included electronics, amateur radio, music, and stage crew work. He got his BA in writing from Brown University. Then he joined a rock 'n roll band as their soundman and moved to Charlottesville, Virginia. After that venture failed, he spent time in Boston, New Orleans, and Berkeley. He worked in a music store in Austin manufacturing, installing, repairing, and operating sound systems for recording studios, clubs, and bands. He moved back to Charlottesville, ran a little recording studio and finally joined Crutchfield as a copywriter. He has 2 grown children and 3 grandchildren, but after a good nap he can still rock out.
More from Buck Pomerantz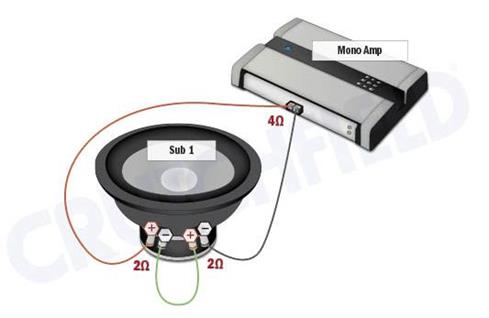 There are many ways to wire subwoofers and amplifiers. The ideal is to match subs, amps, and their relative impedances to maximize their power capabilities. While not totally inclusive, the following diagrams should be helpful in determining which wiring option will work best for you.
NOTE: Some low-impedance subwoofer system diagrams are included. In order to take advantage of the higher power output of these systems, your amplifier must be capable of driving loads as low as one ohm per channel. Attempting to drive a load lower than what your amp was designed to handle will lead to overheating and possible damage to your amp and subs.
Single Voice Coil (SVC) or Dual Voice Coil (DVC): If your component subwoofer has 4 wiring terminal posts, it's a DVC. If it has 2 terminals, it's an SVC. Subwoofer voice coils usually come in 2-ohm, 4-ohm, and 8-ohm impedances.
Impedance: Impedance is the amount of electrical resistance a sub puts up against an amplifier's output. A sub's impedance is often printed on its magnet. When you wire dual voice coils and multiple subs together, the resulting total impedance is not always simple to figure out or practical to use.
Amplifiers: An amplifier puts out more power to a low impedance sub than it does to a higher impedance sub. But not all amplifiers can drive low impedance systems safely. Refer to your amp manufacturer or owner's manual to determine whether or not it can handle a low impedance load.
Bridged mode: Bridging an amplifier combines two of its channels into one, to get more power. The disadvantage of bridging is that bridged channels can't drive impedance loads as low as they can when unbridged.
Wires: All the wires depicted in the Subwoofer Wiring Diagrams are speaker wires. For wiring subwoofers, we recommend using wires of 12- to 16-gauge in size.
CAUTION: Be sure to maintain proper polarity to prevent damage to your amplifier/subwoofer system.
How many channels does your amplifier have?
How many subwoofers do you have?
Start building your system today
Now that you've seen how subwoofers and amplifiers fit together, you can knowledgeably shop Crutchfield's extensive selection of subwoofers and amplifiers. We also carry amp wiring kits, speaker wire, RCA cables, capacitors, and much more. Give us a call and an Advisor will help you get what you need. If you want to learn more about amplifier systems, check out our Amplifier Installation Guide.